Dec 6, 2019
Howls, threats and taunts are the long-cherished language of pro wrestling, but in 2019, macho doesn't sound quite how it used to. So after winning the first AEW (All Elite Wrestling) World Champion title in September, ring legend Chris Jericho triumphantly strode backstage covered in sweat, bruises and blood and, on spotting a table of victory spoils, growled, "Ooh! A little bit of the bubbly!"
It took just three months for Jericho's much-memed expression to get slapped on a bottle of "A Little Bit of the Bubbly" bubbly, and Le Champion's enophilic enthusiasm has already sold 1,000 cases of the Columbia Valley sparkling wine. A Little Bit of the Bubbly is a collaboration between Jericho, AEW and Nocking Point Wines in Walla Walla, Wash. "It came together remarkably fast for anything to do with alcohol," Nocking Point co-owner (and star of the TV superhero series Arrow, and occasional pro wrestler) Stephen Amell told Unfiltered. "This thing went from a viral sensation to wine being finished and television being produced around it within six weeks."
Jericho was jazzed about the bubbly from the start, but a previous attempt at creating a wine had put him on the ropes. "Getting your own spirit is not easy," Jericho told Unfiltered. "It was not something I wanted to go down the same road again, so there were certain specifics I was looking for," which the winery met, with the help of Rotie Cellars winemaker Sean Boyd.
And with that, Jericho becomes the undisputed heavyweight champion of wrestling wine—wait, what's that noise? A cello? Bah gawd, that's Niles Plonk's music!!! "If he wants to bring me in, I'd definitely give him a lesson or two on class and educate him on the finer points of drinking his bubbly wine," the Missouri winemaker by day and wine-snob–wrestler by night told Unfiltered when he heard about Jericho's entry into the vino arena. Or, The Connoisseur suggested, they might work as a tag-team pairing—if they could keep their tempers corked. "It's a matter of who sets the other one's ego off the most, then it could probably come to blows."
Jericho, for his part, dismissed the idea of allowing his rivals even a little bit of the bubbly. "I wouldn't share it with them," he said. "I'd sip it myself." Folks, this one might have to be settled in a steel tank match—or even the grueling Hell in a Cellar.—S.Z.
---
It's an eye-closing innovation that threatens to invert the millennia-old practice of drinking wine first and then falling asleep. Vin Sous Hypnose ("Wine Under Hypnosis") is a new blind-tasting experience in Paris that puts tasters under a spell, then gives them a glass.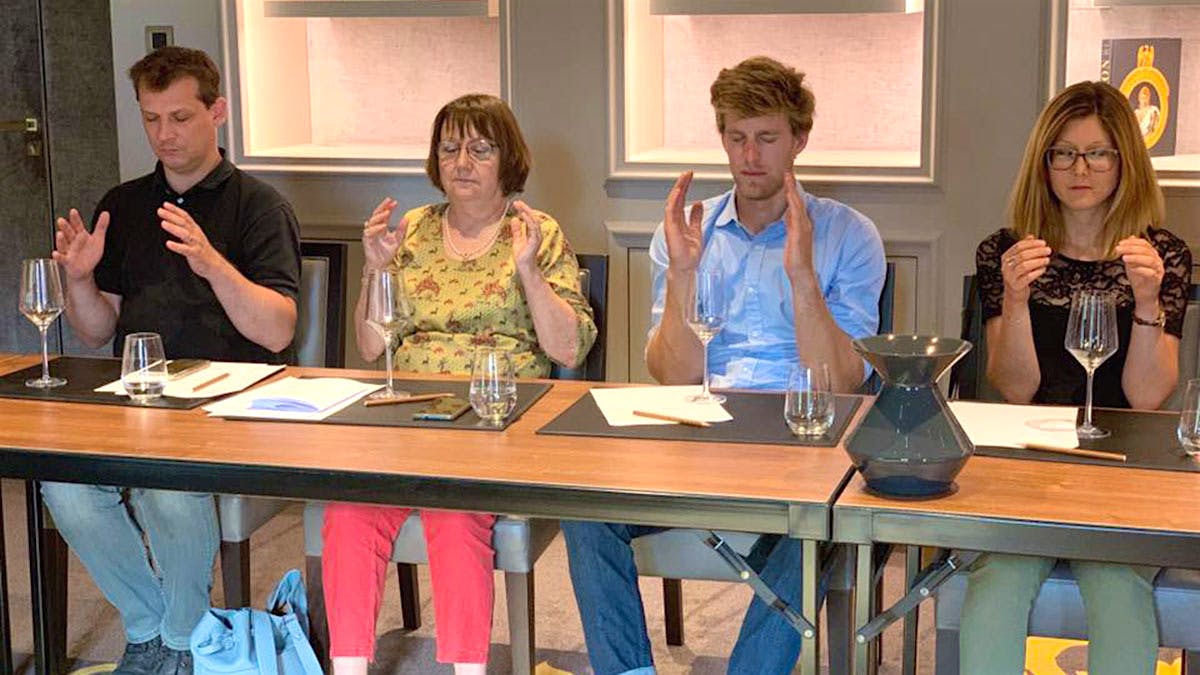 What does this do for your wine tasting experience? According to their website, founders Juliette Combet and Adrien Moulard say it allows participants to "appreciate the unique personality of each vintage" in a "state of hypnotic presence ideal for an exceptional tasting. It's pretty straightforward: In each tasting, Combet and Moulard go over the basics of tasting, then lead the participants in the 5 S's of tasting: Self-hypnosis, Sound … you know, the part where you lift the glass to your ear and listen to it. (Apparently the differences in separate Champagne cuvées will make themselves heard.) "Savor" eventually comes around though, according to early reviews, presumably written later in the waking state. "This experience, both sensory and spiritual, allows a beautiful and enriching and poetic escape," one hypnotee wrote.—P.L.
---
Enjoy Unfiltered? The best of Unfiltered's round-up of drinks in pop culture can now be delivered straight to your inbox every other week! Sign up now to receive the Unfiltered e-mail newsletter, featuring the latest scoop on how wine intersects with film, TV, music, sports, politics and more.