From the Feb 29, 2020, issue
A mere 15 years ago, the direct vintner-to-drinker marketplace represented only a slender slice of the wine economy. But since the 2005 Supreme Court ruling in the case of Granholm v. Heald, which gave states broad latitude to permit interstate winery-to-consumer deliveries, direct shipments of wine in the U.S. have exploded into a $3 billion industry.
The effects of Granholm have been amplified by the get-it-now culture of online sales; many producers now offer "buy" buttons right on their websites. And the direct-to-consumer wine marketplace is only poised to grow as more states loosen their shipping laws, says Alex Koral, senior regulatory counsel for industry group Sovos ShipCompliant.
The payoff for wineries is clear: higher profits, a stake in the digital economy and strong customer relationships. But what's in it for wine lovers?
Plenty, according to several insiders. First, if you're fond of boutique producers, this is a great way to support them. "This is how small wineries stay in business," says Clare Carver, co-owner with her husband, winemaker Brian Marcy, of Big Table Farm in Oregon's Willamette Valley. Carver says she sells more than half her 4,000-case inventory directly to consumers. Koral adds, "As a general trend, the smaller you are, probably the more reliant you are on direct-to-consumer shipping, because that's the only way you can get to a lot of customers across the country."
Buying directly is also important if you want access to exclusive wines. When it comes to blue-chip producers, mailing list allocations have been a hot commodity since the 1990s, and wineries of all stripes often reserve special bottlings for direct sale. At Big Table Farm, Carver holds back wines including her top cuvées—the Earth Pinot Noir and the Elusive Queen Chardonnay—for online-only purchase.
Dave Derby, senior vice president of marketing for California-based Trinchero Family Estates (TFE), a 20-million-case group of brands whose business is overwhelmingly rooted in retail, notes that all the single-vineyard bottlings from luxury brand Trinchero Napa Valley are available exclusively via the website and in the tasting room.
With a few notable exceptions, you'll pay full retail when buying directly. However, part of what you're paying for is peace of mind: You'll know the provenance of your wines is immaculate. And direct relationships with the minds behind the wines can be a reward unto themselves. Jack Miller, a San Diego–based wine lover, buys 18 to 20 cases a year via the mailing lists of top California producers including Marcassin, Aubert, Kistler and Sine Qua Non. "We have a dialogue now with [estate director] Philip Gift at Aubert," he says. "Occasionally, I'll call someone at Kistler and have a question about a particular ageworthiness of a wine, or what's that vintage like."
Direct purchase has its quirks, but it overdelivers in consistency, quality and relationship-building capacity. What often begins with a casual tasting-room visit can lead to personal relationships with vintners and a cellar full of wines you love. Read on for our primer on the top forms of access.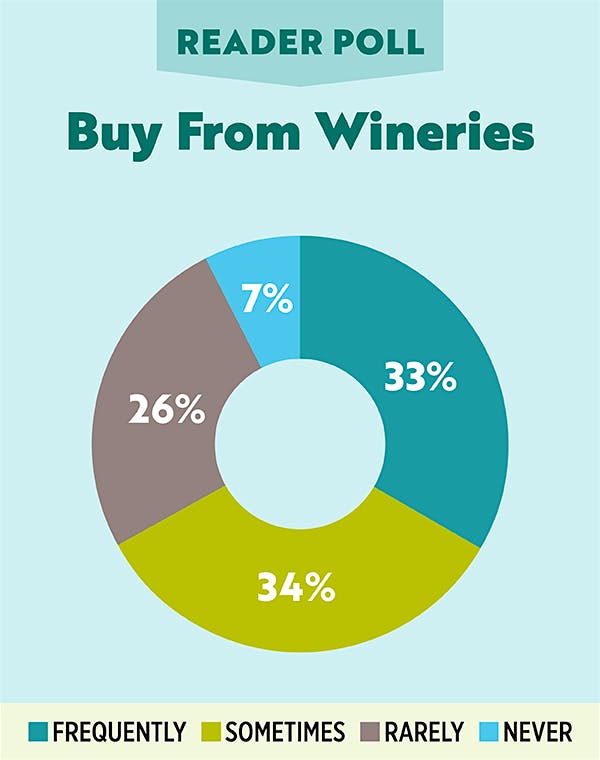 Winery Tasting Rooms
Foot traffic can be a critical first step in the producer-customer relationship, and vintners are investing accordingly. "It's kind of an arms race right now," says Derby of TFE. He points out that the standing-room-only tasting rooms of yore have been upgraded in recent years due to changing demands. "People like to hang out," he says. "They want the whole experience." Five of TFE's brands—Sutter Home, Neyers, Terra d'Oro, Napa Cellars and Trinchero Napa Valley—offer tasting rooms, all with comfy seating, views, snacks and a soundtrack. You can taste the wines "without a lot of pressure of somebody trying to sell you wine." And yet, according to a report by industry group WineDirect, in 2018, 33% or more of direct sales in the U.S. came through tasting room visits and events.
Winery Websites and Digital Tools
Loads of producers today offer online sales portals. Carver says that of all the direct channels available to her—phone, on-site sales, email and other digital tools—she sells the most wine via Big Table's website. She's also perfectly happy to do business on unconventional platforms, such as text message and Instagram's direct-messaging app. "People want to be able to get wine in the most convenient way," she says. "Sometimes, you just want to send a quick text or a DM. I do try to meet my customers where they are."
Winery Mailing Lists
Many elite producers sell their wares almost entirely via coveted spots on a private mailing list, ensuring that members receive regular shipments of A-list wines of trustworthy provenance. It began in the 1990s with the boom of California cult wines such as Sine Qua Non, Screaming Eagle and Harlan Estate. Don Weaver, estate director at Harlan, recalls the "frenzied interest" of 1996, the year Harlan offered its inaugural 1990 vintage. "I had to remember to check the fax paper supply," he recalls. "These things just came in at an alarming rate. There would be a roll several dozens of yards long when I came back from my lunch break."
That year, Harlan's mailing list totaled a few thousand subscribers for 300 cases of wine. Today, the estate sells 55% to 60% of its 2,000 to 2,400 cases via the list. Each member is offered between three and 12 bottles of wine once a year, though they have to get off the waitlist first, which can take up to three years, by Weaver's estimate.
"Some [waitlists] are quicker than you might expect," Miller says. "I thought the Marcassin list was going to be a long wait, but it was less than a year." 
Once you make it onto a mailing list, expect offerings between one and three times a year. The number and quality of wines offered are usually based on a couple different levers. "There may be a little more art than science to it," Weaver says. "We try to reward loyalty and consistency."
Figuring out how many bottles to order can be a matter of trial and error; Miller recommends being particularly mindful about white wines. "Unless you like an older-style Chardonnay, you need to be careful that you don't end up with a couple cases or more of stuff that you don't really like."
Once you're in the allocation game, you're generally expected to buy wine with every offering or risk losing your hard-won spot—a habit that can quickly become expensive. The 2017 Harlan Estate went for $900 a bottle on allocation (a significant discount compared with the $1,500 it will command at general release). Weaver notes that he tries to be understanding, but if you miss more than one order window, "Typically, we're going to offer that allocation to somebody else."
Wine Club Subscriptions
Similar to allocation lists, wine clubs offer a way to ensure a consistent stream of wine deliveries. There's generally no waitlist, prices tend to be accessible, and shipments are often scheduled automatically. Derby explains that the TFE brands with tasting rooms all offer wine club subscriptions. Depending on the brand, members receive between four and 12 bottles of wine three to four times a year, in addition to benefits like access to private events in the tasting room and free or discounted on-site tastings. And at benchmark California producer Ridge, members of the winery's Advance Tasting Program enjoy perks including exclusive access to limited-run single-vineyard wines, as well as complimentary tastings at the estate's Santa Cruz Mountains and Sonoma County properties.
State Wine Shipping Laws at a Glance
Laws governing direct-to-consumer wine shipping vary from state to state. Wine Spectator keeps readers abreast as legislation changes; the map at left represents the current state of the union. Presently, wineries can ship directly to consumers in most of the United States. And while 35 states allow only in-state retailers to ship, and three more allow shipping only from states that reciprocate that practice, many online wine retailers maintain warehouses in states where out-of-state shipping is prohibited, which allows them to legally sell wine to those states' residents.
View our full state-by-state guide to regulations on direct shipments from wineries.