From the Sep 30, 2019, issue
It's a real New York love story: Tom Colicchio and Lori Silverbush met in 1994 when she, a film-school grad, was working as a server at Gramercy Tavern; he was the restaurant's chef and an owner. He proposed in 2001 while they were in line for sandwiches at the Second Avenue Deli, and the rest is history: He left Gramercy to expand his Crafted Hospitality empire, which now encompasses seasonally driven New York restaurants Craft, Riverpark and Temple Court (all winners of Wine Spectator's Best of Award of Excellence), as well as Long Island, Las Vegas and Los Angeles properties. Silverbush's films have met with critical acclaim, including 2012's A Place at the Table, a documentary on food insecurity.
By 2016, with two growing sons—Luka, now 10, and Mateo, 8—the family's West Village apartment was getting cramped. They planned to renovate, then had a change of heart. "I thought to myself, 'Why am I doing this? Why am I spending money on a rental that I don't own?' " Colicchio recalls. "I was like, 'We've got to get out of here.' "
It was time to move on—not just from the apartment, but from Manhattan. "The neighborhoods were becoming increasingly stratified," says Silverbush. "I didn't feel like that would give us that wonderful thing that you get for raising kids in New York: You get to raise a real New Yorker. A real New Yorker to me isn't someone who's only ever met people who look and sound and think exactly like he or she does; it's the opposite."
She discovered an interesting house for sale in Brooklyn. Nestled on a sun-dappled, tree-lined block of Fort Greene, the four-story townhouse in an 1852-landmarked district had great bones but was clearly in need of work. She recalls the online listing: "You know when they only show the outside of the house, that's a really bad sign for the interior," she laughs. "But for us, that was a good sign"—it gave them carte blanche. And they were instantly drawn to the neighborhood, a vibrant patchwork of cultural and socioeconomic diversity.
With help from Bentel & Bentel Architects, they got to work on a historically faithful restoration that incorporated modern touches like floor-to-ceiling picture windows on the first two floors, and radiant heat.
"The big decision was, where was the kitchen going?" Colicchio says. "We probably went through 40 different layouts." Ultimately, they devoted the garden level to it, anchoring the space in inky blue custom millwork, a bold choice for a space that isn't bathed in natural light.
"Not all blues are created equal," observes Hadley Wiggins-Marin, who designed and decorated the home's interior. "That specific blue was really deeply studied. I wanted to make sure that the pigment and the finish were going to reflect as much light as possible and not suck it in." She had the cabinetry hand-painted for brushstroked, light-catching texture and added white oak floors and subtly luminescent soft-white wall tiles. 
In May 2019, Colicchio converted the room's existing fireplace into a wood-burning grill. His twin wine-cooler drawers are adjacent. He's generally a drink-now kind of guy, enjoying current releases from Long Island labels like Macari, McCall and Lieb. Still, he says, "I don't think you need an occasion to open a good bottle of wine." At a recent dinner party, he served a Dunn Cabernet Sauvignon Howell Mountain 1986. 
The home cooking largely falls to the resident chef. "During the week, it's hectic," he says. "The kids need to get fed, and I have one very picky eater." On weekends, he might hit the farmers market. "I never have a menu in my head, which kind of makes my wife crazy, but I don't know what I want until I see it." His meals often feature a bounty of fresh herbs from the backyard garden—something he certainly didn't have in Manhattan. (Try your hand at Colicchio's piquant Grilled Oysters with Lemon Chile Ramp Butter, with this recipe available exclusively on WineSpectator.com.)
"I get up in the morning at six, I'm out in the garden for two hours and then my day starts, and it's just a much better day," he says. "It makes me so happy." He approaches the do-it-yourself adventure that is gardening with a measure of deference to the inherent wisdom of things that grow in the ground. "I don't know exactly what they're going to grow into," he observes. "You just have to let them grow."
---
Inside the Colicchio-Silverbush Home
Photos: Ty Cole
Prop stylist: Hadley Wiggins-Marin
Hair & makeup: Michiko Boorberg/Bryan Bantry
For everyday drinking, Colicchio's tastes run to Cabernet Franc and light whites from Long Island. When he feels like splurging, it's usually California Cabernet, Burgundy or the Rhône. Two temperature-controlled wine drawers by KitchenAid (a brand that the chef has occasionally promoted) store his drink-now stash.
---
In May 2019, Colicchio raised the fireplace and converted it into a powerful wood-burning grill from North Fork Ironworks. The new firepit is perfect for grilling steak, chicken or, as shown here, oysters on the half shell mounted with a mixture of butter, lemon confit, Calabrian chiles and ramps, cooked just until the butter is melted and bubbling.
---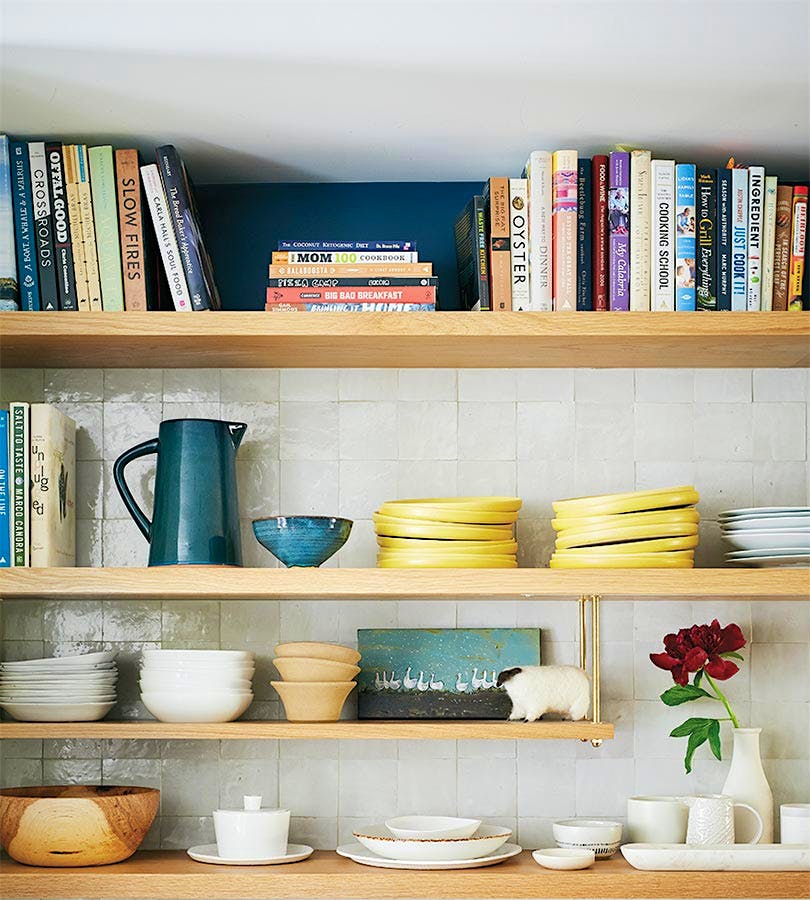 "[The kitchen is] the narrowest part of the house, and so we knew we wanted to keep it open," Colicchio says. Exposed wood shelving shows off the family's cookbook collection and dishware from labels like CB2, Vietri, I. Godinger & Co and Jono Pandolfi.
---
"We needed a dining room that was bigger, so when we do family events and there's 12, 14 people, we can actually get people around one table," Colicchio explains. Located a flight above the kitchen, the airy room features a table and chairs from BDDW and floor-to-ceiling, steel-encased windows by Hopes overlooking the deck, fitted with McNichols Gia grating.
---
A handsome wet bar anchors one end of the dining room.
---
Colicchio grows a range of herbs, flowers and trees in the backyard garden.