Lightning in a Bottle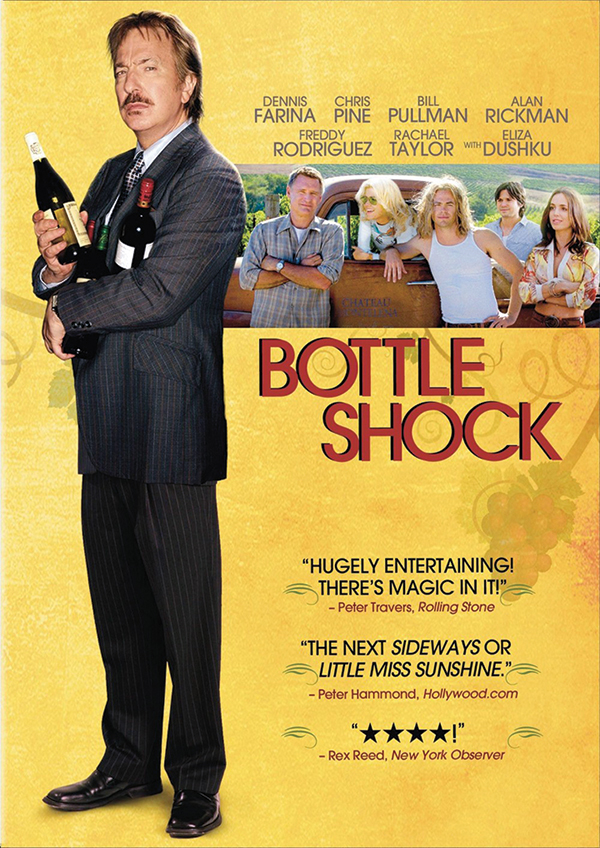 The year was 1976. President Gerald Ford had held the office since the 1974 resignation of President Richard Nixon. South Vietnam had fallen, the oil crisis and stock market crash were fresh wounds, overseas manufacturing was booming, and stagflation gripped the U.S. economy. America wasn't winning anymore, but it was about to throw a party 200 years in the making.
The Bicentennial Celebration culminated July 4, but the festivities began far earlier in both the U.S. and France, which set aside political differences to support its longtime ally and give itself a pat on the back for supporting the American Revolution. Ironically, however, it was an Englishman who organized the U.S. bicentennial-themed wine tasting in Paris that became the feel-good American wine story of the decade. In May, British wine merchant Steven Spurrier brought together nine French judges, including La Tour d'Argent sommelier Christian Vannequé and Domaine de la Romanée-Conti's Aubert de Villaine, to blind taste and score 10 reds and 10 whites. Spurrier weighted both categories in favor of the U.S., with six California Cabernets and Chardonnays up against four red Bordeaux and white Burgundies. Stag's Leap Wine Cellars' 1973 Napa Cabernet narrowly outscored 1970 Mouton-Rothschild, while Napa's Chateau Montelena 1973 Chardonnay bested runner-up Roulot Meursault-Charmes 1973.
Had it not been for the presence of reporter George Taber (the only journalist who showed up to what likely seemed an absurd publicity stunt), the French critics present would have dismissed the whole affair into obscurity. But Taber took notes as the French judges embarrassed themselves, confidently misidentifying their native wines. Time magazine's tiny article went viral, and America added wine victory to its bicentennial bluster.
Stag's Leap and Montelena became California icons; Taber wrote a book, Judgment of Paris; and actor Alan Rickman starred as Spurrier in Bottle Shock, a film adaptation of the event, which the real-life Spurrier referred to as "complete rubbish."
Despite the relatively arbitrary nature of the actual tasting, its reverberations persist. In May, the U.S. Congressional Wine Caucus honored Spurrier, Taber and the participating California wineries on Capitol Hill.
---
Presidents Elect California Wine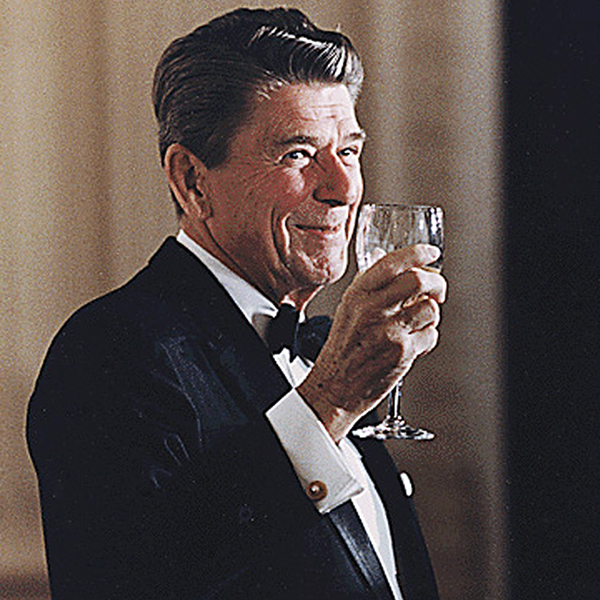 Beginning in the Lyndon Johnson administration, it became a matter of course to serve U.S. wines at state dinners; by the time of Ronald Reagan's inauguration in 1981, the practice was rigorously enforced.
In the 1980s, when Americans embraced American wines, the Commander in Chief was chief among them. Reagan was a Californian, and he often decamped to his ranch in Santa Ynez to contemplate matters of the world in the heart of Santa Barbara wine country. The White House amassed stocks of Beaulieu Vineyard, Robert Mondavi, Buena Vista, Louis Martini, Inglenook, Simi, Sterling, Grgich Hills, Montelena, Acacia and more.
Reagan had a real effect on the visibility of American wine. Canadian Prime Minister Pierre Trudeau ordered a case of 1976 Jordan Cabernet after delighting in it at a White House dinner. Brooks Firestone of Firestone Vineyards reported that sales increased tenfold once Reagan started drinking Firestone wines.
---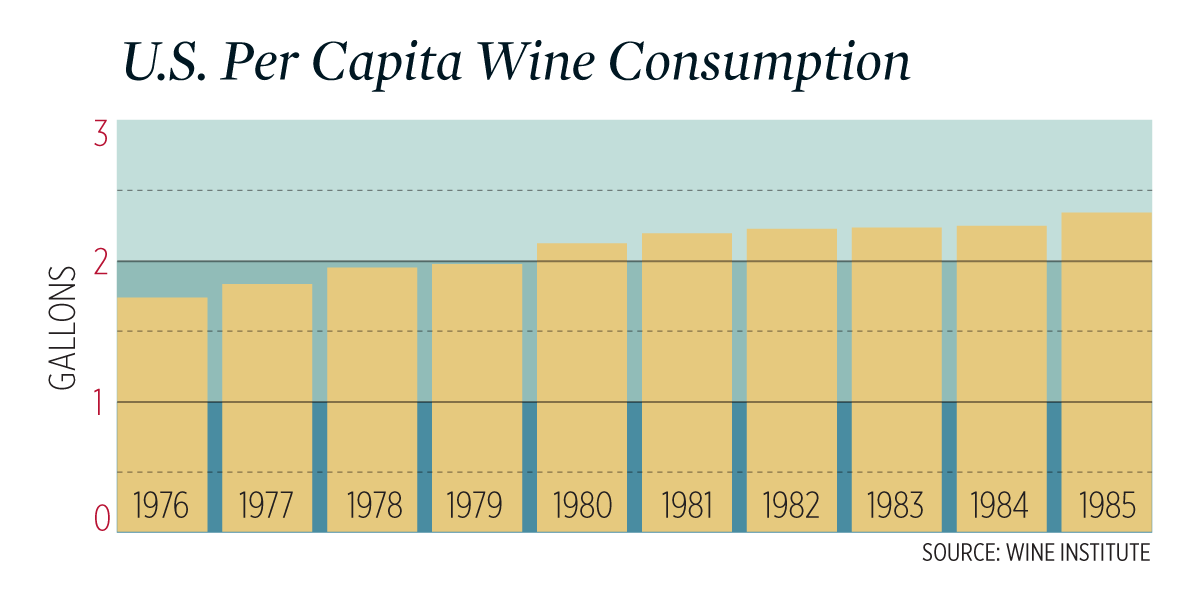 ---
The Feds Get to Work
As the wine industry boomed, it was inevitable that the Bureau of Alcohol, Tobacco and Firearms would turn its eye toward all things wine (since 2003 the purview of the TTB). In addition to its then role as excise-tax collector and operating-license granter, the ATF established in 1980 a system for creating American Viticultural Areas, the U.S. equivalent of France's appellations—designated winegrowing areas distinguished by geographical features. Missouri proved quickest on the draw: The first approved AVA was the Show-Me State's Augusta AVA, on June 20, 1980. Napa Valley would be approved eight months later.

The agency also began its tradition of serving as wine-label morality police, rejecting the 1975 Kenwood Artist Series' reclining nude and subsequently submitted reclining skeleton before accepting an unpopulated hill.
---
The Napa Valley Wine Auction Makes Its Debut