June 30, 2008 Issue : Tasting Reports
2006 delivers fruity and elegant reds ready to drink now
Posted: June 30, 2008 By Tim Fish
Blogs : James Laube's Wine Flights
Posted: June 10, 2008 By James Laube
Most wine regions are defined by either a grape or a style. Last week, as I rode my bike through picturesque Dry Creek Valley, my thoughts turned to what I consider this Northern Sonoma appellation's dilemma.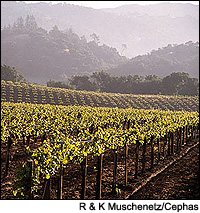 News & Features : Tasting Highlights
The 2006 lineup of Turley Zins backs away from the winery's old powerhouse style
Posted: May 30, 2008 By Tim Fish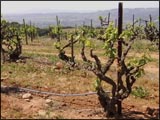 What makes old vines Zinfandels so special? Find out with Wine Spectator's Tim Fish as he talks with Biale co-proprieter and winemaker Al Perry in Sonoma's terrific Monte Rosso vineyard.
Posted: May 29, 2008
June 30, 2008 Issue : Alphabetical Listing
Posted: May 21, 2008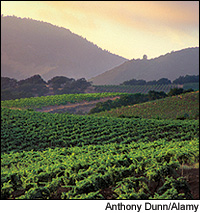 News & Features : Tasting Highlights
Thirteen outstanding Zinfandels from 2006 and 2005 show fans of the grape have an abundance of excellent wines to choose from
Posted: April 15, 2008 By Tim Fish
Blogs : James Laube's Wine Flights
Posted: March 18, 2008 By James Laube
It's always exciting when a great winemaker outdoes himself, which is exactly what Mike Officer has done with his 2006 Carlisle Zinfandels. These wines, which Tim Fish and I tasted in one of our regular weekly blind tastings, are sensational, earning a sprint don't run endorsement.
Blogs : James Laube's Wine Flights
Posted: February 11, 2008 By James Laube
School fund-raisers ain't what they used to be. Forget bake and garage sales. How about grilled rattlesnake with a double magnum of 2002 Sonoma Coast Pinot Noir to wash it down? On Friday I was invited to a wild game feast hosted by vintners Pam and Lee Martinelli.
Blogs : Stirring the Lees with James Molesworth
Posted: February 3, 2008 By James Molesworth
Education comes in many forms—literature, film, etc. And often education comes in a predictable format or setting, such as the classroom, whereby you know what to expect. But for me, the best education is more than just seeing or hearing.
Blogs : James Laube's Wine Flights
Posted: January 30, 2008 By James Laube
The sale of Rosenblum to Diageo is important on several fronts. Rosenblum has been one of the state's biggest champions of Zinfandel. In any given year it can bottle up to two dozen single-vineyard wines from this grape as well as other often underdog varietals and, perhaps more significantly, it has emphasized value, which all wine drinkers prize.
The annual tasting always feels more like a party, but with the high quality of the 2006 Zins there was reason to celebrate
Posted: January 28, 2008 By Tim Fish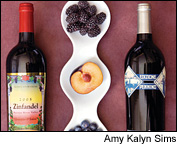 The 2005 vintage shows overall success in a wide range of styles, but opinions on the wines are far from unanimous
Posted: January 15, 2008 By Tim Fish
Blogs : James Laube's Wine Flights
Posted: December 18, 2007 By James Laube
We like turnarounds, and one of the wineries we noticed that had stepped up quality in the past go-round of reviews is Mazzocco , based in Sonoma's intersection of Dry Creek and Alexander valleys. All four of Mazzocco's 2005 Zinfandels hit the jackpot in our blind tastings and I say "we" and "our" because Tim Fish, my colleague and associate editor, is now covering the lion's share of Zinfandel reviews, and he first came to notice the improvement.
Blogs : Harvey Steiman At Large
Posted: July 9, 2007 By Harvey Steiman
I am perched atop a high stool at a wrought-iron table in the patio of D19, one of my favorite restaurants in Aspen, Colo., where we spend a good part of our summer. It's a warm noon, but we are protected from the sun by a wide umbrella.
June 30, 2007 Issue : Tasting Reports
The 2004 and 2005 vintages see rising quality though styles vary widely
Posted: June 30, 2007 By Tim Fish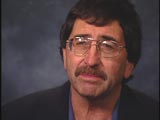 When Kent Rosenblum moved to California, he didn't start out wanting to make wine, let alone Zinfandel. Now a top Zin producer, Kent looks back at how he -- and old vine Zinfandel -- got their start.
Posted: June 14, 2007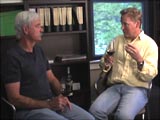 What makes Zinfandel "America's Grape"? Wine Spectator senior editor James Laube sat down in his Napa office with Scott McLeod, winemaker at Rubicon Estate. Scott makes Rubicon's famous Cabernet Sauvignon as well as its Edizione Pennino Zinfandel.
Posted: June 11, 2007
Blogs : James Laube's Wine Flights
Posted: April 30, 2007 By James Laube
Here's an item to clip and save. You never hear predictions about a harvest, or a vintage, five months before a grape is picked (because anything could happen in the meantime). But thanks to winemaker Scott McLeod of Rubicon Estate in Napa Valley, we have something to ponder between now and harvest.
Blogs : James Suckling Uncorked
Posted: February 14, 2007 By James Suckling
I am in a rotten mood. Today is Valentine's Day and I hate it. I have loathed this commercial celebration for as long as I can remember. Maybe it was because Heidi Hendrickson in the sixth grade didn't accept my Valentine's message.
It's all about appreciating how unpredictable Zinfandel can be from vintage to vintage and bottle to bottle
Posted: January 30, 2007 By Tim Fish