Casella hopes its marketing and distribution know-how can help iconic Barossa winery
Posted: November 12, 2014 By Harvey Steiman
Blogs : Bruce Sanderson Decanted
Domaine Clos de la Chapelle's Mark O'Connell discusses recent vineyard acquisitions in Volnay and Pommard
Posted: November 5, 2014 By Bruce Sanderson
Acquiring vineyards in Burgundy is no small feat. It can be even more difficult if you are an outsider. American businessman Mark O'Connell started Domaine Clos de la Chapelle (DCC) in 2011, with the help of Pierre Meurgey, then president of Beaune négociant Champy and attorney Philippe Remoissenet.
The three purchased the Louis Boillot estate, encompassing 3.1 acres in Volnay and Pommard. Over the past year, O'Connell and Meurgey have purchased additional vineyards and inked deals on leases to bring DCC to a total of 10 acres, all premiers or grands crus.
Posted: October 15, 2014 By James Laube
At Mayacamas Vineyards, new owners are renovating while respecting the winery's soul
Posted: September 30, 2014 By James Molesworth

Plus, Giuliana Rancic brings wine by the glass to Walmart, the wine industry builds a much-needed high school in Bordeaux, and new Burgundian investments in Oregon
Posted: September 18, 2014

Estate includes 49-acre single vineyard and is a leading tourist destination
Posted: September 18, 2014 By Suzanne Mustacich

Partners acquire 17 acres of Pinot Noir and plan future vineyard purchases
Posted: September 3, 2014 By Aaron Romano
Posted: August 31, 2014 By Aaron Romano, Mitch Frank
One of Burgundy's leading families buys Domaine Billaud-Simon
Posted: August 5, 2014 By Bruce Sanderson

After retiring from Viansa a decade ago, the Sonoma vintner launches a label paying tribute to his heritage
Posted: July 29, 2014 By Aaron Romano

Plus, California legalizes "sip and spit" for 18 and older, rumors swirl around Torbreck vineyard purchase, Malibu becomes an AVA and French dining's latest sign of decline
Posted: July 24, 2014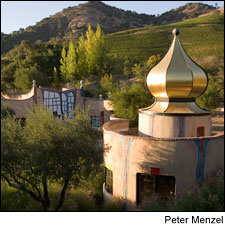 Blogs : James Laube's Wine Flights
Carl Doumani has sold his Napa winery to Chinese interests
Posted: July 23, 2014 By James Laube
The decision about what wine to make is often as basic as what you like to drink and what you can sell. Winemakers figure if they make a wine they can't sell, they can drink it themselves. Up to a point.
Carl Doumani always liked Petite Syrah (his spelling), a drop in Napa Valley's bigger sea of Cabernet. When he bought the original Stags' Leap Winery property in 1971, it came with blocks of old-vine Petite that suited Doumani just fine. And true to his contrarian nature, he hung his white hat on Chenin Blanc, another old-time favorite that was losing steam. Selling those two wines amounted to paddling upstream as Cabernet and Chardonnay become the marquee wines of Napa, and favorites of American wine drinkers.
Sale of Stags Leap property the latest in a series of recent Asian acquisitions
Posted: July 22, 2014 By James Laube
Precept Brands, the largest privately owned wine firm in the northwest, will help with marketing and sales
Posted: July 15, 2014 By Kasey Carpenter
Florence and Daniel Cathiard partner with the Moulin family on four estates they will manage
Posted: July 11, 2014 By Suzanne Mustacich
Blogs : Harvey Steiman At Large
Washington winery with "chemical symbols" on the label returns with a new direction
Posted: July 8, 2014 By Harvey Steiman
The Washington wine label Wines of Substance was invented in 2006 by a couple of Walla Walla hotshots—Waters' winemaker Jamie Brown and Greg Harrington, founder of Gramercy Cellars. It had a promising early run. Some of the wines hit 90 points on the Wine Spectator 100-point scale. The black-and-white label design emulated the periodic table of the elements you might recall from chemistry class, assigning two-letter symbols to the grape varieties used to make the wines, priced at $14 to $20.
Posted: June 30, 2014 By Suzanne Mustacich
Pharmaceuticals billionaire buys winery and vineyard; Mondavi looking for new home
Posted: June 10, 2014 By MaryAnn Worobiec
Posted: May 31, 2014 By Esther Mobley, Ben O'Donnell, Harvey Steiman
Winemaker Chris Mazepink hires prominent Willamette Valley names for Pinot Noir producer
Posted: May 30, 2014 By Katherine Cole