Blogs : James Laube's Wine Flights
Posted: July 31, 2007 By James Laube
The sale of Stag's Leap Wine Cellars ends an era—even if founder Warren Winiarski refuses to use the word "sale," calling the winery's changing of hands a "transition" instead.  That manipulation of semantics is classic Winiarski.
Pioneering Napa producer had been searching for a new partner to help the 80 investor families cash out
Posted: July 31, 2007 By James Laube, Daniel Sogg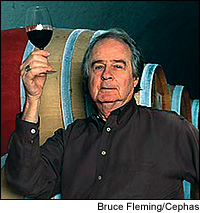 Winery best known for winning the Paris Tasting of 1976 scooped up by Washington's Ste. Michelle and Tuscan producer Piero Antinori
Posted: July 30, 2007 By James Laube
Purchase marks third major investment by Gallo in Napa Valley
Posted: July 30, 2007 By James Laube
News & Features : Book Reviews
New book provides in-depth look at how the first family of American wine lost control of their life's work
Posted: June 20, 2007 By James Laube
Partnership's second major investment--of about $13.5 million--nets them 52 acres of vines and a newly built winery
Posted: June 5, 2007 By Jo Cooke
Questions raised by $4.1 million price tag as to whether grape prices will rise for producers, and how it will affect wine prices in the future
Posted: June 5, 2007 By James Laube
The Berardo Group acquires Cumulus, while ANZ Bank bails out Evans & Tate
Posted: May 18, 2007 By Laurie Woolever
Pressure to sell vineyards is high, but not all buyers are welcome
Posted: March 31, 2007 By James Molesworth
Farrell has left his eponymous winery, now owned by Beam Wine Estates, but will continue to advise new winemaker Susan Reed
Posted: February 22, 2007 By Eric Arnold, Tim Fish
Major purchase includes a winery and over 2,000 acres of land in the cool-climate Bío Bío Valley
Posted: January 10, 2007 By James Molesworth
Rouzaud family buys controlling stake in second-growth château
Posted: December 31, 2006 By Mitch Frank
Jean-Michel Cazes acquires Sénéchaux in Châteauneuf-du-Pape
Posted: December 28, 2006 By James Molesworth
Blogs : Harvey Steiman At Large
Posted: December 12, 2006 By Harvey Steiman
You taste a wine. You love it. You buy a few more bottles, pop one open a few weeks later, and... where has the magic gone? Or, conversely, you taste a wine. You're not impressed. A friend serves it a few weeks later, and.
With land prices and wine quality both high, turnover in the region could become more common
Posted: November 20, 2006 By James Molesworth
Investment group makes second winery acquisition in less than a year to become one of country's largest producers
Posted: November 8, 2006 By Daniel Sogg
Purchase allows A to Z to move into a winery that better suits its size as largest producer in the state
Posted: November 7, 2006 By Harvey Steiman
$500 price tag sets a new record in California
Posted: September 30, 2006 By James Laube
Brand will grow to 120,000 cases with addition of buyer's already vast vineyard holdings
Posted: September 29, 2006 By Daniel Sogg
Posted: August 31, 2006 By Mitch Frank