Several California brands such as Gary Farrell, Geyser Peak and Buena Vista find a new home with Ascentia
Posted: June 11, 2008 By Daniel Sogg
Double Canyon Vineyards is one of several new projects in Horse Heaven Hills
Posted: June 4, 2008 By Harris Meyer
Barolo producer changes hands after 250 years in Borgogno family
Posted: May 30, 2008 By Jo Cooke
Historic Venge Vineyards winery will be used as production facility for Merus
Posted: May 29, 2008 By Daniel Sogg
Blogs : James Laube's Wine Flights
Posted: May 8, 2008 By James Laube
Wineries hoping to keep their business in the family can't start planning too soon, says Carissa Chappellet. Communication is crucial. "Once you start having the discussions, you've only begun," she explained, and "when you think you've talked it out, even in the abstract, you're only at the stage when you're starting.
Blogs : James Laube's Wine Flights
Posted: May 7, 2008 By James Laube
The sale last year of Stag's Leap Wine Cellars put the spotlight on the fate or fortunes of family-owned wineries. In coming years more of these wineries, which typically annually sell 3,000 to 50,000 cases of wine, will decide whether to sell or transition to heirs.
Posted: April 30, 2008 By Harvey Steiman
Purchase testifies to growing taste for Zinfandel among consumers and producers
Posted: April 30, 2008 By Tim Fish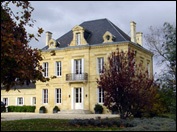 Château Teyssier owner Jonathan Malthus will build a new winery for top single-vineyard wines
Posted: April 23, 2008 By Jo Cooke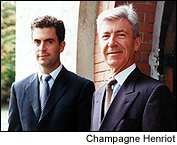 Burgundians show growing interest in the future of Beaujolais
Posted: April 22, 2008 By Alison Napjus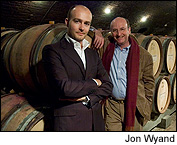 Domaine Faiveley hopes to expand Chardonnay production
Posted: April 16, 2008 By Bruce Sanderson
Blogs : Harvey Steiman At Large
Posted: April 7, 2008 By Harvey Steiman
While out selling his own wines, Josh Bergström has found himself in some of America's best restaurants, either getting the wines on their lists or wining and dining customers. That's how he got behind the scenes at Le Bernardin in New York, and used some of what he saw there in designing the new Trisaetum winery in Oregon, including a room full of white boards.
How do you go about starting a winery? And what are some of the factors to consider? These are some of the questions answered by Michael Lynne, owner of Bedell Cellars on Long Island — and executive producer of the Lord of the Rings trilogy.
Posted: March 20, 2008
Vintner also has his eye on properties in Tuscany and Washington state
Posted: March 14, 2008 By Mitch Frank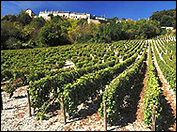 Den Hoed family hands off Wallula Vineyard—known for its spectacular views and superior wine quality—to Long Shadows Vintners
Posted: March 11, 2008 By Harvey Steiman
Jan. 31 - Feb. 29, 2008 Issue : News
Posted: February 29, 2008 By Eric Arnold, Tim Fish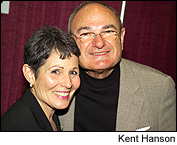 Entrepreneur Michael Marks and wife, Carole, make their first foray into the wine business with the purchase of the vineyard and brand
Posted: February 22, 2008 By MaryAnn Worobiec
Numanthia-Termes, producer of some of the Toro region's best wines, is now under the same roof as Château d'Yquem, Krug and Cloudy Bay
Posted: February 12, 2008 By Thomas Matthews
Owner of Firestone and Merus makes his first move into Washington and is eyeing Oregon next
Posted: February 11, 2008 By Harvey Steiman
Texas-Pacific cofounder bought only a minority stake, but has hopes to increase his share over time
Posted: January 31, 2008 By Jenna Hudson