Local businessman Oscar Farinetti buys a big stake in the winery; his second purchase in six months
Posted: July 25, 2008 By Jo Cooke
Tim Mondavi and family's new label can now realize goal of becoming single-vineyard estate with purchase of Pritchard Hill site
Posted: July 23, 2008 By MaryAnn Worobiec
Blogs : James Laube's Wine Flights
Posted: July 22, 2008 By James Laube
Chateau Montelena is a marquee name among Napa Valley Cabernets, but from a bygone era. The winery, which had been rumored to be for sale , was purchased this past weekend by Michel Reybier of Château Cos-d'Estournel.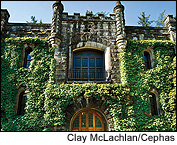 Bordeaux second-growth will take the reins of historic Napa winery
Posted: July 22, 2008 By Jo Cooke, Daniel Sogg
In addition to nearly 20 acres in Châteauneuf-du-Pape, Chapoutier has purchased a small parcel in Champagne and plans to purchase vineyard land in Alsace
Posted: July 14, 2008 By James Molesworth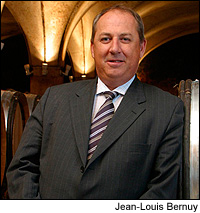 Vincent Sauvestre buys historic wine merchant to add to his extensive vineyard holdings
Posted: July 2, 2008 By Mitch Frank
Ventana Vineyards, growers of the wine's grapes, takes over production; Phelps owners deny that the Napa winery is for sale
Posted: July 1, 2008 By Robert Taylor
Posted: June 30, 2008 By Bruce Sanderson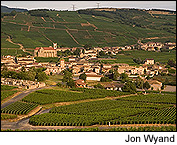 Domaines Devillard also adds Mâcon property to its portfolio
Posted: June 27, 2008 By Bruce Sanderson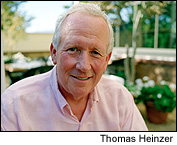 Leslie Rudd is building an empire in northern California
Posted: June 27, 2008 By Tim Fish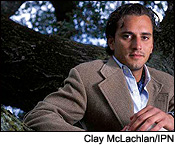 Ausone's neighbor in St.-Emilion could soon belong to the owner of Château Pétrus
Posted: June 20, 2008 By Jo Cooke, James Suckling
Blogs : James Laube's Wine Flights
Posted: June 16, 2008 By James Laube
A couple of housecleaning matters for today. Friday's blog, about what would-be buyers of Chateau Montelena might consider should they look at the winery and its business prospects, is a perfect example of an imperfect blog.
William Hill and Richard Wollack develop and invest in West Coast vineyards
Posted: June 15, 2008 By Daniel Sogg
Blogs : James Laube's Wine Flights
Posted: June 13, 2008 By James Laube
When a winery the caliber of a Chateau Montelena is offered for sale , there are many ways to assess its value. Potential buyers would look at sales and revenue, with the latter being the far more important figure, since inexpensive brands—think Two-Buck Chuck—can run up impressive sales numbers.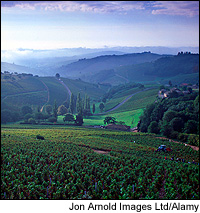 Burgundy wine houses have big plans to turn around their southern neighbor
Posted: June 13, 2008 By Robert Camuto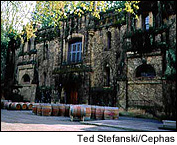 Famous Napa winery weighing offers in excess of $100 million
Posted: June 12, 2008 By James Laube, Tim Fish
Several California brands such as Gary Farrell, Geyser Peak and Buena Vista find a new home with Ascentia
Posted: June 11, 2008 By Daniel Sogg
Double Canyon Vineyards is one of several new projects in Horse Heaven Hills
Posted: June 4, 2008 By Harris Meyer
Barolo producer changes hands after 250 years in Borgogno family
Posted: May 30, 2008 By Jo Cooke
Historic Venge Vineyards winery will be used as production facility for Merus
Posted: May 29, 2008 By Daniel Sogg