Blogs : Harvey Steiman At Large
Posted: May 2, 2006 By Harvey Steiman
Although I returned from Washington a few weeks ago, I am still thinking about my visit with the Golitzin family at their Quilceda Creek winery. This has always ranked among the best Washington wines, but no winery's style has evolved quite so dramatically.
Blogs : Harvey Steiman At Large
Posted: April 21, 2006 By Harvey Steiman
Northstar , which started out as a Merlot-only winery, is expanding into other varietals, and those new wines just might overshadow the Merlot. I stopped by the winery on a recent visit to Washington to taste and chat with Jed Steele, the California-based winemaker who has consulted on Northstar since its inception in 1994.
Blogs : Harvey Steiman At Large
Posted: April 20, 2006 By Harvey Steiman
The beat-up red SUV bounces and sways as winegrower Christophe Baron pilots it over a creaky bridge and into the mud left by recent rains. I take inventory of the dashboard: an old pair of sunglasses, a ballpoint pen, a round can of Altoids, a strip of flannel cloth.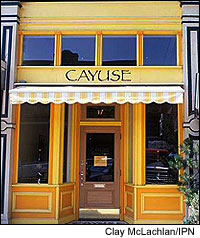 News & Features : Tasting Highlights
Christophe Baron, expat Frenchman, shows a deft touch with Syrah
Posted: April 4, 2006 By Harvey Steiman
Nov. 15, 2005 Issue : Tasting Reports
Washington makes its case for Cabernet Franc
Posted: November 15, 2005 By Harvey Steiman
State grant of $1 million will fund construction of five buildings for new Washington wineries
Posted: September 1, 2005 By Eric Arnold
State's wine powerhouse adds boutique producer of a top Bordeaux-style blend
Posted: July 18, 2005 By Harvey Steiman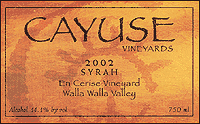 News & Features : Tasting Highlights
Christophe Baron of Cayuse makes some of Washington state's most scintillating Syrahs
Posted: May 24, 2005 By Harvey Steiman
April 30, 2005 Issue : Columns
Posted: April 30, 2005 By Harvey Steiman
Antinori and Ste. Michelle buy 20 acres on Red Mountain for their high-end blend
Posted: April 25, 2005 By Tim Fish
March 31, 2005 Issue : Dining Out
New Washington restaurants represent a sophisticated constituency
Posted: March 31, 2005 By John Mariani
Chateau Ste. Michelle missed the mark with its 2001 red wines
Posted: January 28, 2005 By Harvey Steiman
Blended reds deliver an alternative approach to terroir
Posted: November 4, 2004 By Harvey Steiman
Oct. 15, 2004 Issue : Tasting Reports
A diverse urban setting is home to some of Washington's best wineries
Posted: October 15, 2004 By Harvey Steiman
Oct. 15, 2004 Issue : Tasting Reports
Quality gains momentum at wineries big and small
Posted: October 15, 2004 By Harvey Steiman
A diverse urban setting is home to some of Washington's best wineries
Posted: October 14, 2004 By Harvey Steiman
News & Features : Tasting Reports
Quality gains momentum at wineries big and small
Posted: October 13, 2004 By Harvey Steiman
A variety of well-priced reds and whites are available from this northwestern state
Posted: April 9, 2004
March 31, 2004 Issue : Features
Posted: March 31, 2004 By Harvey Steiman
Hot weather produces ripe Cabernet, Merlot and Syrah
Posted: December 10, 2003 By Harvey Steiman