Blogs : Harvey Steiman At Large
Helen Keplinger takes on a new role as consultant at Force Majeure
Posted: January 27, 2015 By Harvey Steiman
The Washington winery that snagged the winemaker from Bryant Family, a California cult favorite, has added to the intrigue by bringing Helen Keplinger into the fold, too. Keplinger was Bryant's winemaker for two years before going off on her own in 2012 to focus on Grenache.
Now she's signed on to consult with the innovative Force Majeure, where her former assistant at Bryant, Todd Alexander, was named winemaker last year. Alexander worked at PlumpJack and followed Keplinger as Bryant's ace in the cellar, a position Philippe Melka, Helen Turley and Mark Aubert held previously. Starry names, all.
Dec. 15, 2014 Issue : Tasting Reports
Eye-opening Chardonnays star in the latest vintages
Posted: December 15, 2014 By Harvey Steiman
Dec. 15, 2014 Issue : Alphabetical Listing
Posted: December 15, 2014

Winemaker reports from Oregon, Washington, New York and Virginia in a promising year
Posted: November 18, 2014
Generous friend and boss found dead in Oregon, reportedly from suicide
Posted: October 24, 2014 By Harvey Steiman
In Washington and beyond, Charles Smith Takes an eclectic approach to make wines people love to drink
Posted: October 15, 2014 By Harvey Steiman
Oct. 15, 2014 Issue : Features
Posted: October 15, 2014 By Harvey Steiman
Blogs : Harvey Steiman At Large
New winery to have a big presence south of the city
Posted: September 19, 2014 By Harvey Steiman
Charles Smith has made some bold moves in his life, as he recounted in my profile of the Washington vintner in the Oct. 15 issue of Wine Spectator ("Marching to His Own Drummer"), but moving his base of operations from Walla Walla wine country to Seattle may be the biggest.
When I visited, Smith unlocked the unimposing front door of the warehouse he purchased earlier this year, walked me through a warren of deserted offices into the airplane hangar-sized space that's perfect for a functional and versatile winery. Charles Smith Wines has outgrown its patched-together warehouse winery in downtown Walla Walla.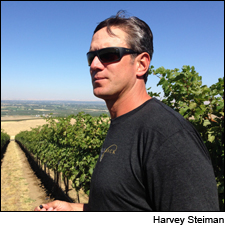 Blogs : Harvey Steiman At Large
Drew Bledsoe's Doubleback gains yardage—er, acreage—in Walla Walla
Posted: September 17, 2014 By Harvey Steiman
On a warm September afternoon, Drew Bledsoe stood in an acre of closely cropped grass. The ex-NFL star quarterback adjusted his sunglasses and surveyed the field, only he wasn't looking over a menacing defense but rows and rows of young grapevines. Their purple bunches of Cabernet Sauvignon stood out against close-cropped green canopies cascading down a steep north-facing slope. In the distance, buildings in the town of Walla Walla reflected the afternoon sun.
Blogs : Harvey Steiman At Large
Millbrandt winemaker explores what it means in Washington
Posted: September 9, 2014 By Harvey Steiman
There are those who say only steely, lean wines can express terroir, but the style of Millbrandt's Chardonnay The Estates 2013 ($20) runs counter to that. This is a rich, plush Washington white, but the spicy aromatics and creamy texture play against vibrant acidity, a core of peach and melon finishing with length and a sense of elegance.
Millbrandt, a big vineyard owner in eastern Washington, sells grapes to a roster of A-list wineries, and makes its own wines as well. The Estates Chardonnay comes from its Evergreen Vineyard in the cool-climate Ancient Lakes AVA. It lies on shallow soils littered with chalk and limestone that are earning a reputation for crisp, minerally white wines. You can taste it in this wine.

News & Features : Winemaker Talk
Engineer-turned-winegrower in Yakima Valley tends her family's singular vineyard
Posted: July 29, 2014 By Esther Mobley
Blogs : Harvey Steiman At Large
Washington winery with "chemical symbols" on the label returns with a new direction
Posted: July 8, 2014 By Harvey Steiman
The Washington wine label Wines of Substance was invented in 2006 by a couple of Walla Walla hotshots—Waters' winemaker Jamie Brown and Greg Harrington, founder of Gramercy Cellars. It had a promising early run. Some of the wines hit 90 points on the Wine Spectator 100-point scale. The black-and-white label design emulated the periodic table of the elements you might recall from chemistry class, assigning two-letter symbols to the grape varieties used to make the wines, priced at $14 to $20.
Posted: June 30, 2014 By Esther Mobley, MaryAnn Worobiec

News & Features : Tasting Highlights
New reviews of Cabernet Sauvignons from the 2011 vintage
Posted: June 27, 2014 By Augustus Weed
Blogs : Harvey Steiman At Large
Cooler temperatures and wetter weather make for starker choices
Posted: June 20, 2014 By Harvey Steiman
Ripeness and alcohol continue to polarize wine drinkers. The prevailing trend almost everywhere these days is toward more moderate levels of alcohol, but a highly vocal wing still finds too much alcohol in too many wines.
It's the sugar in the grapes, of course, that ferments into alcohol, so winegrowers are seeking ways to get enough ripeness to deliver pleasurable flavors without the sugar getting out of hand. Finding a cool climate can do it. But sometimes a cool vintage is a mixed blessing, as my recent experience sampling 2011 Washington reds demonstrates.
Kerry Shiels of Yakima Valley's Côte Bonneville tends her family's singular vineyard
Posted: May 31, 2014 By Esther Mobley
Local company Allan Brothers buys grape source for 70 area wineries
Posted: April 11, 2014 By MaryAnn Worobiec

Plus, Texas wine pioneer Doc McPherson dies, vintners aid Washington State University's Wine Science Center and more
Posted: February 13, 2014
Dec. 31, 2013 Issue : Alphabetical Listing
Posted: December 31, 2013
Dec. 31, 2013 Issue : Tasting Reports
Chris Figgins inherited a Washington icon with Leonetti Cellar, but he's not resting on his laurels
Posted: December 31, 2013 By Katherine Cole