Posted: January 22, 2014
Dec. 31, 2013 Issue : Features
Posted: December 31, 2013 By Jack Bettridge
Dec. 15, 2013 Issue : Features
Posted: December 15, 2013 By Jack Bettridge
Nov. 15, 2013 Issue : Features
Posted: November 15, 2013 By Jack Bettridge
Posted: October 23, 2013
Oct. 15, 2013 Issue : Features
Posted: October 15, 2013 By Jack Bettridge
Sept. 30, 2013 Issue : Features
Posted: September 30, 2013 By Jack Bettridge
July 31, 2013 Issue : Features
Posted: July 31, 2013 By Jack Bettridge
June 30, 2013 Issue : Features
Posted: June 30, 2013 By Jack Bettridge
Posted: May 31, 2013 By Jack Bettridge
Like fine wine, Japan's distinctive drink rewards exploration
Posted: May 31, 2013 By Kim Marcus
March 31, 2013 Issue : Features
Posted: March 31, 2013 By Jack Bettridge
Jan. 31 - Feb. 28, 2013 Issue : Features
Collectors are clamoring for whiskies that push the envelope on age, rarity, availability and price
Posted: February 28, 2013 By Jack Bettridge
Dec. 31, 2012 - Jan. 15, 2013 Issue : Features
Posted: December 31, 2012 By Jack Bettridge
Dec. 15, 2012 Issue : Features
Posted: December 15, 2012 By Jack Bettridge
Blogs : Mixed Case: Opinion and Advice
From the historic aging of whiskies in Sherry barrels to more radical practices of today, the two drinks toast each other
Posted: November 20, 2012 By Ben O'Donnell
Kingsley Amis, writing in 1972's On Drink, relayed a recipe for a concoction he had heard to be "Queen Victoria's Tipple." Ingredients: 1/2 tumbler red wine, Scotch. "The quantity of Scotch is up to you, but I recommend stopping a good deal short of the top of the tumbler," cautioned Amis. "Worth trying once," cringed the author, who in the same pages recommends waking up to a shot of tequila in one hand and one of tomato juice in the other.
I asked Logan Leet, winemaker at River Bend Winery in Kentucky, whose signature Bourbon Barrel Red is given a brief spin through used bourbon barrels, if he had ever heard of this kind of abomination in Louisville. "Most people like to keep their wine and their bourbon separate, by and large," he assured me.
Nov. 15, 2012 Issue : Features
Posted: November 15, 2012 By Jack Bettridge
Oct. 15, 2012 Issue : Features
Posted: October 15, 2012 By Jack Bettridge
Sept. 30, 2012 Issue : Features
Posted: September 30, 2012 By Jack Bettridge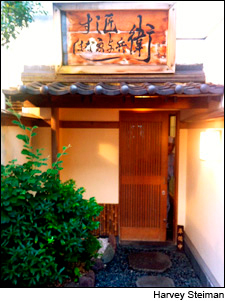 Blogs : Harvey Steiman At Large
My first stop in Tokyo is a series of pleasant surprises
Posted: September 6, 2012 By Harvey Steiman
Alain Ducasse loved it. He picked it recently when Bloomberg News asked top chefs around the world where they loved to eat. Most of them listed famous restaurants owned by famous chefs, but Ducasse waxed lyrical about this chef's "perfect knowledge of the Japanese terroir." He loved "the refined ingredients, delicate taste of the sushi and the subtle tableware," adding, "I had to share my discovery with you, as you will not find it in any restaurant guides."
Well, maybe not any guides in English. The sushi mavens of Tokyo sure know about the restaurant. Reservations must be made two months in advance, according to my new friend, Jun Yokokawa, a professor on the faculty of Tourism and Hospitality at Bunkyo University in Tokyo who is also a respected restaurant critic. (His email domain is "@junandfoodies.com".) He booked it for me, my first sushi experience for my week here in Tokyo, and it was as Ducasse described.