News & Features : Tasting Highlights
New reviews of Cabernets, Syrahs and more, all priced at $25 or less
Posted: July 1, 2011 By James Molesworth

News & Features : Tasting Highlights
New reviews of diverse and delicious wines from the Cape region
Posted: June 24, 2011 By James Molesworth

A first look at vintage quality in South Africa, with eyewitness reports from growers and winemakers
Posted: June 3, 2011
May 31, 2011 Issue : Alphabetical Listing
Posted: May 31, 2011
Eight small producers offering variety and value
Posted: May 31, 2011 By James Molesworth
May 31, 2011 Issue : Tasting Reports
Quality and diversity are on the rise, but South African wines still struggle for recognition
Posted: May 31, 2011 By James Molesworth
Investment bankers buy historic Cape peninsula property
Posted: May 27, 2011 By James Molesworth
Blogs : Stirring the Lees with James Molesworth
The octogenarian former owner of Château Pichon Longueveille Lalande moves full speed ahead on her new South African project
Posted: May 24, 2011 By James Molesworth
Though she doesn't come to the U.S. as often as she did during her heyday running Pauillac's famed Château Pichon Longueville Lalande, May-Eliane de Lencquesaing, who twice lived in Kansas when her husband, a French military officer, was stationed at Fort Leavenworth, still loves it when she does visit. "We were in the middle of the country, but far from everything," said de Lencquesaing, who stopped by the Wine Spectator office today. "So we traveled when we could, often to Napa to visit wineries." Her love of wine paid dividends when de Lencquesaing was eventually asked by her family to return to France and run the Bordeaux property, starting in 1978.
Blogs : Stirring the Lees with James Molesworth
Catching up with Chilean winemaker Adolfo Hurtado and South Africa's Neil Patterson
Posted: May 19, 2011 By James Molesworth
I had a few winemakers come through the office the week before last, on their way to pour their wines at Wine Spectator's 2011 Grand Tour, which stopped in Chicago, Las Vegas and Boston this year. I sat down separately with both Chile's Adolfo Hurtado, winemaker at Viña Cono Sur, and South Africa's Neil Patterson of L'Ormarins.
Johann Rupert will acquire the vineyards, cellar and winery of its longtime neighbor in Franschoek
Posted: March 1, 2011 By Robert Taylor
Former Screaming Eagle co-owner's Terroir Capital buys leading South Africa producer
Posted: December 14, 2010 By Augustus Weed
Nov. 30, 2010 Issue : Savvy Shopper
Posted: November 30, 2010 By Bruce Sanderson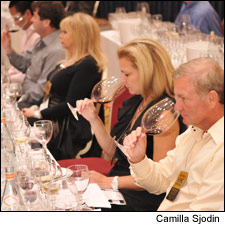 Leading producers explain the evolution of their country's wines
Posted: November 2, 2010 By Augustus Weed

News & Features : Tasting Highlights
New reviews of a diverse collection of Cape wines, from high-end Cabernet- and Syrah-based blends to five wines priced at $11 or less
Posted: October 1, 2010 By James Molesworth
Blogs : Stirring the Lees with James Molesworth
De Wetshof Estate, a Cape Chardonnay specialist, returns to the U.S. market
Posted: September 30, 2010 By James Molesworth
It's been two years since the wines of South Africa's De Wetshof Estate were in the U.S. market. Following an importer change, the winery is back; I sat down with the winery's current generation, Peter de Wet, here at my office last week to get caught up. De Wet, 26, is working alongside his father, the well-respected Dannie, who helped turn the winery into one synonymous with crystal clear, Chablis-like Chardonnay.

Golfer David Frost gets back to his roots, making South African wine
Posted: September 28, 2010 By Robert Taylor

News & Features : Tasting Highlights
Reviews of the 2010 Cape Winemakers Guild auction of small-production showcase wines from some of South Africa's top winemakers
Posted: September 17, 2010 By James Molesworth
News & Features : What We're Drinking Now
Shannon Vineyards Sauvignon Blanc Elgin Valley 2009
Posted: September 7, 2010 By James Laube
Posted: August 30, 2010
Blogs : Stirring the Lees with James Molesworth
Making wine in Swartland, the Cape's winemaking frontier
Posted: July 27, 2010 By James Molesworth
There are plenty of rock-star winemakers—cool guys and girls with cultivated hipster images making cool wines. And then there's Adi Badenhorst, of South Africa's A.A. Badenhorst family, who sat down with me here in my office today.
There's nothing cultivated about his image: He's a wooly bear, with a pony tail that looks like it's been wrestled into submission, pork-chop sideburns and a former rugby player's body. Talkative, loud, engaging and fully immersed in making wine, Badenhorst is currently carving out his own little corner of the Swartland in South Africa, working on the northern side of the Voor-Paardeberg ward, neighboring his good friend and fellow winemaker, Eben Sadie.