Blogs : Stirring the Lees with James Molesworth
Adi Badenhorst has a boisterous, outsized personality, but his wines are elegant and refined
Posted: February 7, 2013 By James Molesworth
In the Swartland, a new brand of winemakers is shaking things up. At A.A. Badenhorst Family, Adi Badenhorst.
Blogs : Stirring the Lees with James Molesworth
In the Swartland, a new brand of winemakers is shaking things up, including Chris and Andrea Mullineux
Posted: February 6, 2013 By James Molesworth
In the Swartland, a new brand of winemakers is shaking things up. The young husband-and-wife team of Chris, 36, and Andrea Mullineux, 33, already has a fair amount of experience—they worked at Tulbagh Mountains Vineyards, where I first met them during my visit here in 2007. The couple leases vineyards and purchases fruit, but does not yet own any vines. They work 26 parcels covering 47 acres and are focusing on Rhône varieties based on three main soil types: schist and granite similar to what you might see in Côte-Rôtie, along with the iron/clay soil in the area known as koffieklip.
Blogs : Stirring the Lees with James Molesworth
Johann Rupert's renamed L'Ormarins estate is making world-class wine
Posted: February 5, 2013 By James Molesworth
Anthonij Rupert, owned by Johann Rupert, has gone into a hyperdrive pursuit of quality since 2005 when Rupert took over control of the estate following the death of his father, Anton. The estate has been renamed (from the original L'Ormarins) for Johann's brother, Anthonij, who died in 2001 and whose dream it was to see the Cape produce world-class wine.

Blogs : Stirring the Lees with James Molesworth
At Boekenhoutskloof in Franschoek, the most compelling wine comes from mutated 111-year-old Sémillon vines
Posted: February 4, 2013 By James Molesworth
Boekenhoutskloof, despite the tricky name, has become one of the most respected South African wineries in the U.S. Market. Owner Marc Kent is a Rhône lover, and his Syrah and other Rhône-style blends display a more Old World profile, while his Cabernet and Sémillon bottlings show how South Africa has an uncanny knack for both diversity and quality.
Blogs : Stirring the Lees with James Molesworth
An afternoon tasting Cape Chenin Blancs and Rhône-style reds with the charming, bow-tied Ken Forrester
Posted: February 1, 2013 By James Molesworth
Ken Forrester is known for several things: bow ties, Chenin Blanc and a youthful passion for living hedonistically. Forrester, 55, is as affable as they come, and nothing gets his hearty laugh going going like a good bottle of wine, a good cigar and a few good jokes. The former restaurateur still has his hospitality skills from his early days, but he has added winemaking to his repertoire. His tireless work in the U.S. has been responsible for him building a 54,000-case operation, of which half goes to the U.S. market. And he seems to relish being one of the flag bearers for his country's still-developing wine industry.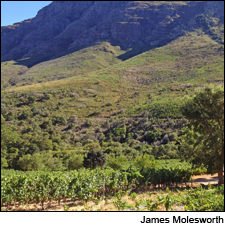 Blogs : Stirring the Lees with James Molesworth
At the top of one of the Cape's most jarring roads lie some of its most compelling wines
Posted: January 31, 2013 By James Molesworth
The last time I visited David Trafford's place, my lower back took a week to loosen up after driving up the steep, bumpy road to his winery. I was secretly hoping it would be better-paved this time, but no such luck.
No matter. The incentive to meet and taste with David is more than enough to power through. I'm often asked what my favorite wines are, and I always say I can't play favorites, especially as a professional critic. What I put in print is what I stand behind. But let me make this clear if a decade's worth of reviews haven't made it clear enough already: David Trafford makes some of the most distinctive, compelling wine in South Africa. And his Syrah is one of my favorites.

Blogs : Stirring the Lees with James Molesworth
Golfer Ernie Els' Stellenbosch operation is running smoothly on its own now under the day-to-day oversight of winemaker Louis Strydom
Posted: January 30, 2013 By James Molesworth
Just next door to Rust en Vrede is Ernie Els Wines, which carries the name of the internationally acclaimed professional golfer. While Els himself likes wine and puts his (slightly more than) 2 cents into the project, the day-to-day work falls to winemaker Louis Strydom.
Strydom was the winemaker at Rust en Vrede previously, and from 2000 through 2005 he worked at both wineries, which were coupled by Jean Englebrecht's helping Ernie Els break into the wine business and some shared fruit sources. But Els has developed and is maturing into its own stand-alone winery, and since 2006 has been running by itself. The 185-acre property now has 94 acres of vines with plans to plant up to 20 more acres.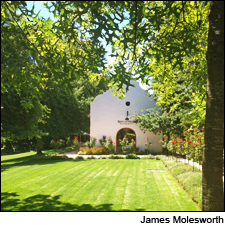 Blogs : Stirring the Lees with James Molesworth
One of South Africa's top red wine estates is expanding its exciting lineup of Cabernets and Syrahs into more single-vineyard offerings
Posted: January 29, 2013 By James Molesworth
From the slopes of the Simonsberg, I swung around from Kanonkop to the other other side of Stellenbosch, up against the Helderberg, an equally dramatic mountain that provides part of the constantly jaw-dropping view around these parts.
At Rust en Vrede (for background, see my March 2007 blog entry from a visit here), decomposed granite from the Helderberg mixes with sandstone from Table Mountain to form a yellowish, fine-pebbled soil. With the site protected from the prevailing sea breeze, it's decidedly warmer than most, so red wines are all that are made here, with an emphasis on Syrah and Cabernet Sauvignon.
Blogs : Stirring the Lees with James Molesworth
My Big Red Day on the Cape began with a show of Pinotage at Kanonkop
Posted: January 28, 2013 By James Molesworth
Pinotage is a troubled grape—difficult to grow and vinify, never really very charming, yet held up by many in South Africa as the Cape's signature variety. Its plantings have dipped a bit in recent years in favor of more international varieties such as Syrah and Cabernet Sauvignon, and it seems to never have grabbed a foothold in the U.S. market, which Cape winemakers desperately want to crack open. Yet despite that, it still holds a significant place in the hearts of the home folks. And at Kanonkop, it sees arguably its best expression.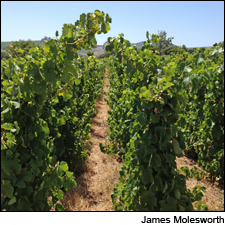 Blogs : Stirring the Lees with James Molesworth
Bruwer Raats is experimenting with viticultural techniques seen nowhere else on the Cape
Posted: January 25, 2013 By James Molesworth
Bruwer Raats now has vines literally right next door, as he's planted the parcel that surrounds his house-cum-winery. Raats has sourced Chenin Blanc vines from France, preferring a clone called Montpellier that he found a scant amount of in the Swartland and fell in love with for its naturally low vigor, small berries and loose bunches.
Blogs : Stirring the Lees with James Molesworth
Chenin Blanc and Syrah star at this growing Stellenbosch estate
Posted: January 24, 2013 By James Molesworth
A relative newcomer to South Africa's Cape wine scene, De Morgenzon has been quickly churning out some superb value Chenin Blanc and Syrah offerings, and has some new bottlings up its sleeve. Owned by Wendy and Hylton Appelbaum, who bought the estate in 2003, De Morgenzon debuted with the 2005 vintage. It has really taken off since the 2010 vintage, when they hired winemaker Carl van der Merwe, formerly of Quoin Rock.
Blogs : Stirring the Lees with James Molesworth
Owner May-Eliane de Lencquesaing and winemaker Luke O'Cuinneagain bring a Bordeaux influence to the Cape
Posted: January 23, 2013 By James Molesworth
The last time I was in South Africa, in 2007, all Glenelly was was an idea. It was basically a hole in the ground and a large crane. Now, the cellar is finished, the vineyards planted and winemaker Luke O'Cuinneagain has settled in nicely.
The estate, purchased in 2003 by former Château Pichon Longueville Lalande owner May-Eliane de Lencquesaing, was planted in 2004 and began making wines with the 2007 vintage, combining some purchased fruit with estate-grown grapes. Since 2010, all the bottlings are from the estate's 148 acres of vines, which are now producing a hefty 25,000 cases annually, with plans to max out around 32,000 cases.
O'Cuinneagain is a good fit: He trained in Bordeaux and brings that mindset to Glenelly, which is focusing primarily on Cabernet Sauvignon and Petit Verdot, though Syrah, Chardonnay and other grapes are in the mix.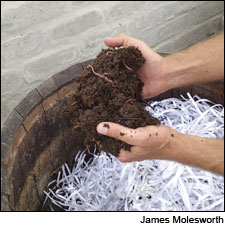 Blogs : Stirring the Lees with James Molesworth
At Johan Reyneke's biodynamic estate in Stellenbosch, grapevines share the workload with Jersey cows and earthworms
Posted: January 22, 2013 By James Molesworth
"Howzit, howzit, howzit?" enthusiastically asked Johan Reyneke as I walked up to his Stellenbosch winery. The wiry, flip-flop-and-sunglass-wearing, well-tanned owner of Reyneke Wines is both laid back and ebullient at the same time. "Come on man! Let's go look at my new cows."
A new pair of female Jersey cows have been brought in to augment the herd at this biodynamically farmed estate located in the Polkadraai Hills of Stellenbosch, and they've found a home with the herd of native cattle. They're all part of the biodynamics program at this improving Cape estate.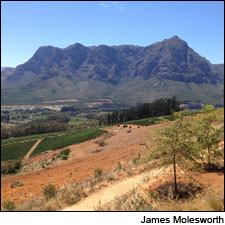 Blogs : Stirring the Lees with James Molesworth
Rose Jordaan's Stellenbosch up-and-comer has a new winemaker set to bring Bartinney to new heights
Posted: January 18, 2013 By James Molesworth
On the Banhoek mountainside, opposite Thelema, is Bartinney, a new face on the South African wine scene.
"A new face?" asked owner Rose Jordaan, looking at Ronell Wiid, her winemaker. "Maybe some old faces," she joked. "But they are lines of happiness."
Bartinney is a former fruit farm that had been in Michael Jordaan's family (Rose's husband) for generations, but had been sold off. Michael, a Johannesburg-based banker, bought the family property back in 2006 and it quickly became a labor of love for Rose.

Blogs : Stirring the Lees with James Molesworth
Day 1 begins with a visit to Thelema, where I toured the vineyards and tasted with winemaker Rudi Schultz
Posted: January 17, 2013 By James Molesworth
Up and at 'em on my first full day back in the Cape since 2007, and I couldn't think of a better place to start than at Thelema, the estate of Mr. Precision, Gyles Webb.
Webb is enjoying his veteran winemaker status, spending a bit more time fishing and boating these days. His son Thomas, 36, continues to take on responsibility, while winemaker Rudi Schultz, 43, has been on board since 2001. Rudi has been joined by his brother Werner, 41, who has helped oversee the vineyards since 2008.

Blogs : Stirring the Lees with James Molesworth
Six years later, a return visit to South Africa's vineyards and wineries
Posted: January 16, 2013 By James Molesworth
I'm loading up on espresso in the Swiss Air lounge, waiting for my flight to Johannesburg and then on to Cape Town. It's my first trip to South Africa since 2007, and it's safe to say things have changed since then.
I'll be traveling around the Cape for the next two weeks, visiting wineries throughout Stellenbosch, the Cape's wine center, as well as Paarl, the frontier-like Swartland, lush verdant sector of Constantia and out to Walker Bay and beyond. They drive on the left side of the road on the Cape, so I've hired a driver. That way I can focus on the vineyards and the people behind the wines, rather than fiddling with a GPS while driving myself. Since I taste in my office, these trips are more to kick the dirt and get to know what goes into the wines, technically and spiritually, via the producers who put the hard work in. So follow along here on the blog for notes on the producers I visit with, along with my Twitter and Instagram feeds for additional snippets, pictures and sometimes witty one-liners. As always, if you have questions, post them here or to my forthcoming blogs and I will try to get back to everyone in due time.

News & Features : Tasting Highlights
New reviews of the limited-production wines that will be available—via live Internet bidding for the first time—in South Africa's annual auction
Posted: October 5, 2012 By James Molesworth
Blogs : Stirring the Lees with James Molesworth
The Boekenhoutskloof owner and winemaker debuts a new high-end Syrah
Posted: September 21, 2012 By James Molesworth
I caught up today with Marc Kent, owner and winemaker of South Africa's Boekenhoutskloof winery, a top producer of high-end Syrah, Cabernet Sauvignon and Sémillon, as well as several value brans such as Chocolate Block, Wolftrap and Helderberg Wijnmakerij. The vintner has a new Syrah to add to his lineup and as is usual with Kent, he's got a good story to go with it as well (you can read this previous blog entry on the genesis of a previous wine called The Journeyman).

News & Features : Tasting Highlights
New reviews of outstanding South African Syrahs, plus Chenin Blancs, Sauvignon Blancs and more
Posted: August 24, 2012 By James Molesworth

What do you serve 4 million guests from around the globe? London has plenty of options, including English bubbly
Posted: July 25, 2012 By Victoria Daskal