July 31, 2013 Issue : Features
Posted: July 31, 2013 By Jane Broughton
July 31, 2013 Issue : Features
With world-class wines, dining and hotels, South Africa is an unrivaled destination
Posted: July 31, 2013
July 31, 2013 Issue : Features
As South Africa reinvents itself, its wineries look to the past as well as to the future
Posted: July 31, 2013 By James Molesworth
July 31, 2013 Issue : This Issue/Marvin R. Shanken
Posted: July 31, 2013 By Marvin R. Shanken
June 15, 2013 Issue : Savvy Shopper
Posted: June 15, 2013 By Bruce Sanderson

A first look at vintage quality, with eyewitness reports from growers and winemakers
Posted: June 7, 2013 By James Molesworth
Posted: May 31, 2013 By Lizzie Munro, Dana Nigro

Global farmer-assistance program extends help to grapegrowers in Argentina, Chile and South Africa
Posted: May 9, 2013 By Dana Nigro

News & Features : Tasting Highlights
New reviews of Sauvignon Blanc, Pinotage and other affordable bottlings from South Africa
Posted: March 8, 2013 By James Molesworth

Newly introduced to America, House of Mandela wines will promote Fair Trade and worker education, health and empowerment
Posted: February 27, 2013 By Lizzie Munro, Dana Nigro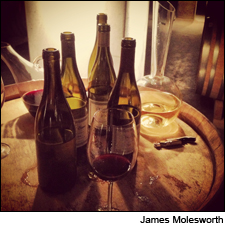 Blogs : Stirring the Lees with James Molesworth
Christophe Durand brings a French attitude to the Cape
Posted: February 25, 2013 By James Molesworth
It's summer in South Africa. I've got a tan and I'm in my element—kicking the dirt amidst the vines and talking to winemakers.
So how fitting is it that after nearly two weeks of of checking out bush vine Chenin Blanc and comparing granite and schist soils, my very last visit her would be to the most Francophile one of the lot, Vins d'Orrance. As I walked down into the dimly lit cellar at the Steenberg winery, a few bottles were standing up on the head of an upturned barrel. It was an SRO tasting, and one right out of any Rhône cellar that I've ever been in.
Opening the bottles was Christophe Durand, 45. Broad-shouldered, Normandy-born and English speaking with a distinct French accent, Durand arrived in South Africa in 1995 while selling Gillet and Darnajou barrels to the local market (his first client was the rugby player-turned-cult Pinot Noir producer Jan Boland Coetzee of Vriesenhof). It was here he met his wife, Sabrina, who is from Durban. Now married 10 years, they work together on Vins d'Orrance, which he started in 2000.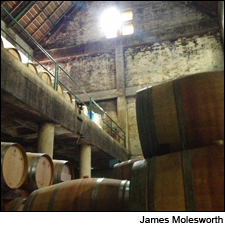 Blogs : Stirring the Lees with James Molesworth
Lars Maack's estate offers some of the Cape's best values in Sauvignon Blanc and Chardonnay
Posted: February 22, 2013 By James Molesworth
Located just next door to Klein Constantia is Buitenverwachting (bay-tun-veer-vak-ting). It's always been one of my favorite South African names, but alas, market pressures have forced them to change their label: Bayten will now be in large font on the labels in the U.S. market, with the winery's historical name shrunk to fine print. I say, "Boo." After so much time with the original label, I would have liked to see them stick it out and not worry about tongue-twisting their customers.
But at least the wine isn't changing. This is still one of the top Sauvignon Blanc producers on the Cape, along with excellent Chardonnay and a characterful Bordeaux blend. Lars Maack, 46, is the owner of this 370-acre property, which has an ample 260 acres of vines. For background, you can reference my notes from my 2007 visit here.

Blogs : Stirring the Lees with James Molesworth
Klein Constantia, one of the Cape's most storied estates, is no stranger to change
Posted: February 21, 2013 By James Molesworth
Klein Constantia is one of the Cape's most historical wine estates. But if may be seeing more change now than it has in its entire history, which dates to its founding in 1685.
The Jooste family, which resurrected the estate in the 1980s, sold in 2011 to a pair of international businessmen, as well as a pair of Bordelais, Hubert de Boüard de Laforest and Bruno Prats, who folded their Anwilka joint venture into the new ownership structure.
Located in the verdant Cape Town suburb of Constantia, which gets considerable rainfall (63 inches annually) and has a lush appearance thanks in part to its many stately homes, Klein Constantia is a 370-acre estate with 200 acres currently under vine. The property produces primarily white wine and production now stands at 33,000 cases, with plans to eventually reach 60,000.

Blogs : Stirring the Lees with James Molesworth
Out to the boonies to see David Trafford's Sijnn project in the remote Malgas Ward
Posted: February 20, 2013 By James Molesworth
The road up to David Trafford's place in Stellenbosch is an adventure. The road out to Sijnn, his second project, in Malgas, is something else entirely. It's a 2.5-hour drive from Walker Bay, with over 45 miles of gravel roads. The constant clanging and thumping of rocks underneath, along the side and occasionally off the windshield of the car drown out any music you might have on the radio.
But of course, it's worth it.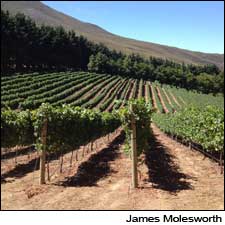 Blogs : Stirring the Lees with James Molesworth
Chardonnay is the main attraction at Ataraxia as owner and winemaker Kevin Grant awaits his Pinot Noir vineyards to mature
Posted: February 19, 2013 By James Molesworth
Continuing the family tree lineage from Hamilton Russell, winemaker and owner Kevin Grant started his own Ataraxia Mountain after leaving Hamilton Russell in 2004, following a 10-vintage run there. Located a 20-minute drive up the valley from HR, at the highest elevation in Hemel-en-Aarde (1,300 feet, versus 600 feet for Hamilton Russell), Ataraxia is located in the newly created Hemel-en-Aarde Ridge ward, a windy site with a convoluted mix of convex and concave hillsides, though the soils are very similar (clay/shale) to what's down below.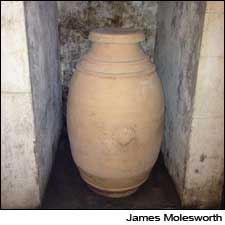 Blogs : Stirring the Lees with James Molesworth
Anthony Hamilton Russell and winemaker Hannes Storm specialize in Pinot Noir and Chardonnay, but continue to experiment in their own backyard
Posted: February 14, 2013 By James Molesworth
Walker Bay wine history starts with Hamilton Russell, when Tim Hamilton Russell founded his winery in 1979. At that time, the wine industry was ruled by a quote system for production, and the early vintages of Hamilton Russell were made in a, shall we say, slightly clandestine manner, sourcing fruit from what are now the estate's vineyards, though at the time were not "legal."
Today the winery is one of the most recognized brands in the U.S. market, and rightfully so, as it has become the flag bearer for Pinot Noir and Chardonnay from South Africa. Tim's son, Anthony Hamilton Russell, now runs the estate, zipping down from his house on his favorite motorcycle to the winery which sits at the bottom of the slope. In between are 160 acres of vines (the estate totals 420 acres) which often show the telltale band of red leaves along the base of the canopy that marks the leaf roll virus. The virus, which shortens a vine's lifespan and makes ripening difficult, is a fact of life on the farm, brought in with the original plantings. Hamilton Russell is constantly replanting and trying to stay ahead of the shorter life curve of his vineyard parcels.
Blogs : Stirring the Lees with James Molesworth
In the cooler climes of Walker Bay, Peter Finlayson makes Pinot Noir and Chardonnay
Posted: February 13, 2013 By James Molesworth
After finishing up in the warm Swartland it was time to take in some ocean-fed breezes in one of South Africa's cooler wine regions, Walker Bay. Located less than two hours drive east from Cape town, along a beautiful coastal road and over a dramatic mountain pass, Walker Bay is the home of the Cape's best Pinot Noir and Chardonnay producers. Among them, is Bouchard Finlayson.
With his white beard and slow cadence, Peter Finlayson, 64, easily evokes the person of one of the Cape's elder statesmen. He earned his stripes at next door's Hamilton-Russell as that winery's first winemaker starting in 1979, at just 31 years of age and working alongside Tim Hamilton-Russell.
Blogs : Stirring the Lees with James Molesworth
Vintner Charles Back's Fairview and Spice Route operations set an example for the South African wine industry
Posted: February 12, 2013 By James Molesworth
A sit-down with Charles Back is like attending a State of the Wine Industry speech. Back, 57, is one of the South Africa wine industry's elder statesmen, though he still has plenty of pep in his step. He's one of its most respected leaders and one of its craftiest marketers as well. He combines quality in his Fairview wines with business smarts and a genial hands-on approach. Back has been and will continue to be critical to the success of South African wine.
Blogs : Stirring the Lees with James Molesworth
The Boekenhoutskloof winemaker has a new Syrah project in the Swartland's untamed Porseleinberg
Posted: February 11, 2013 By James Molesworth
On the surface, writing a blog about a winery that makes one wine should be easier than writing a blog about a winery that makes dozens. But for Marc Kent's latest project, it's not quite that simple. There's too much energy and passion going in to a remote, previously undeveloped spot to make this an easy report. I'm lucky to get to see places like this and kick the dirt or, in this case, kick the jagged chunks of blue schist, right at the beginning of a project and to try and convey what is going on here to you. Don't tell Marvin, but these are the ones I would do for free …
Blogs : Stirring the Lees with James Molesworth
Eben Sadie marches to his own beat, and his new lineup of single-vineyard wines are each unique on the Cape
Posted: February 8, 2013 By James Molesworth
In the Swartland, a new brand of winemakers is shaking things up. At Sadie Family, Eben Sadie is one of the devoted winemakers rescuing abandoned old vineyards.