Sept. 30, 2013 Issue : Features
New owners are making big changes to revitalize a historic South African winery
Posted: September 30, 2013
Posted: September 27, 2013

News & Features : Tasting Highlights
New reviews of 50 new additions to the Cape Winemakers Guild auction in South Africa
Posted: September 27, 2013 By James Molesworth
Advertising executive founded cool-climate winery, campaigned to improve country's wines
Posted: August 6, 2013 By Jane Broughton
July 31, 2013 Issue : Alphabetical Listing
Posted: July 31, 2013
July 31, 2013 Issue : Features
Posted: July 31, 2013 By Jane Broughton
July 31, 2013 Issue : Features
Four new projects demonstrate the far-reaching ambitions of Cape winemakers
Posted: July 31, 2013 By James Molesworth
July 31, 2013 Issue : Features
Posted: July 31, 2013 By Cathy Marston
July 31, 2013 Issue : Features
Posted: July 31, 2013 By James Molesworth
July 31, 2013 Issue : Features
Posted: July 31, 2013 By Jane Broughton
July 31, 2013 Issue : Features
With world-class wines, dining and hotels, South Africa is an unrivaled destination
Posted: July 31, 2013
July 31, 2013 Issue : Features
As South Africa reinvents itself, its wineries look to the past as well as to the future
Posted: July 31, 2013 By James Molesworth
July 31, 2013 Issue : This Issue/Marvin R. Shanken
Posted: July 31, 2013 By Marvin R. Shanken
June 15, 2013 Issue : Savvy Shopper
Posted: June 15, 2013 By Bruce Sanderson

A first look at vintage quality, with eyewitness reports from growers and winemakers
Posted: June 7, 2013 By James Molesworth
Posted: May 31, 2013 By Lizzie Munro, Dana Nigro

Global farmer-assistance program extends help to grapegrowers in Argentina, Chile and South Africa
Posted: May 9, 2013 By Dana Nigro

News & Features : Tasting Highlights
New reviews of Sauvignon Blanc, Pinotage and other affordable bottlings from South Africa
Posted: March 8, 2013 By James Molesworth

Newly introduced to America, House of Mandela wines will promote Fair Trade and worker education, health and empowerment
Posted: February 27, 2013 By Lizzie Munro, Dana Nigro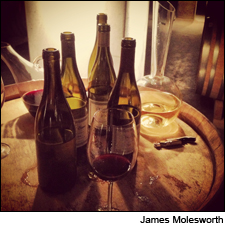 Blogs : Stirring the Lees with James Molesworth
Christophe Durand brings a French attitude to the Cape
Posted: February 25, 2013 By James Molesworth
It's summer in South Africa. I've got a tan and I'm in my element—kicking the dirt amidst the vines and talking to winemakers.
So how fitting is it that after nearly two weeks of of checking out bush vine Chenin Blanc and comparing granite and schist soils, my very last visit her would be to the most Francophile one of the lot, Vins d'Orrance. As I walked down into the dimly lit cellar at the Steenberg winery, a few bottles were standing up on the head of an upturned barrel. It was an SRO tasting, and one right out of any Rhône cellar that I've ever been in.
Opening the bottles was Christophe Durand, 45. Broad-shouldered, Normandy-born and English speaking with a distinct French accent, Durand arrived in South Africa in 1995 while selling Gillet and Darnajou barrels to the local market (his first client was the rugby player-turned-cult Pinot Noir producer Jan Boland Coetzee of Vriesenhof). It was here he met his wife, Sabrina, who is from Durban. Now married 10 years, they work together on Vins d'Orrance, which he started in 2000.