Sept. 30, 2007 Issue : Features
Posted: September 30, 2007
Sept. 30, 2007 Issue : Features
Posted: September 30, 2007
Sept. 30, 2007 Issue : Features
Posted: September 30, 2007
Sept. 30, 2007 Issue : Features
Posted: September 30, 2007 By Laurie Woolever
Sept. 30, 2007 Issue : Features
Posted: September 30, 2007
Sept. 30, 2007 Issue : Features
Posted: September 30, 2007
Sept. 30, 2007 Issue : Features
Posted: September 30, 2007
Sept. 30, 2007 Issue : Features
Posted: September 30, 2007
Sept. 30, 2007 Issue : Features
Posted: September 30, 2007
Sept. 30, 2007 Issue : Features
Posted: September 30, 2007
Sept. 30, 2007 Issue : Features
Posted: September 30, 2007
Sept. 30, 2007 Issue : Features
Posted: September 30, 2007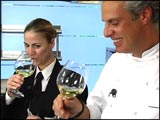 What's great food without great wine? Join Eric Ripert and sommelier Janine Lettieri as they evaluate a pairing of Ripert's Sautéed Cod with a white Burgundy from Bruno Colin.
Posted: September 7, 2007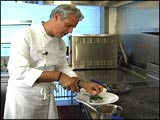 New York's Le Bernardin is one of the top restaurants in the United States. Meet chef-owner Eric Ripert and learn to make his exquisite sautéed cod with pea shoots and ginger-lemon-scallion broth.
Posted: September 4, 2007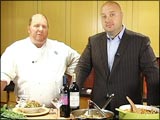 Mario Batali talks wine pairing with his business partner, Joe Bastianich. The dish is Mario's Ragu Bolognese, which matches beautifully --and rhymes-- with Sangiovese. But what kind of Sangiovese do Mario and Joe pick?
Posted: August 23, 2007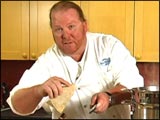 Mario Batali is a star chef with a TV show and restaurants in New York and Las Vegas. What's his recipe for success--and satisfying food? Mario sticks close to his Italian roots. Here, he prepares his own spin on ragu bolognese. Enjoy!
Posted: August 20, 2007
Posted: August 7, 2007 By Andrew Carmellini
I've always loved cookbooks. Though I gotta tell you—times have changed. Used to be, cookbooks had some heft to them, some real texture. These days, it's all diet shit and TVFN on the Amazon top 50.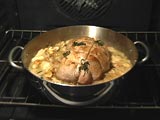 At Daniel, Chef Boulud's food is delectable. But, of course, he has a huge, fully-staffed kitchen. Chef proved that you can get the same results in your own kitchen when he invited us into his home and braised a veal shoulder. (It was delicious.)
Posted: August 6, 2007
Great summer dining showcases fresh, local ingredients
Posted: July 31, 2007 By Owen Dugan
April 30, 2007 Issue : Features
Posted: April 30, 2007