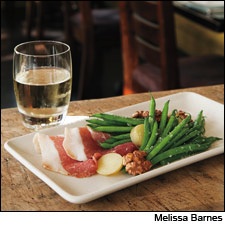 Dining & Travel : Menu Headers
Refined recipes for an easy wine dinner
Posted: April 30, 2010 By Harvey Steiman
Celebrate with this festive variation on a classic egg dish. Plus, 16 recommended Chardonnays and Pinot Noirs
Posted: March 26, 2010 By Laurie Woolever

Bring something new to Passover with these fresh recipes and 20 recommended kosher wines
Posted: March 19, 2010 By Laurie Woolever

Our guide to hosting an Oscars party with wines matched to top nominees and bites inspired by the Governor's Ball
Posted: March 2, 2010 By Stephanie Cain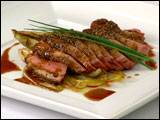 Cooking 4 Wine: Make dishes that will sing with wine. In this episode of C4W, join Charlie Palmer as he prepares spice-crusted duck breast with braised endive and natural jus. What do you think the pairing will be?
Posted: February 9, 2010

A simple, elegant recipe for two, plus 12 white wines to match
Posted: February 5, 2010 By Laurie Woolever

Two tasty shellfish recipes, plus 15 recommended white wines
Posted: December 18, 2009 By Laurie Woolever

Try these American Chardonnays for your holiday meal, plus great side-dish recipes and more "wine-tuning" tips
Posted: November 20, 2009 By Laurie Woolever

Try these American Pinot Noirs for your holiday meal, plus a roast turkey recipe and tips on "wine-tuning" the bird
Posted: November 17, 2009 By Laurie Woolever

Cookbook author and fresh-foods pioneer talks about pairing wine with vegetarian food, plus shares her tasty stuffed pepper recipe
Posted: November 10, 2009 By Lynn Alley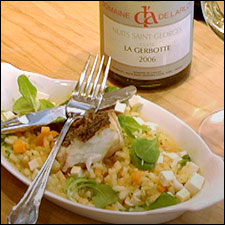 Dining & Travel : Menu Headers
Chef Gavin Kaysen for Wine Spectator
Posted: October 31, 2009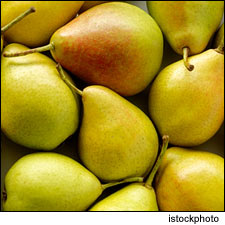 A recipe for Orange-Scented Pear Upside-Down Cake, plus seven recommended dessert wines
Posted: October 27, 2009 By Laurie Woolever

Accomplished chef of Rialto, in Cambridge, Mass., talks about wine pairing, a fantasy meal with President Obama and a delicious seasonal recipe
Posted: September 30, 2009 By Paul Kidwell

The holiday weekend calls for tasty marinated steak paired with 14 value-priced reds
Posted: August 28, 2009 By Laurie Woolever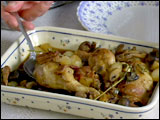 Start with Emeril Lagasse's riff on Julia Child's classic Coq au Vin. Take Julia's wine pairing recommendations. And BAM! Join Wine Spectator's Owen Dugan and Bruce Sanderson to see which pairing works best.
Posted: August 25, 2009

California restaurant vet and India native talks food and wine and shares a tasty shrimp recipe
Posted: August 19, 2009 By Lynn Alley
July 31, 2009 Issue : Features
Posted: July 31, 2009 By Matt Kramer
Posted: July 31, 2009
Entertain with the French sophistication and American informality of this stellar chef
Posted: July 31, 2009 By Owen Dugan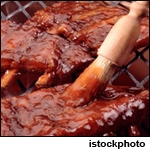 A rib recipe from New York's Blue Smoke restaurant, plus nine great Zinfandels to pour alongside
Posted: May 15, 2009 By Laurie Woolever