Posted: May 30, 2014
Blogs : Mixed Case: Opinion and Advice
It's hard to discuss the potential promise and perils of genetically modified organisms if fear trumps reason
Posted: May 21, 2014 By Mitch Frank
A French court ruled last week that a mob that destroyed an experimental vineyard in Alsace planted to genetically modified vines in 2010 was completely justified. It's another win for fear over reason when it comes to genetically modified organisms (GMOs).

Plus, a Canadian ice wine maker suffers the perils of publicity, and a Burgundy vigneron is fighting the government to keep his biodynamic vineyard pesticide free
Posted: December 5, 2013
Posted: October 18, 2013

Plus, Courvoisier's oldest Cognac on sale in London, California's creepy new vineyard pest, and the wines of the Nobel Prize banquet
Posted: December 13, 2012
Scientists have created a vine gene that can kill Pierce's disease, but will consumers accept wine from genetically modified vines?
Posted: March 13, 2012 By Matt Kettmann
Posted: March 7, 2012

News & Features : Wine in History
In the 1800s, the state that competed for wine primacy was … Missouri. Here's the forgotten story of its wine pioneers
Posted: August 30, 2011 By Ben O'Donnell

Growers in seven counties respond to European grapevine moth threat with spraying and quarantine rules
Posted: July 8, 2010 By Lynn Alley

Vineyard-threatening pests have spread from Chile to California wine country
Posted: April 23, 2010 By Lynn Alley

Plus, atomic wine testing and celebrity chefs get together for a pairing of Pinot Noir, pork and public service
Posted: March 25, 2010

Plus, the burgeoning market for virtual wine, a criminal enophile, Mark Twain memorialized on a bottle and more moth trouble in California
Posted: February 4, 2010

Plus, Josephine's wine-service accoutrements on display, a modern-day meeting of art and absinthe, bad news for Texas wine lovers and new vineyard pests in California
Posted: January 28, 2010

Plus, California battles a vineyard scourge with impotence, a retirement community with a sommelier, convenient wine at 7-Eleven, the science behind pairing wine and fish, and more
Posted: November 5, 2009

Plus, broadcasters and soap opera stars raise money for the hearing impaired, a charity wine to Tweet over, Oregon's new winged pests, and Pennsylvania police mistake a basement winery for a meth lab
Posted: October 29, 2009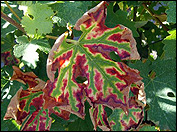 A fatal fungal disease known as Esca is ravaging vineyards from Cognac to Bordeaux, with no cure in sight
Posted: September 18, 2008 By Diana Macle
Light brown apple moth, which feeds on fruit-bearing plants, has been known to cause vineyard damage in Australia and New Zealand
Posted: March 6, 2008 By Lynn Alley
Posted: May 31, 2007 By Daniel Sogg
Posted: May 15, 2007 By MaryAnn Worobiec
Light brown apple moth found in several grapegrowing counties, but has yet to find its way to area vineyards
Posted: May 3, 2007 By Daniel Sogg