Plus, drought-stricken California vintners turn to the divining rod, and a new Cape wine auction raises $644,000 for charity
Posted: March 20, 2014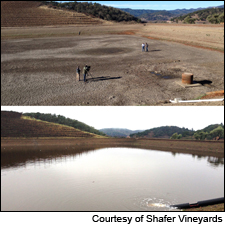 Blogs : Exploring Wine with Tim Fish
Big weekend storm gives hope to winemakers, particularly in Northern California
Posted: February 12, 2014 By Tim Fish
The first major storm in more than a year swept through Northern California over the weekend, and the sound heard in the skies wasn't thunder, but a sigh of collective relief.
Napa Valley and Sonoma County averaged about 8 inches in a few days, with some areas gaining as much as 12 to 15 inches. Central California wasn't as blessed, receiving no more than an inch or so.
The drought is far from over even in Northern California—rainfall levels are still below the previous record drought year of 1977—but you won't hear any complaints right now.

Plus, the FBI captures Napa's most wanted wine embezzler in Mexico, John Boehner prefers wine to the presidency, wine experiments at the bottom of Lake Geneva and more
Posted: January 30, 2014
With no rain in sight, reservoirs are empty and vintners fear a small crop even before the vines wake up
Posted: January 21, 2014 By James Laube, Tim Fish
Blogs : Exploring Wine with Tim Fish
2013 was the driest year on record, and 2014 is one big question mark
Posted: January 15, 2014 By Tim Fish
California is thirsty—and not for wine. It barely rained in 2013, and the wine industry is worried.
How bad is it? Some of the growing regions in Napa Valley got less rain than Las Vegas. Paso Robles, on the California Central Coast, got 1.92 inches of rain in 2013 instead of the average 12.78, according to the National Weather Service. By comparison, Death Valley got 2.17 inches.
That makes 2013 the driest year on record in California, and the records go back to about 1880. Droughts are nothing new here, but this is a new level of parched. It doesn't help that 2012 was an exceptionally dry year as well.
Fourteen months after Sandy damaged WineCare's cellars, customers hope to finally see their wines again
Posted: December 31, 2013 By Ben O'Donnell
Posted: December 20, 2013
Posted: October 31, 2013 By Suzanne Mustacich, Ben O'Donnell, Bruce Sanderson

Chardonnay and Pinot Noir buds damaged by freezing nights, but winemakers say it's too early to panic
Posted: October 16, 2013 By Mitch Frank
Blogs : Bruce Sanderson Decanted
A special derogation allows growers to buy grapes. Or not
Posted: September 27, 2013 By Bruce Sanderson
On Sept. 24, the prefecture of the Côte d'Or passed a bylaw allowing growers in Burgundy who were affected by the July 23 hailstorm to purchase grapes or must from the 2013 harvest to make up for the loss of their crop.

Plus, a controversial winemaker incites a boycott, wine as Virgil drank it, and more
Posted: August 29, 2013

A second storm in a week savages vines; many farmers are uninsured
Posted: August 7, 2013 By Suzanne Mustacich
Hail reduces yields in top Champagne sites as well as Bordeaux's Right Bank
Posted: July 30, 2013 By Suzanne Mustacich

The singer has partnered with Sonoma's Chateau St. Jean. Plus: Celebs compete in a Korbel spray-off, a quake rocks New Zealand, Paul Hobbs goes to Virginia, Bill Koch goes to court (again) and there's a new nude label
Posted: July 25, 2013
Growers assess damage after the largest storm in decades
Posted: July 25, 2013 By Bruce Sanderson

Plus, Sideways on stage, World War II wine, and Iron Horse's Joy Sterling gets appointed to California's Board of Food and Agriculture
Posted: July 18, 2013

Vouvray is reeling from a historically brutal storm; Chinon and Cahors hit as well
Posted: June 27, 2013 By Ben O'Donnell
Blogs : James Laube's Wine Flights
Owner John Wetlaufer has announced that Marcassin will not release its 2008 Pinot Noir due to smoke taint
Posted: May 23, 2013 By James Laube
The summer 2008 wildfires in Sonoma County have claimed another victim: Marcassin Pinot Noir.
The winery has decided not to release its 2008 vintage, it announced in its latest newsletter. "We are passing on the 2008 Pinot Noirs," wrote John Wetlaufer, who owns the Sonoma winery with his wife, winemaker Helen Turley.

News & Features : Wine in History
When not making Santa Lucia Highlands Pinot at Wrath, archaeologist Michael Thomas leads a team that discovered a wine "négociant" outside Pompeii
Posted: May 6, 2013 By Ben O'Donnell
Posted: April 30, 2013 By Ben O'Donnell