Posted: September 30, 2014 By Bruce Sanderson

Plus, the wine industry, Oakland Raiders and others come together for Napa earthquake relief
Posted: August 28, 2014

Valley residents and vintners assess the damage and clean up as grape harvest looms
Posted: August 26, 2014 By Tim Fish
Blogs : Mixed Case: Opinion and Advice
Napa's 6.1-magnitude earthquake rattles nerves and buildings, but the wine industry is rallying
Posted: August 25, 2014 By MaryAnn Worobiec
I'm from Cleveland, so when I moved to California in 1996, a lot of my friends warned me about "The Big One." I assured them that I'd rather go years of maybe having an earthquake to knowing that I'd have to endure year after year of dreadful winters.
On Sunday morning, The Pretty Big One hit. It woke us up at 3:20 a.m. I live about 15 miles from the epicenter. It's an uneasy feeling, the ground rumbling underneath you, hearing things fall and break in your house, long seconds of wondering when it will be over. Thankfully, I'm fine, along with everyone I know.

Dozens injured, buildings damaged and wineries trying to assess impact, check on staff and clean up
Posted: August 24, 2014 By Tim Fish

Plus, California's Prop 65 leaves vintners on the hook for restaurant violations
Posted: August 21, 2014
Blogs : James Laube's Wine Flights
Napa experienced a minor 3.2-magnitude earthquake this morning
Posted: August 5, 2014 By James Laube
Wine Spectator senior editor James Laube awoke to a 3.2-magnitude earthquake in Napa this morning.
Posted: July 16, 2014
In a summer of storms, some of Piedmont's prime vineyards lost 20 to 30 percent of their grapes
Posted: July 10, 2014 By Bruce Sanderson

Violent summer storms strike the Côte de Beaune for a third consecutive year
Posted: June 30, 2014 By Bruce Sanderson
Posted: June 13, 2014

Big name wineries largely spared, but many small growers will have a tiny crop this vintage
Posted: June 13, 2014 By Suzanne Mustacich
April 30, 2014 Issue : Features
Posted: April 30, 2014 By James Laube, Tim Fish

Plus, Stéphane Derenoncourt organizes a benefit for beleaguered Bordelais
Posted: April 17, 2014

Plus, Washington's wine industry steps up for mudslide relief, a Burgundy vintner's sentence for refusing to use pesticides is reduced, and more
Posted: April 10, 2014

Growers in New York state, Ontario and the Midwest assess damage to vine buds
Posted: March 24, 2014 By Ben O'Donnell

Plus, drought-stricken California vintners turn to the divining rod, and a new Cape wine auction raises $644,000 for charity
Posted: March 20, 2014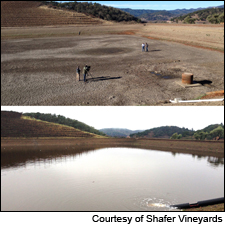 Blogs : Exploring Wine with Tim Fish
Big weekend storm gives hope to winemakers, particularly in Northern California
Posted: February 12, 2014 By Tim Fish
The first major storm in more than a year swept through Northern California over the weekend, and the sound heard in the skies wasn't thunder, but a sigh of collective relief.
Napa Valley and Sonoma County averaged about 8 inches in a few days, with some areas gaining as much as 12 to 15 inches. Central California wasn't as blessed, receiving no more than an inch or so.
The drought is far from over even in Northern California—rainfall levels are still below the previous record drought year of 1977—but you won't hear any complaints right now.

Plus, the FBI captures Napa's most wanted wine embezzler in Mexico, John Boehner prefers wine to the presidency, wine experiments at the bottom of Lake Geneva and more
Posted: January 30, 2014
With no rain in sight, reservoirs are empty and vintners fear a small crop even before the vines wake up
Posted: January 21, 2014 By James Laube, Tim Fish