Singer-songwriter Rob Thomas discusses wine and music
Posted: April 30, 2013 By Lizzie Munro

Plus, a red for the King of Blues, an Eagle serves up a Peaceful Easy Feeling Cabernet, a drone spotted above Sonoma's vineyards, a Victoria vineyard pot bust, and wine country is America's best country
Posted: March 21, 2013

Plus, Château Palmer learns no one is safe from wine crime, Bolivia's president prescribes coca wine to the new pope and Moët & Chandon gets a questionable endorsement from Justin Timberlake on SNL
Posted: March 14, 2013

Plus, British pols take heat for their pricey wine tastes while Chinese collector Henry Tang sells part of the wine collection that derailed his own political aspirations
Posted: February 14, 2013

Plus, Burgundy and Champagne struggle for world heritage site recognition, get amped with Motörhead's new Shiraz in a box and Oregon gets a new AVA
Posted: February 7, 2013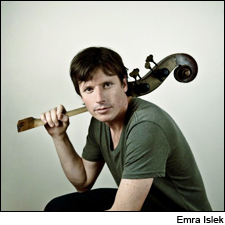 Blogs : Harvey Steiman At Large
Matt Penman explores the worlds of wine and jazz
Posted: February 4, 2013 By Harvey Steiman
Matt Penman pulled the cork on a Huët Vouvray Le Haut-Lieu 2011, poured me a sip and apologizes for the glassware. "I'm sorry for the plastic cups, but they won't let us have real wineglasses here."
We are in the green room in the new SFJAZZ Center, which bills itself as the first concert hall of its type in the United States: a freestanding performance venue with flexible seating and staging for artists of every stature, built specifically for jazz music and audiences alike. It opened recently in San Francisco on the corner of Franklin and Fell streets with a series of all-star concerts.

Destruction trumped beauty in 2012, just barely, with demolished wineries drawing attention from models, actresses and New Jersey Gov. Chris Christie
Posted: December 27, 2012

Plus, Hip-hop star Timbaland introduces a sparkling blend of wine and vodka, Adam Carolla introduces Mangria and more Superstorm Sandy recovery efforts
Posted: November 21, 2012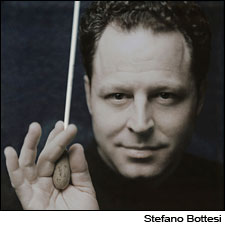 Blogs : Harvey Steiman At Large
Conductor crosses the lines thanks to a childhood accident
Posted: November 21, 2012 By Harvey Steiman
John Axelrod tastes music and hears food and wine. As a result, he has a particular fascination for the links between music and gastronomy. He claims to be the only conductor who also ran a wine business. In the late 1990s he ran the Robert Mondavi wine center at Disneyland in Anaheim for three years. It was Mondavi's wife, Margrit Biever, who encouraged the young Axelrod, who has studied privately with Leonard Bernstein, to "take the leap of faith," as he put it, and pursue a career in music.
Today he leads the Orchestra National des Pays de la Loire in Angers, France, the Verdi Orchestra in Milan, Italy, and guest conducts throughout Europe. We chatted via Skype recently after he led a performance in Naples of Gustav Mahler's Symphony No. 5. Axelrod explained that he has a form of synesthesia, a neurological condition in which stimulation of one sensory or cognitive pathway leads to automatic, involuntary experiences in a second sensory or cognitive pathway. For Axelrod it is taste and sound, and it developed after he got mercury poisoning as a child. "The treatment created a bridge between taste and my hearing," he said.
Blogs : Harvey Steiman At Large
A tasting retrospective on Steingarten, a limited-production Riesling from a big wine company
Posted: November 6, 2012 By Harvey Steiman
Until about 20 years ago, Riesling was Australia's go-to white wine. It never made much an impact here in the United States, where Riesling from anywhere was a tough sell, but in Australia it seemed as if everyone drank it regularly, from punters to pundits. At least until Chardonnay rode its worldwide popularity to replace Riesling in Australian wine drinkers' glasses.
The good news for those of us who appreciate the clarity, ageability and zing of a good Aussie Riesling is that the grape never went away. In fact, it has become a darling of sommeliers and retailers here in America who decry oak and high alcohol in white wines. In the same way as two other personal favorites, Spain's Albariños and Italy's Falanghinas, dry Aussie Rieslings offer piquancy and charm to meld well with seafood, which I eat as often as I can.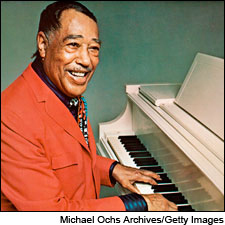 Blogs : Harvey Steiman At Large
Are there really only two kinds of wine?
Posted: October 24, 2012 By Harvey Steiman
Some of us believe that Duke Ellington was America's greatest composer, even though he wrote in an idiom that many people then (and now) do not consider serious enough—jazz. His being something of an outsider, both because of his race and his musical genre, probably prompted his most famous quote, that "there are only two kinds of music: good music, and the other kind."
It's a telling remark, one that resonated with me the first time I ever heard it as a music student. I like to quote it today, when the diversity of the music we can pipe through our iPod earphones covers a range even the Duke couldn't imagine.
The same could be said about our favorite beverage. We can experience a wider choice of good wines today than ever before. And we are having the same kind of arguments over how to define good wine as those we had over just what constituted good music in Duke Ellington's day, or today, for that matter.
Jazz pianist Jacky Terrasson honed his love for wine on the road in Europe
Posted: June 15, 2012 By James Molesworth

Plus, an American wine importer joins France's Legion d'Honneur and the Great GoogaMooga asks (and answers) if chefs are the new rock stars
Posted: May 24, 2012

Plus, Port house Ramos Pinto hosts Monaco's royalty and the Great GoogaMooga is bringing wine and music to Brooklyn's Prospect Park
Posted: May 17, 2012

Berkeley, Calif.-based Peter Eastlake curates the wine list for summer music festivals
Posted: May 11, 2012 By Jennifer Fiedler

Plus, star chefs support Citymeals-on-Wheels and cancer research at Dînner des Grands Chefs and Taste of Hope, and a Mother's Day treat: cookies created specifically for wine pairing
Posted: May 10, 2012

Plus, a Sept. 11 Memorial from Burgundy, White House Correspondent wines and Copia's sad last sale
Posted: May 3, 2012

Plus, a Eurythmics-Mollydooker collaboration, House Band eco-packaged wine for festivals and rock stars fete Jordan's 40th birthday
Posted: April 26, 2012

Jazz pianist Jacky Terrasson honed his love for wine on the road in Europe
Posted: March 23, 2012 By James Molesworth
Blogs : Exploring Wine with Tim Fish
Flamboyant pop singer surprises fans, but what wine does she drink?
Posted: February 29, 2012 By Tim Fish
Sonoma is one of the last places I'd expect to see Lady Gaga, that flamboyant goddess of pop music. We're a little light on paparazzi and six-inch stiletto heels around these parts, but last week Gaga and her modest entourage were repeatedly spotted at restaurants around the county, as well as Napa and Marin.
For the unenlightened, Lady Gaga is a 25-year-old singer who is recognized around the world, in part because of catchy dance hits such as "Bad Romance" and "Born This Way," but also because of her edgy live performances, savvy social media skills and willingness to pull outrageous stunts like wearing a dress made entirely of meat to the MTV Video Music Awards.