Turkey lends a new richness to a classic holiday dish; plus recommended kosher wineries
Posted: April 2, 2014 By Laurie Woolever

A New York chef shares Italian-inflected family recipes. Plus, 14 recently rated kosher wines from Israel and California
Posted: August 27, 2013 By Laurie Woolever

Elegant dishes from a new kosher hot spot in Manhattan, plus 12 recently rated kosher reds and whites for your holiday table
Posted: September 6, 2012 By Laurie Woolever

A flavorful variation on tzimmes and brisket, plus 16 recently rated kosher wines from Israel
Posted: March 28, 2012 By Laurie Woolever

Try chef Peter Hoffman's tasty fall recipe, perfect for Rosh Hashanah, along with 13 recently rated red and white kosher wines
Posted: September 14, 2011 By Laurie Woolever
Posted: February 9, 2011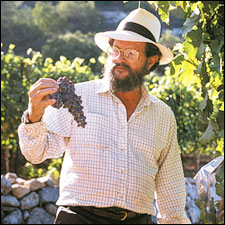 Three wineries to visit and tips on touring Israel's most-accessible wine region
Posted: September 3, 2010 By Stephanie Cain

17 recently rated reds, whites and more, plus two great recipes from Joan Nathan's new book
Posted: August 31, 2010 By Laurie Woolever

Plus, New York's (the country's?) first all-kosher wine bar, and a month-long charity rosé run on Long Island
Posted: May 6, 2010

Bring something new to Passover with these fresh recipes and 20 recommended kosher wines
Posted: March 19, 2010 By Laurie Woolever

11 recently rated kosher wines for the New Year and breaking the fast
Posted: September 8, 2009 By Laurie Woolever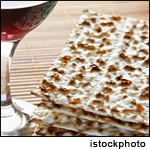 Recommended wines and recipes for the upcoming Jewish holiday
Posted: April 1, 2009 By Laurie Woolever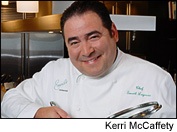 Plus, green bubbly for the White House, a California kosher cult Cabernet and Napa's finger-puppet icons
Posted: March 5, 2009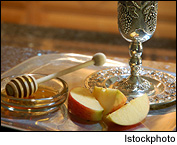 A selection of top bottles, plus videos, recipes and more
Posted: September 25, 2008 By Laurie Woolever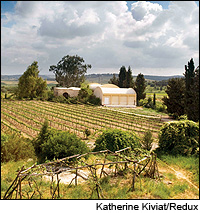 News & Features : Tasting Highlights
A baker's dozen of remarkable wines, both kosher and non-kosher, that emphasize fresh fruit and plenty of structure
Posted: June 16, 2008 By Kim Marcus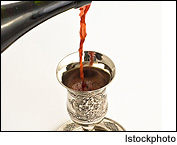 Exciting flavors and combinations from around the world for your Seder table
Posted: April 10, 2008 By Laurie Woolever, Lynn Alley
Posted: February 24, 2008 By Kim Marcus
Back in contact. Sorry for the delay since my last post, but the Israelis have been keeping me busy and the internet connections been a bit sparse. In fact, I've been in some pretty wild places; just the other night, I was serenaded by at first jackals (the local version of coyotes) and then by their domestic cousins in a small village called Agur, between Tel Aviv and Jerusalem.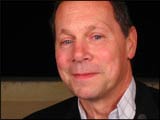 Meet one of Bordeaux's irrepressible garagistes as Wine Spectator senior editor James Suckling talks with Jean-Luc Thunevin about Chåteau Valandraud's main wine as well as the kosher version, one of the few kosher wines made in Bordeaux.
Posted: March 29, 2007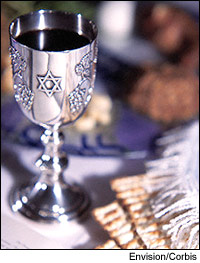 Kosher wine selections from Hagafen and Recanati add a new twist to fall Jewish holidays
Posted: September 11, 2006
Blogs : James Suckling Uncorked
Posted: August 31, 2006 By James Suckling
Flew into Tel Aviv for a few days with some friends yesterday on a whim. Everything was quiet, except for the occasional military helicopter speeding by overhead. It is my first time to Israel, and it is a trip I have wanted to make for a very long time.