April 30, 2013 Issue : Tasting Reports
Cool growing conditions in Piedmont produced impressive results
Posted: April 30, 2013 By Bruce Sanderson
April 30, 2013 Issue : This Issue/Marvin R. Shanken
Posted: April 30, 2013 By Marvin R. Shanken, Thomas Matthews
April 30, 2013 Issue : Features
Stefano Inama is a bold voice among the true believers working to restore the Italian region's reputation
Posted: April 30, 2013 By Mitch Frank
Posted: April 30, 2013 By Bruce Sanderson
April 30, 2013 Issue : Features
Bruno Giacosa toiled for decades to make some of Piedmont's greatest wines. Now a new generation is building on his labors
Posted: April 30, 2013 By Mitch Frank
When it comes to winemaking, Elisabetta Foradori considers success less important than passion
Posted: April 30, 2013 By Mitch Frank
April 30, 2013 Issue : Features
Italy's first family of sparkling wine brings its Champagne-method spumante to the world
Posted: April 30, 2013 By Robert Camuto
April 30, 2013 Issue : Features
A revolutionary approach to Italian food and wine
Posted: April 30, 2013 By Robert Camuto
April 30, 2013 Issue : Alphabetical Listing
Posted: April 30, 2013

News & Features : Wine in History
From maddeningly hard to outright deadly, some games show our wine-swilling forebears had odd ideas about fun
Posted: April 23, 2013 By Ben O'Donnell

News & Features : Tasting Highlights
New reviews of appealing, affordable reds from Italy's Veneto region
Posted: April 19, 2013 By Alison Napjus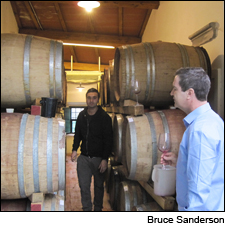 Blogs : Bruce Sanderson Decanted
Tasting Bibi Graetz' 2012 barrel samples in Chianti Classico, plus the latest vintages of Testamatta, Colore and Soffocone
Posted: April 15, 2013 By Bruce Sanderson
Does anyone have more fun making wine than Bibi Graetz?
He grew up in a castle outside Florence, Italy, and still lives there, making wine from an assortment of old vines sourced from around Chianti Classico, including 37 acres of vineyards at his property in Fiesole, where I caught up with him and his cellarmaster, Luigi Temperini.

The patriarch of the Tuscan estate many credit with creating Brunello was an outspoken champion of the wine
Posted: April 8, 2013 By Mitch Frank, Bruce Sanderson

Why has the bitter victim resigned from the Brunello association? Plus, undercover foie gras spies in Napa Valley and a Carneros Pinot inspired by the Large Hadron Collider
Posted: March 28, 2013
Noemi Marone Cinzano sells to undisclosed investors so she can focus on her Argentine property
Posted: February 11, 2013 By Bruce Sanderson
News & Features : What We're Drinking Now
Lini Oreste & Figli Lambrusco Emilia Rosso Labrusca 910 NV
Posted: February 1, 2013 By Dana Nigro
News & Features : Tasting Highlights
New reviews of go-to Piedmont reds under $25
Posted: January 11, 2013 By Bruce Sanderson
Blogs : Bruce Sanderson Decanted
Pio Boffa sought advice from Bordeaux consultant Denis Dubourdieu to make changes at Barolo star Pio Cesare in the Langhe
Posted: January 7, 2013 By Bruce Sanderson
This past November, I attended the Pennsylvania Academy of Fine Arts 14th Bacchanal Wine Gala and Auction, which raises money for art student scholarships. Each year, PAFA honors members of the wine industry. Last year, one of the honorees was Pio Boffa, the affable owner of Pio Cesare in Italy's Piedmont region. I sat down with Boffa to discuss some changes he made in the vineyards and cellar at the company his great grandfather founded in Alba in 1881.
Boffa began working with Bordeaux consultant Denis Dubourdieu after the two were introduced by Pio Cesare importer Maison, Marques & Domaines in 2010.
Dec. 31, 2012 - Jan. 15, 2013 Issue : Features
Posted: December 31, 2012 By Alison Napjus

News & Features : Tasting Highlights
New reviews of bright, juicy whites from the Friuli region of Italy
Posted: December 21, 2012 By Alison Napjus