Oct. 31, 2013 Issue : Tasting Reports
Recent vintages deliver big reds from Bolgheri, Chianti and beyond
Posted: October 31, 2013 By Bruce Sanderson
Oct. 31, 2013 Issue : Tasting Reports
Distinctive reds and whites flow from Italy's central and southern wine regions
Posted: October 31, 2013 By Nathan Wesley
Oct. 31, 2013 Issue : Features
The Mastroberardino family helped spark a quality revolution in the high hills of Campania
Posted: October 31, 2013 By Robert Camuto
Oct. 31, 2013 Issue : Alphabetical Listing
Posted: October 31, 2013
Oct. 31, 2013 Issue : Alphabetical Listing
Posted: October 31, 2013
Oct. 31, 2013 Issue : This Issue/Marvin R. Shanken
Posted: October 31, 2013 By Marvin R. Shanken, Thomas Matthews
Oct. 31, 2013 Issue : Features
At Fontodi, Giovanni Manetti has brought a historic vineyard back to life
Posted: October 31, 2013 By Mitch Frank

News & Features : News & Features
Angelo Gaja and his daughter, Gaia, share the family's wines from Piedmont and Tuscany
Posted: October 29, 2013 By Mitch Frank
Posted: October 28, 2013
News & Features : Tasting Highlights
New reviews of bold and distinctive Amarone della Valpolicellas from the Veneto region
Posted: October 25, 2013 By Alison Napjus
A state council rules wines can be labeled Cannubi, even if they come from neighboring parcels
Posted: October 17, 2013 By Mitch Frank
Oct. 15, 2013 Issue : Tasting Reports
The northeastern corner of Italy delivers wines of structure and purity
Posted: October 15, 2013 By Alison Napjus
Blogs : Mixed Case: Opinion and Advice
For some wine categories, the price of entry is too high for most, but daily-drinking alternatives can send out the vibes of the real deal
Posted: October 8, 2013 By Ben O'Donnell
Brunello di Montalcino, the pure Sangiovese in the heart of Tuscany's wine country, is an expensive wine to make. Land is pricey and there's not much to go around. Producers are required to sit on inventory for two years in oak and four months in bottle—but the expected protocol is that the wines not reach the market until five years after the harvest. It's a cost passed on to the consumer: You're hard-pressed to find a bottle under $40 on the shelf.
Two Tuscan value categories can offer an impressive alternative to Brunello: Rosso di Montalcino and Morellino di Scansano.
Champion cyclist Francesco Moser's roots are in the steep hillside vineyards of Trentino
Posted: September 30, 2013 By Katherine Cole
Sept. 30, 2013 Issue : Features
Six chefs interpret the rich diversity of regional Italian food and wine
Posted: September 30, 2013 By Owen Dugan
Sept. 30, 2013 Issue : This Issue/Marvin R. Shanken
Posted: September 30, 2013 By Marvin R. Shanken, Thomas Matthews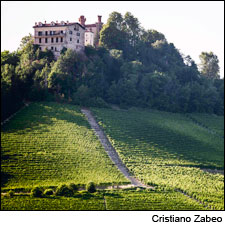 Blogs : Bruce Sanderson Decanted
Consulting enologist Giuseppe Caviola takes center stage with his own wines
Posted: September 18, 2013 By Bruce Sanderson
Giuseppe Caviola isn't a household name for most fans of Piedmont wines. Caviola is a consulting enologist who counts quite a few well-known labels among his clients, however: Marziano Abbona, Damilano, Luigi Einaudi, Fontanabianca, Fiorenzo Nada, Pecchenino, Albino Rocca, Vietti and Villa Sparina in Piedmont; Rocca di Castagnoli, Sette Ponti and Terenzi in Tuscany; Umani Ronchi in Marche and Ca' Rugate in Veneto. In addition to his consulting duties, Caviola, known as "Beppe," also owns a 33-acre estate, Ca'Viola.
Posted: September 9, 2013

News & Features : Tasting Highlights
New reviews of whites, reds and rosés from Tuscany, each under $20
Posted: August 2, 2013 By Bruce Sanderson
Posted: July 31, 2013 By Ben O'Donnell, Suzanne Mustacich