Blogs : James Suckling Uncorked
Posted: April 9, 2006 By James Suckling
Got back home in Tuscany from VinItaly last night. I spent a whole day in the beautiful city of Verona at what some believe is the Super Bowl of Italian wine. But the only thing the annual event has in common with the great American football event is the crowds.
Blogs : James Suckling Uncorked
Posted: April 7, 2006 By James Suckling
After Geneva, flew to Munich to drive down with a friend in his 575 Ferrari to Verona for Italy's Super Bowl of wine fairs, VinItaly. Parts of the autobahn in Germany still have no speed limit. So we pushed the 575 a bit – very fast.
March 31, 2006 Issue : Features
Fiercely proud of its culture, the city is modernizing without abandoning its traditions
Posted: March 31, 2006 By Bruce Schoenfeld
March 31, 2006 Issue : Tasting Reports
Posted: March 31, 2006 By James Suckling
March 31, 2006 Issue : Tasting Reports
Snap up 2001s and other older wines still on the market, because the road is about to get rough
Posted: March 31, 2006 By James Suckling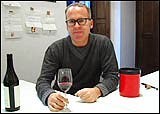 Find out why Wine Spectator senior editor James Suckling thinks the Barbera d'Asti Tre Vigne 2003 is so good.1:28
Posted: March 15, 2006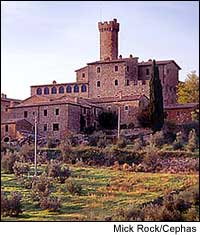 News & Features : Tasting Highlights
27 outstanding Tuscan reds from a must-buy vintage
Posted: February 15, 2006 By James Suckling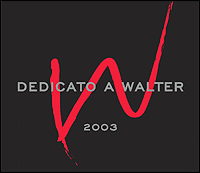 News & Features : New Wines, New Faces
Veneto winemaking family and U.S. importer team up in Tuscany and start off with outstanding reds
Posted: February 3, 2006 By Jo Cooke
Jan. 31 - Feb. 28, 2006 Issue : News
Posted: January 31, 2006 By Jo Cooke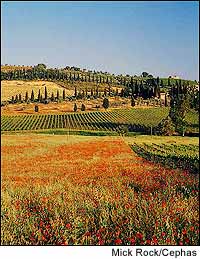 News & Features : Tasting Highlights
A first look at a vintage that may represent a new style for this Tuscan red
Posted: January 30, 2006 By James Suckling
Dec. 31,2005 - Jan. 15,2005 Issue : Features
Posted: December 31, 2005 By Jo Cooke
The Mazzei brothers have 600 years of Chianti history and very modern goals
Posted: December 15, 2005 By Bruce Schoenfeld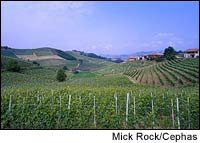 News & Features : Tasting Highlights
Now is the time to stock up on these great Italian reds
Posted: November 14, 2005 By James Suckling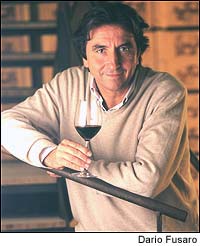 News & Features : Tasting Highlights
From Italy's Piedmont region, Barbera shines in 2003
Posted: November 4, 2005 By James Suckling
Oct. 31, 2005 Issue : Tasting Reports
Four consulting winemakers are making their marks on Italy
Posted: October 31, 2005 By Bruce Schoenfeld
Oct. 31, 2005 Issue : Tasting Reports
Difficult vintages in 2002 and 2003 are making producers anxious
Posted: October 31, 2005 By James Suckling
2005 looks like a good vintage for this expensive delicacy
Posted: October 21, 2005 By James Suckling
Piero Conticelli accused of selling falsely labeled wines to Ruffino and numerous other producers
Posted: October 13, 2005 By Jo Cooke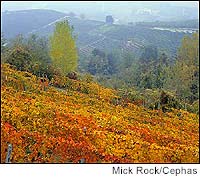 News & Features : Tasting Highlights
A dozen outstanding recent releases from Piedmont
Posted: October 11, 2005 By James Suckling
Sept. 30, 2005 Issue : Columns
Posted: September 30, 2005 By James Suckling