Oct. 31, 2014 Issue : Alphabetical Listing
Posted: October 31, 2014
Oct. 31, 2014 Issue : Features
Posted: October 31, 2014 By Alison Napjus
Oct. 31, 2014 Issue : Features
Posted: October 31, 2014 By Alison Napjus
Oct. 31, 2014 Issue : Features
Seven producers that are setting the pace for progress
Posted: October 31, 2014 By Robert Camuto, Alison Napjus
Oct. 31, 2014 Issue : Alphabetical Listing
Posted: October 31, 2014
Oct. 31, 2014 Issue : Features
Led by a group of notable winemakers, Tuscany's lesser-known neighbor is stirring up a scene in the heart of Italy
Posted: October 31, 2014 By Robert Camuto
Oct. 31, 2014 Issue : Tasting Reports
While Tuscany continues its success with international grape varieties, indigenous Sangiovese is on the rise
Posted: October 31, 2014 By Bruce Sanderson
Oct. 31, 2014 Issue : Features
Wine culture is reborn, fueled by passion, perseverance and distinctive bottlings from around the island
Posted: October 31, 2014 By Alison Napjus

Plus, Young Jeezy in a Champagne bottle battle, golfer Cristie Kerr's charity wine drive and a robot "mini-mouth" that tastes wine
Posted: September 25, 2014

News & Features : Tasting Highlights
New reviews of Dolcettos from the Piedmont region
Posted: September 19, 2014 By Bruce Sanderson

New research finds wineries think sustainability pays, even if it's unclear that consumers value it
Posted: September 16, 2014 By Liz Thach

News & Features : Tasting Highlights
New reviews of Sagrantino, Sangiovese and more from the Umbria region
Posted: September 12, 2014 By Alison Napjus
A winery consultant stands accused of falsely identifying Sangiovese as Brunello di Montalcino
Posted: September 10, 2014 By Bruce Sanderson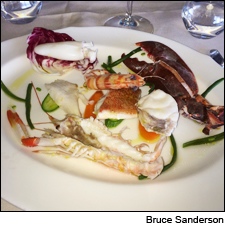 Blogs : Bruce Sanderson Decanted
Delicious produce, pasta and salume abound among the region's rolling hills and hilltop towns
Posted: September 9, 2014 By Bruce Sanderson
I'm typically in Tuscany in late March or April, when its abundant bounty of fruit and vegetables is in its earlier stages of development, so it was a welcome change to spend a week there in late August.
Every meal was a delight of fresh, local products, from ripe, juicy and flavorful tomatoes, succulent peaches, plums and apricots, zucchini, carrots, beans and local herbs. Even better that most of the dishes were accompanied by tangy olive oil and washed down with (mostly) local wines.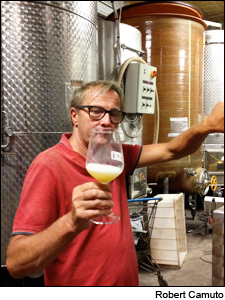 Blogs : Robert Camuto: Letter from Europe
How Piedmont pioneer Walter Massa revived Italy's newest celebrated white wine
Posted: September 8, 2014 By Robert Camuto
In a corner of eastern Piedmont you probably haven't heard of, Walter Massa is considered something of a prophet.
At 58, Massa is known as the farmer and visionary in Monleale (pop. 600+) who resurrected the local white Timorasso grape from near extinction with wines celebrated in Italy and beyond. In the U.S in recent years, his bottlings have found an important niche on top Italian wine lists.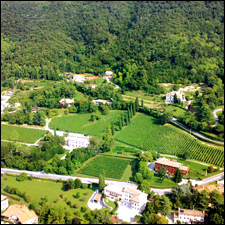 Blogs : Mixed Case: Opinion and Advice
Prosecco is quietly laying the groundwork to buck the trend-wine trend and stay relevant permanently. Here's how
Posted: September 4, 2014 By Ben O'Donnell
By the late 2000s, the wine minds of Treviso had noticed that Prosecco exports had begun to accelerate, even while the American love affair with the drink was still in first bloom.
In 2009, when most drinkers considered Prosecco cheap, if they considered it at all, the folks who made it were thinking ahead. That year, to give it a prestige boost and better define the wine as being from a precise region rather than simply a style, the Italian government bumped the Prosecco di Conegliano-Valdobbiadene DOC, from the hilly areas of the region, up to the loftier Conegliano Valdobbiadene Prosecco Superiore DOCG, a name unwieldy enough to confer distinction. At the same time, the areas surrounding that zone, where Prosecco was made with an IGT designation, became the protected Prosecco DOC. Around the same time, the producers started calling the grape "Glera" instead of "Prosecco"; now Prosecco, like Burgundy or Port, meant coordinates on a map, no knockoffs allowed.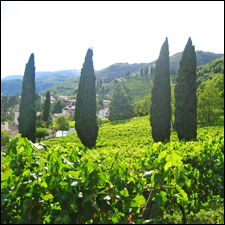 Blogs : Mixed Case: Opinion and Advice
How does a faddish wine become a staple?
Posted: September 3, 2014 By Ben O'Donnell
WineSpectator.com assistant editor Ben O'Donnell looks at the staying power of Italy's Prosecco, the inexpensive sparkling wine that burst onto the scene three years ago but is poised to stick around.
Chef Enrico Crippa sets the modern standard for regional cuisine at Piazza Duomo in Alba
Posted: August 31, 2014 By Robert Camuto

News & Features : Drinking Out Loud
Price and scores simply don't matter—you just love them
Posted: August 19, 2014 By Matt Kramer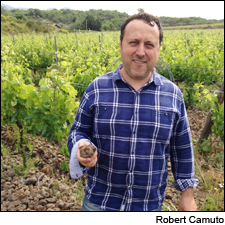 Blogs : Robert Camuto: Letter from Europe
Giuseppe Russo's journey from classical music to melodic Sicilian reds
Posted: August 11, 2014 By Robert Camuto
Wine Spectator contributing editor Robert Camuto visits the Mt. Etna vineyards of Giuseppe Russo to see how the former classical pianist makes his melodic Sicilian red wines.