News & Features : Tasting Highlights
New releases of exciting Pinots from the 2010 vintage, each priced at $30 or less
Posted: November 30, 2012 By Augustus Weed

News & Features : Tasting Highlights
New reviews of Russian River Valley Pinot Noirs from the 2010 vintage
Posted: November 26, 2012 By MaryAnn Worobiec

From the Iberian Peninsula to Germany, winegrowers faced low quantities of grapes and a lot of work in the vineyards
Posted: November 20, 2012

A wet spring and a hot, dry summer lowered grape quantities across the Italian peninsula and kept winegrowers working hard
Posted: November 19, 2012

Winegrowers earned their paychecks as they dueled tough, wet growing conditions all year; the Rhône was a bright spot
Posted: November 16, 2012

The sun came out for a warm, dry growing season in the Pacific Northwest; East Coast winemakers managed to dodge a hurricane
Posted: November 15, 2012

Is it possible to have too much of a good thing? Not in California, where most winemakers report an easy growing season with plenty of high-quality grapes
Posted: November 14, 2012
News & Features : What We're Drinking Now
Bodegas Godeval Valdeorras Viña Godeval 2010
Posted: November 12, 2012 By Dana Nigro
Blogs : Exploring Wine with Tim Fish
The 2009 vintage offers both quality and value
Posted: October 24, 2012 By Tim Fish
California Merlot falls into three basic categories: the easygoing values, the expensive Cabernet-wannabes and that big void in the middle that's a stylistic roll of the dice. For my annual Merlot report, I tasted nearly 200 wines, and I give the lowdown in the Nov. 30, 2012, issue of Wine Spectator.
Since the high-tech proletariat seems to throw around the most weight on the Internet, I thought I'd focus today on Merlots that cost between $10 and $20. In years past, that has not always been easy, but the 2009 vintage is so good that even the value Merlots are tasty. (A few early-release 2010s show promise as well.)
Blogs : Harvey Steiman At Large
The 2010 Pinot Noirs' delicacy make them worthy of attention
Posted: October 15, 2012 By Harvey Steiman
After tasting select wines from barrel last year, I said that 2010 would be a polarizing vintage for Oregon's Pinot Noirs. Those who crave delicacy in Pinot Noir, who prize pretty aromas and flavors, will love it. Others may find it wimpy and wonder what all the fuss is about.
Now that I have blind-tasted out of the bottle more than half of the 2010s I expect to review, I still believe that. Time after time I hesitated after writing a tasting note that described the charms of pretty fruit character, delicate structure, and a welcome sense of transparency to it all. Lovely wines, but I wondered, did they have the depth, the length, the complexity to qualify as great? These elements make a wine truly memorable.
The answer, more often than not, was yes, although more than a few of the wines came up just a bit short on those factors.
Sept. 30, 2012 Issue : Features
Posted: September 30, 2012 By Nathan Wesley, James Molesworth, Augustus Weed, MaryAnn Worobiec

Plus, an unauthorized M. Chapoutier fashion line in China, and cutting loose with the harvest olympics in Napa
Posted: September 20, 2012
Blogs : Mixed Case: Opinion and Advice
The evolution of the most important wine-industry innovation in nearly 150 years
Posted: September 18, 2012 By Robert Taylor
The Northern Hemisphere harvest begins this month, and in the vast, vast majority of the world's vineyards, it starts with a heavy machinery operator turning the ignition on a mechanical grape harvester.
Many wine lovers might imagine—or might prefer—a scenario that involved skilled harvesters gently selecting the very best bunches of grapes, all by hand. But the half-dozen experts I polled—including industry insiders, vintners and mechanical harvester operators—conceded that 90 percent or more of the world's wine grapes are likely harvested mechanically.
If you're interested in the intersection of quality and value, you should be grateful.
Blogs : Exploring Wine with Tim Fish
When your hands are stained red, a cold one is all you want at the end of the day
Posted: September 12, 2012 By Tim Fish
It's half-past September and do you know what California winemakers are drinking?
Beer.
No, it's not a joke. There's an old saying, in fact: "It takes a lot of beer to make wine."
News & Features : What We're Drinking Now
Planeta Cerasuolo di Vittoria 2010
Posted: August 21, 2012 By Thomas Matthews
News & Features : What We're Drinking Now
M. Chapoutier Vin de Pays d'Oc Marius White 2010
Posted: August 7, 2012 By Harvey Steiman
News & Features : What We're Drinking Now
Grande Réserve de Gassac Pays d'Herault White 2010
Posted: July 6, 2012 By Kim Marcus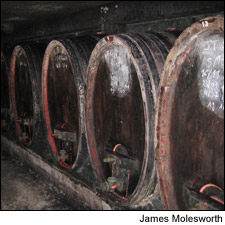 Blogs : Stirring the Lees with James Molesworth
Comparing Cornas and Côte-Rôtie at A. Clape and Stéphane Ogier
Posted: July 2, 2012 By James Molesworth
Cornas and Côte-Rôtie: same grape, same region, but two totally different wines. Cornas is all about controlled rusticity, with olive, bramble and chalk notes that need to be massaged into a core of fruit. Few producers manage to do it well, but at its best, it's arguably the Northern Rhône's most distinctive wine.
In Côte-Rôtie, it's about controlling amplitude of fruit to find balance. Letting the sanguine and mineral notes edge out from a ripe blackberry and plum core, as well as a sometimes-exuberant new oak élevage employed by a few vignerons, is key.
Put the two together, and Cornas and Côte-Rôtie are the yin and yang of Northern Rhône Syrah. Today I visited A. Clape and Stéphane Ogier.
News & Features : What We're Drinking Now
Gerovassiliou Malagousia Epanomi 2010
Posted: July 2, 2012 By Bruce Sanderson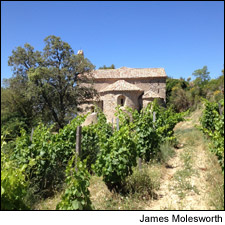 Blogs : Stirring the Lees with James Molesworth
I made my last stop in France's Southern Rhône Valley at St.-Cosme, then headed up to Jaboulet Aîné
Posted: June 29, 2012 By James Molesworth
On my fifth day in France's Rhône Valley, I visited Château de St.-Cosme in Gigondas, then headed north to Paul Jaboulet Aîné. Here are my tasting notes on the 2010 Northern Rhônes at both domaines, and much more.