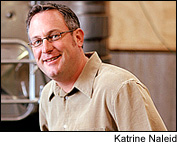 Kosta Browne's winemaker talks about this year's delayed harvest, and why it might be the best crop of Pinot Noir he's ever worked with
Posted: October 11, 2007 By Robert Taylor
One of Napa's top winemakers talks about the outstanding season for Cabernet—and how it's a tougher variety to handle than most people think
Posted: October 9, 2007 By Eric Arnold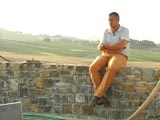 Join Giacomo Neri in his vineyard and in his winery as he harvests grapes for his Tenuta Nuova Brunello di Montalcino. The 2001 bottling from this vineyard was named Wine Spectator Wine of the Year in 2006.
Posted: October 4, 2007
Volume of Amarone wines will be down slightly in 2007 after hailstorms wiped out the crop in some vineyards, but spared others
Posted: October 1, 2007 By Jo Cooke
Blogs : Harvey Steiman At Large
Posted: September 27, 2007 By Harvey Steiman
Skies are clear and daytime temperatures are in the 70s this week in Oregon's Willamette Valley. They have started picking Pinot Noir grapes, but the growers and winemakers are nervous. They're expecting rain this weekend, the first of a series of storms lined up to wash across the Pacific Northwest coast.
How do grapes turn into wine? Get the answer by watching fast-paced video from Australia's Barossa Valley, where, apparently, wine is made to a techno beat. Submitted by Tyson Bitter.
Posted: September 27, 2007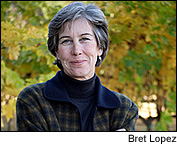 Napa Cab specialist talks about the strong season in which winemakers' individual styles will show
Posted: September 27, 2007 By MaryAnn Worobiec
Blogs : James Laube's Wine Flights
Posted: September 26, 2007 By James Laube
In nearly 30 years of observing harvests in California and elsewhere, I've come to count on two things to be true. The first is that it takes a lot of beer to make good wine; the second is that no two vintages are alike.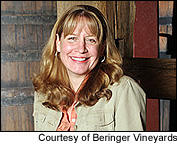 Beringer's winemaker talks about this year's harvest of Chardonnay, a grape with more character than many people realize
Posted: September 21, 2007 By Jennifer Fiedler
Blogs : Stirring the Lees with James Molesworth
Posted: September 20, 2007 By James Molesworth
I sat down with Catherine Champalou here at my office the other day. Champalou, along with her husband, Didier, runs Domaine Champalou located in Vouvray. Champalou founded her domaine back in 1985, with the purchase of a single hectare of vines (2.
Blogs : James Suckling Uncorked
Posted: September 19, 2007 By James Suckling
Today was a new day in Tuscany. It was bright and very windy. A cold wind came out of the north and dried up everything. There are still rain clouds around but they are blowing all over Tuscany. I spent the day with the Antinori family at their Chianti Classico estate, Tignanello.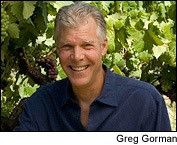 Zinfandel specialist talks about harvesting California's signature grape in Sonoma
Posted: September 19, 2007 By MaryAnn Worobiec
Blogs : James Suckling Uncorked
Posted: September 18, 2007 By James Suckling
The weather is really weird in Tuscany at the moment. This afternoon, my kitchen was flooded with water, after what looked like a monsoon blew through Il Borro. It must have rained about three or four inches in about half an hour! I still have high hopes for the harvest.
Blogs : On Tour with Maynard James Keenan
Posted: September 13, 2007 By Maynard James Keenan
Finally off the road for a while. Jet lag has actually been a bonus. I'm up super early. On my first morning back, I walked through the Merkin West vineyard at sunrise. Wow! I'll say it backward... WoW! Almost brought me to tears.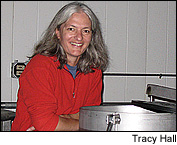 A look at this year's Sauvignon Blanc harvest in Carneros through the eyes of Selene's winemaker
Posted: September 12, 2007 By Laurie Woolever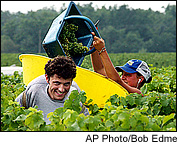 Vintners strive to make the best of a difficult season plagued by wet weather through much of the summer
Posted: August 30, 2007 By Diana Macle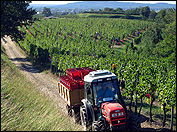 Vintners optimistic after strong growing season, but cool, wet weather right after the start of picking is cause for concern
Posted: August 24, 2007 By Jo Cooke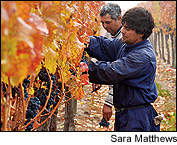 17 places to get in on the winemaking action, or celebrate the new vintage, in North America
Posted: August 24, 2007 By Heather Morgan Shott
Blogs : James Suckling Uncorked
Posted: August 21, 2007 By James Suckling
I was checking my e-mail and drinking a cup of coffee at home this morning and guess who dropped by to leave some samples? Aldo and Franco Conterno. I am sure you know, but Aldo is one of the masters of Barolo at his winery, Aldo Conterno.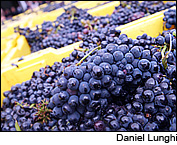 Mild weather has kept the growing season problem-free so far, and quality could be consistently high
Posted: August 16, 2007 By Daniel Sogg