News & Features : Tasting Highlights
New reviews of outstanding 2010s at prices that won't break the bank
Posted: August 19, 2013 By James Laube
Posted: August 14, 2013
Posted: July 22, 2013

News & Features : Tasting Highlights
New reviews of 2010 Napa Valley Cabernet Sauvignons, several under $100
Posted: July 8, 2013 By James Laube
Posted: June 26, 2013

News & Features : Tasting Highlights
New reviews of Golden State reds that raise the bar on quality
Posted: June 17, 2013 By Tim Fish

A first look at vintage quality, with eyewitness reports from growers and winemakers
Posted: June 7, 2013 By James Molesworth

A first look at vintage quality in South America, with eyewitness reports from growers and winemakers
Posted: June 6, 2013 By Nathan Wesley

A first look at vintage quality down under, with eyewitness reports from growers and winemakers
Posted: June 5, 2013 By Augustus Weed, MaryAnn Worobiec

News & Features : Tasting Highlights
New reviews of 2010 bottlings worth stocking up on
Posted: March 25, 2013 By James Laube
Blogs : Bruce Sanderson Decanted
Scores are in for the 2010s from Burgundy's legendary Domaine de la Romanée-Conti, which pushes the vintage to new heights
Posted: March 13, 2013 By Bruce Sanderson
Wine Spectator senior editor Bruce Sanderson gives his notes on the 2010 releases from Burgundy's Domaine de la Romanée-Conti. The Richebourg, La Tâche, Romanée-St.-Vivant, Romanée-Conti and more show just what could be achieved in this excellent vintage.
Posted: March 8, 2013

News & Features : Tasting Highlights
New reviews of appealing 2010 reds that won't break the bank
Posted: January 25, 2013 By James Molesworth

News & Features : Tasting Highlights
New reviews of highly rated reds, most from the 2010 vintage
Posted: January 14, 2013 By Tim Fish
Blogs : Mixed Case: Opinion and Advice
It takes a vision—or a few dozen of them—to turn thousands of acres into millions of bottles. The stakes are high, and plenty can go wrong
Posted: December 27, 2012 By Ben O'Donnell
At the Penfolds Nuriootpa winery in Barossa, you can crush 22,000 tons of grapes. At Chateau Ste.-Michelle, 2.8 million cases of wine go out the door every year. If you are Peter Gago or Bob Bertheu, head winemakers at Penfolds and Ste.-Michelle, respectively, how do you even process and track so much stuff, let alone make it good?
"That's why God created Microsoft Excel, I guess," replied Bertheu. I asked four winemakers who head up large-to-massive operations that produce dozens of different cuvées in all price ranges, from $10 quaffers on up to the storied $600 Penfolds Grange. In my previous post on the subject, I gave a sense of the scale of the task and wrote about how the four keep tabs on their growers and grapes through harvest. Now I'll explain how they juggle as many as 52 different wines at once.
Blogs : Stirring the Lees with James Molesworth
World-renowned consulting enologist Michel Rolland and his wife, Dany, call Château Fontenil home
Posted: December 17, 2012 By James Molesworth
Finally, after 11 straight days of all-day tasting, it was time to get some fresh air. I slammed my laptop closed to punctuate the end of the tasting, put on my vineyard shoes (it's rained steadily since I've been here and the vineyards are muddy) and headed over to Fronsac to get back in touch with terra firma. After all that, my first stop is Fronsac, you ask? Not a first-growth or Sauternes estate?
With 2,000 acres of vines and 71 producers, Fronsac is just a blip in the overall scheme of Bordeaux. It pales in size and reputation to its cross-river neighbor St.-Emilion, for example, and the wines are often overlooked by the marketplace. But there must be something to Fronsac, if Michel and Dany Rolland call it home.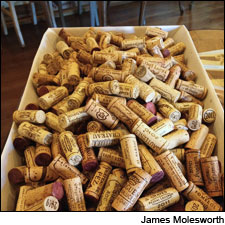 Blogs : Stirring the Lees with James Molesworth
Pessac and St.-Estèphe round out my Left Bank 2010 Red Bordeaux tastings before finishing with the sweet wines of Sauternes
Posted: December 13, 2012 By James Molesworth
I spent the last few days of my 2010 Bordeaux tasting by working through the reds of St.-Estèphe and then Pessac.
The reds from Pessac, with their typically tarry spine and sometimes wild notes of tobacco and ash, were a standout group, with the fruit showing the extra amplitude of the vintage and the structure evident but well-integrated. Branon turned in a very strong showing, as did some of the usual suspects. There really were no disappointments.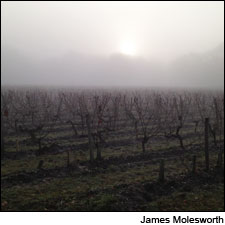 Blogs : Stirring the Lees with James Molesworth
After confirming initial impressions of the 2010 Bordeaux vintage on the Right Bank, I'm working my way through Margaux, Pauillac, St.-Julien and more
Posted: December 10, 2012 By James Molesworth
I'm getting into the meat of my 2010 Bordeaux tasting now, having worked through the Right Bank wines of St.-Emilion (which takes two full days), Pomerol and their various satellite appellations. As mentioned briefly in my last blog, the wines are showing very, very well.
I have started in on the Left Bank now, tasting wines from the Médoc, Graves and Margaux. The highlights so far, though, have come from Pauillac and St.-Julien.

News & Features : Tasting Highlights
New reviews of lesser-known Cabernet- and Merlot-based reds from Bordeaux's potentially classic 2010 vintage
Posted: December 7, 2012 By James Molesworth
Blogs : Stirring the Lees with James Molesworth
With about 700 wines to taste and two weeks to taste them, I hit the ground running in Bordeaux
Posted: December 5, 2012 By James Molesworth
I arrived as scheduled in Bordeaux - just on time for lunch. I like to plan things like that...
My annual in-bottle Bordeaux tasting is easily the biggest and longest single tasting I do. When in my New York office, I taste every day, but perhaps only 20 or 30 wines a day. When I travel in the Rhône, I may taste dozens of barrel samples in a day, but I'm not writing formal notes or reviewing those wines, since they are unfinished, sometimes just lots of pre-blends, and not tasted blind. That makes the Bordeaux tasting unique.