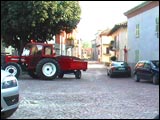 In Barbaresco, the local grapegrowers' coop makes super wine at a great price (the '01 scored 93pts and cost $55, which is a relative bargain). Wine Spectator's Jo Cooke dropped in as the village came together for harvest.
Posted: December 15, 2006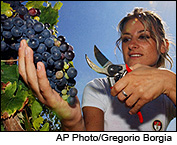 A preliminary look at quality in the wine regions of Europe
Posted: December 14, 2006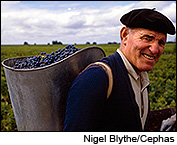 A preliminary look at quality in the wine regions of Europe
Posted: December 13, 2006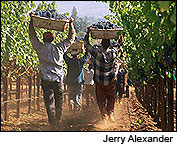 A preliminary look at quality in the wine regions of the United States
Posted: December 12, 2006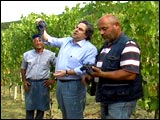 It's harvest in Piedmont and Pio Boffa, owner of the renowned Pio Cesare winery, is our guide. See grapes being picked, see wine being made--both with Italian style. Wine Spectator tasting coordinator Jo Cooke produced this video.
Posted: December 11, 2006
Share the joys of the dirty work that goes into making wine with Wine Spectator news editor Eric Arnold. (No rubber boots required.)
Posted: December 1, 2006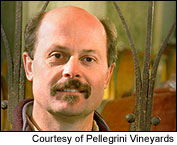 Pellegrini Vineyards winemaker Russell Hearn talks about the challenges of a cool, wet year on Long Island
Posted: November 10, 2006 By Mitch Frank
Chardonnay and Pinot Noir crops could be down as much as 20 percent due to slow ripening and cool, damp weather
Posted: October 24, 2006 By Daniel Sogg
Blogs : Stirring the Lees with James Molesworth
Posted: October 9, 2006 By James Molesworth
I just heard from Michel Chapoutier , who is not prone to hyperbole, but is crowing after finishing up his harvest. Thought you might be interested to hear what he said... "We ended the harvest on Friday, Sept.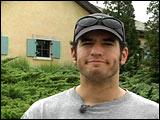 Go beyond the romance of the big chateaus -- and get down and dirty -- with Eric Arnold, Wine Spectator news editor, as he discovers that making wine is hard labor.
Posted: October 8, 2006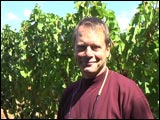 (GA, Geek Alert rating) How do you know when the grapes are ripe? Michael Etzel, winemaker/partner at Oregon's Beaux Frères, explains the signs. Harvey Steiman, Wine Spectator editor at large, conducted the interview and shot the video (!).
Posted: October 7, 2006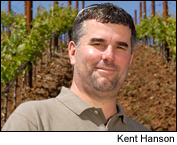 Colgin winemaker Mark Aubert likes the look of this year's Cabernet Sauvignon, but he thinks this could be the year for Merlot
Posted: October 5, 2006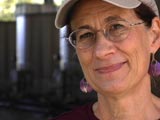 It's the first day of harvest for Merry Edwards, one of California's top Pinot producers. Grab your rubber boots (that destemmer is messy!) and meet Merry on the crush pad where she tells us, "It's all about the fruit."
Posted: October 4, 2006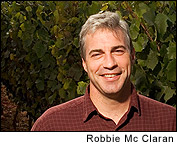 Domaine Serene winemaker Tony Rynders talks about making Pinot Noir in a year that's almost too good
Posted: September 29, 2006 By Eric Arnold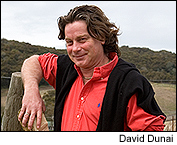 French winemaker Stephan Asseo talks about his efforts this year to make Bordeaux- and Rhône-style wines--and a mix of the two--in California
Posted: September 28, 2006 By Tim Fish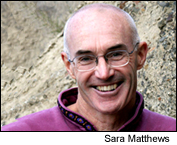 Woodward Canyon owner Rick Small talks about yet another dry year in Washington, progress with this year's harvest and the secret to finding good labor
Posted: September 25, 2006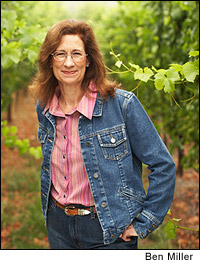 Merry Edwards talks about the 2006 growing season in Russian River Valley and the challenges of harvest
Posted: September 22, 2006
Blogs : James Suckling Uncorked
Posted: September 20, 2006 By James Suckling
I had a winemaker in Bordeaux ask me today if I felt that the expensive prices for 2005 were my fault? I laughed. But I was slightly annoyed too. "Don't shoot the messenger," I told him. I tasted the wines.
Blogs : James Laube's Wine Flights
Posted: September 19, 2006 By James Laube
Harvest is always full of surprises. No one year is quite like the next. The action in Napa and Sonoma is building momentum. Winemakers who haven't set foot in a church in years now talk about their daily prayers.
Blogs : James Suckling Uncorked
Posted: September 19, 2006 By James Suckling
The weather is not looking good for the harvest in Bordeaux. It's been raining on and off since I arrived here on Saturday, and it just started raining again as I sit here and write this blog this morning and begin to blind taste a range of 1996 and 1995 Bordeaux.