A first look at vintage quality down south, with eyewitness reports from growers and winemakers
Posted: May 23, 2014 By James Molesworth

A first look at vintage quality down south, with eyewitness reports from growers and winemakers
Posted: May 22, 2014 By Kim Marcus

A first look at vintage quality Down Under, with eyewitness reports from growers and winemakers
Posted: May 21, 2014 By Augustus Weed, Aaron Romano

Leading regions report a wet winter and a long, sunny summer. But some areas grappled with harvest rains
Posted: November 26, 2013 By Kim Marcus, Mitch Frank

A cool, wet spring across France led to a very late harvest; some regions picked small quantities of great fruit
Posted: November 22, 2013

In the Pacific Northwest, a sunny summer raised hopes; on the East Coast, a sunny autumn saved the day
Posted: November 21, 2013
Blogs : James Laube's Wine Flights
Thirty-four years ago, I worked one day of the Carneros Pinot Noir harvest
Posted: October 8, 2013 By James Laube
Before I made wine, I picked grapes.
Yesterday I relived my first harvest as I watched a crew pick a Pinot Noir vineyard in Carneros. The first time I picked grapes was in 1979, when I joined a team harvesting Pinot Noir at Winery Lake Vineyard, not far from where I watched yesterday morning's harvest.
Blogs : Bruce Sanderson Decanted
A special derogation allows growers to buy grapes. Or not
Posted: September 27, 2013 By Bruce Sanderson
On Sept. 24, the prefecture of the Côte d'Or passed a bylaw allowing growers in Burgundy who were affected by the July 23 hailstorm to purchase grapes or must from the 2013 harvest to make up for the loss of their crop.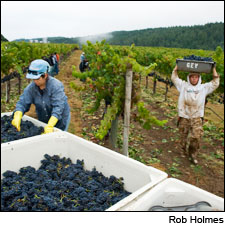 Blogs : James Laube's Wine Flights
The abundant 2013 California harvest is accelerating, and vintners are starting to wonder where they're going to put all those grapes
Posted: September 20, 2013 By James Laube
Too early and too much.
These are but two thoughts on the minds of many California vintners as harvest accelerates during what has been a largely uneventful season. Heat spikes haven't been a big issue; rain isn't expected to be a concern. The immediate weather forecast for the North Coast calls for milder temperatures over the next week, which will be a plus. All of that seemingly good news means vintners may be dealing with more than they bargained for.
Blogs : Exploring Wine with Tim Fish
Harvest 2013 is running early in California
Posted: September 11, 2013 By Tim Fish
There's a dusty book someplace that lists the California harvests that ran earlier than 2013, but I can't recall many in the 24 years I've lived here. Consider this. Hanzell Vineyards, known for great Pinot Noir and Chardonnay, finished its harvest in Sonoma Valley a week before Labor Day.
That's on the outskirts of the norm but it does show how fast things are moving. The growing season rain early all year and there's been plenty of sun throughout summer. Warm temperatures to start the month moved things along even faster.
Posted: August 31, 2013 By Suzanne Mustacich
Ready to taste the first wines of 2013? While grapes are growing plump in Europe and North America, the Southern Hemisphere has picked, crushed and fermented this year's crop. Here's a sneak peek at the upcoming vintage.
Posted: August 31, 2013 By Nathan Wesley, Augustus Weed, MaryAnn Worobiec, James Molesworth
Posted: August 14, 2013
Posted: July 22, 2013
Posted: June 26, 2013

A first look at vintage quality, with eyewitness reports from growers and winemakers
Posted: June 7, 2013 By James Molesworth

A first look at vintage quality in South America, with eyewitness reports from growers and winemakers
Posted: June 6, 2013 By Nathan Wesley

A first look at vintage quality down under, with eyewitness reports from growers and winemakers
Posted: June 5, 2013 By Augustus Weed, MaryAnn Worobiec
Posted: March 8, 2013
Blogs : Mixed Case: Opinion and Advice
It takes a vision—or a few dozen of them—to turn thousands of acres into millions of bottles. The stakes are high, and plenty can go wrong
Posted: December 27, 2012 By Ben O'Donnell
At the Penfolds Nuriootpa winery in Barossa, you can crush 22,000 tons of grapes. At Chateau Ste.-Michelle, 2.8 million cases of wine go out the door every year. If you are Peter Gago or Bob Bertheu, head winemakers at Penfolds and Ste.-Michelle, respectively, how do you even process and track so much stuff, let alone make it good?
"That's why God created Microsoft Excel, I guess," replied Bertheu. I asked four winemakers who head up large-to-massive operations that produce dozens of different cuvées in all price ranges, from $10 quaffers on up to the storied $600 Penfolds Grange. In my previous post on the subject, I gave a sense of the scale of the task and wrote about how the four keep tabs on their growers and grapes through harvest. Now I'll explain how they juggle as many as 52 different wines at once.