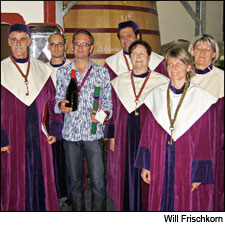 Plus, more fine wines from President Obama both in Italy and at home, a celebrity studded sparkling wine popping competition and Starbucks gets into the wine business
Posted: July 30, 2009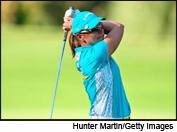 Recently retired pro golfer enters the world of winemaking
Posted: April 22, 2009 By Jennifer Fiedler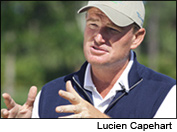 Ernie Els and Wine Spectator partner to raise more than $500,000 for the Els for Autism Foundation
Posted: March 30, 2009 By Gordon Mott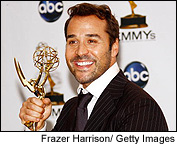 Plus, a California winery helps golf courses get greener, a Chilean Syrah falls victim to politics, a scam artist tries to con San Francisco restaurants and a squeaky-clean competition
Posted: September 24, 2008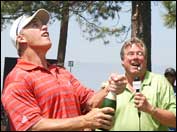 Plus, an injured golfer takes time out for wine, Hiney Wine is back, the French government continues to restrict alcohol advertising, and Spanish brandy in a spray bottle
Posted: July 30, 2008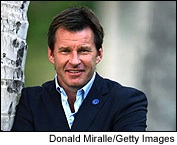 Golf legend makes more time for wine as his career moves from the course to the broadcast booth
Posted: May 9, 2008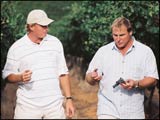 Ernie Els is already one of South Africa's most famous golfers. He's also becoming known for his impressive wines, which are made with Ernie's life-long friend and business partner, Jean Engelbrecht, in South Africa's Stellenbosch region.
Posted: April 9, 2007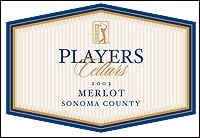 Three lines aimed at golfers will offer different varieties, appellations and price points
Posted: October 24, 2005
A Valentine's poll reveals the best date wines, Arnold Palmer takes a swing at winemaking and a three-star French chef heads to Vegas
Posted: February 9, 2005
From the putting green to the wine cellar, an American legend enjoys the good life
Posted: September 29, 2004
Australian golfer Graham Marsh was given bottles of Hardys Shiraz Nottage Hill 2002 for the accomplishment.
Posted: July 27, 2004 By Jacob Gaffney
Jean Engelbrecht of Rust en Vrede and golfer Ernie Els score with highest-rated South African red yet.
Posted: September 30, 2002 By James Molesworth
Posted: July 6, 2001