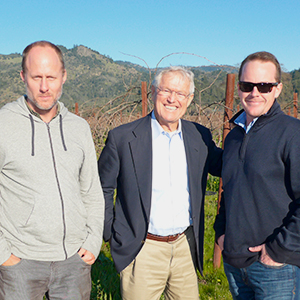 Plus, a new AVA in Oregon stirs controversy over a related new TTB ruling, and Sonoma State's Wine Business Institute adds a new chair
Posted: February 12, 2015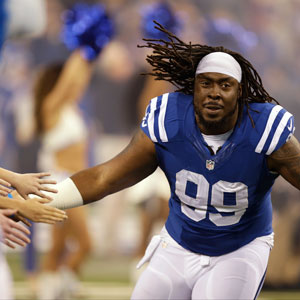 An NFL veteran becomes a wine rookie
Posted: January 28, 2015 By Robert Taylor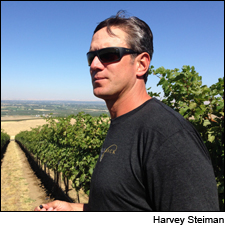 Blogs : Harvey Steiman At Large
Drew Bledsoe's Doubleback gains yardage—er, acreage—in Walla Walla
Posted: September 17, 2014 By Harvey Steiman
On a warm September afternoon, Drew Bledsoe stood in an acre of closely cropped grass. The ex-NFL star quarterback adjusted his sunglasses and surveyed the field, only he wasn't looking over a menacing defense but rows and rows of young grapevines. Their purple bunches of Cabernet Sauvignon stood out against close-cropped green canopies cascading down a steep north-facing slope. In the distance, buildings in the town of Walla Walla reflected the afternoon sun.

Plus, a Cowboys legend meets his namesake tank at Siduri, sulfur-free wine preservation, a Napa icon teaches Shakespeare and the rebirth of a New Orleans institution
Posted: July 10, 2014

Plus, a beloved Tio Pepe sign lights up Madrid again, and Celebrity Cruises takes to dry land for a charity wine festival
Posted: May 22, 2014

Party recipes from Seattle and Denver chefs, plus 22 Washington wines for $25 or less
Posted: January 28, 2014 By Robert Taylor

Plus, Ménage à Trois wines pair up with a sexy new drama, and Mike Ditka pours his wines and hits the tees for charity
Posted: August 8, 2013

Plus, Rudy Kurniawan's trial postponed, Singapore students make wine from the foul-smelling durian fruit and more
Posted: August 1, 2013

For your game-day party, Charm City's blue crab cakes take on Dungeness crab cioppino from the City by the Bay; plus 25 wines for less than $25 to match
Posted: January 25, 2013 By Robert Taylor
Blogs : Mixed Case: Opinion and Advice
New Orleans offers myriad food and drink options for anyone coming to the big game; here's my cheat sheet
Posted: January 24, 2013 By Mitch Frank
New Orleans is a little insane right now. Maybe that sounds silly describing a city where it's not odd to witness a brass band marching past your front porch, with your neighbors dancing behind it. But New Orleans is a little more insane than usual right now. This year, wedged tightly in the middle of the Carnival parades that start Friday, the NFL has brought the Super Bowl to town.
Are you coming for the game? Good. (If not, pay attention, because you should visit soon.) It's not hyperbole to say that New Orleans is one of the greatest cities on the planet in which to celebrate. If you enjoy good food, wine, beer, cocktails and music, it is hard to go wrong. Here are some tips for making the best of a trip down here. This isn't a comprehensive list of the best places to eat and drink. It's a handy cheat sheet for anyone coming to watch the 49ers and the Ravens, or just coming to enjoy our insanity.
Baltimore has much more to offer than crab cakes; San Francisco's bounty goes beyond cioppino
Posted: January 24, 2013 By Robert Taylor

Plus, a car race in France takes a vineyard detour, the Buffalo Bills partner with an upstate wine distributor, and controversy for post-season MLB bubbly popping
Posted: October 18, 2012
Blogs : Mixed Case: Opinion and Advice
Collegetown ain't what it used to be. Tailgating at LSU from a Hummer packed with high-end wines
Posted: October 16, 2012 By Robert Taylor
Tailgating is religion in Baton Rouge, La., and when it comes to a huge game between national championship contenders, the Tiger faithful pull out all the stops. Some of them even pull a few corks.
On Saturday night, the defending South Eastern Conference Champion Louisiana State Tigers hosted the undefeated South Carolina Game Cocks at Tiger Stadium, or as I've always known it, Death Valley. As the saying goes here, "You don't just walk into Death Valley." Sometimes, though, you drive up in a fine wine–laden white Hummer.

Plus, celebrity golfers and Korbel descend on Tahoe, director David Lynch designs his own Dom Pérignon bottle, the French feds bid adieu to Champagne, and more
Posted: July 26, 2012

Plus, Cornell set for $106 million wine school expansion, a Languedoc rancher claims beef tastes better when the cows get a few bottles of wine, and Scotland authorities seize $82,000 of stolen wine
Posted: July 19, 2012

Plus, a vine robot that does it all, serious Burgundy wine fraud and Three Fat Guys, a new label from former Packers players
Posted: April 12, 2012

New England and Manhattan face off with chowder recipes, Mario Batali shares a winning New York pizza and our editors pick 25 value wines for the match
Posted: January 30, 2012 By Robert Taylor

Unfiltered gazes into the future and sees love blossom for a Sonoma sweetheart on The Bachelor, a holy wine from Tim Tebow, Napa Cabernets on the loose in China, plus, the Occupy movement takes to the vineyards
Posted: January 5, 2012

Four stars of golf, football and baseball are at the top of the winemaking game
Posted: October 25, 2011 By MaryAnn Worobiec

The San Diego Chargers introduce a new Napa Cabernet, plus, winemakers chime in on an Anniversary Ale and Russia's Dmitry Medvedev has an interesting opinion on the nation's wine industry
Posted: September 8, 2011