Aerial spraying of pesticides may have drifted onto Lodi vines; extent of loss is yet to be determined
Posted: July 18, 2014 By Lynn Alley
Posted: July 16, 2014

Plus, Fonseca and Robert Kennedy Jr. team up for water preservation, Long Island mourns the tragic deaths of the Borgheses, and more
Posted: July 3, 2014
Leading producer of value Pinot Noir and Chardonnay earns certification as a benefits corporation
Posted: June 18, 2014 By Dana Nigro
Posted: June 13, 2014
Environmentalists who fought vineyard plans see it as affirmation; winery says it's focusing on Napa
Posted: June 6, 2014 By Kasey Carpenter
County growers and vintners set ambitious five-year goal, but it will take much work
Posted: May 31, 2014 By Dana Nigro
Investigation finds fungicides used improperly during windy day; locals debate safety of chemicals
Posted: May 23, 2014 By Suzanne Mustacich
Blogs : Mixed Case: Opinion and Advice
By refusing to spray pesticides, is Burgundy's Emmanuel Giboulot a hero? Or wine's Jenny McCarthy?
Posted: May 1, 2014 By Mitch Frank
Should a biodynamic winegrower be forced to use pesticides against his will? Your answer probably depends on how much faith you put in science.

Environmental awareness and initiatives abound in the vineyards—and cork forests—around the world
Posted: April 24, 2014
Blogs : Mixed Case: Opinion and Advice
A green style author, designer and merchandiser takes on the category
Posted: April 22, 2014 By Dana Nigro
Danny Seo believes that organically grown wines still have an image problem among a vast swath of Americans. He thinks he can help. If you don't know Danny, he's a boyishly personable former editor of Organic Style magazine who has positioned himself as an expert on living green stylishly and affordably with his Simply Green, Upcycling and Conscious Style Home books, "Do Just One Thing" syndicated newspaper tips, TV appearances on The Today Show and Dr. Oz and his own line of eco-chic housewares. Now he's adding wine to his portfolio.
Seo admits to knowing little about wine except what he likes. During a showcase last year for his upcoming new product lines, he either had the self-deprecating charm to act nervous about speaking to Wine Spectator or was a bit uncomfortable at having to field questions without his wine partner, Mike Votto of Connecticut-based Votto Vines Importing. "I'm not a winemaker. I'm not going to pretend I'm a Real Housewife," Seo quipped. "I don't want to pretend I'm out at the vineyard crushing grapes." What he does, Seo said, is work with partners who are experts in the field, sourcing the products.

Plus, Washington's wine industry steps up for mudslide relief, a Burgundy vintner's sentence for refusing to use pesticides is reduced, and more
Posted: April 10, 2014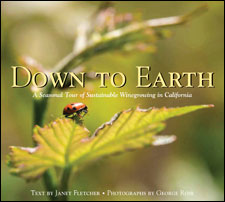 Blogs : Mixed Case: Opinion and Advice
California growers show off the benefits and beauty of working in environmentally and socially responsible ways
Posted: April 1, 2014 By Dana Nigro
Sustainability never looked so good as in Down to Earth, an informative new coffee-table book for wine lovers that's packed with enticing photography of vineyards full of flowering plants, beautiful birds, lush grapes, adorable weed-grazing sheep and goats, and the people who farm these plots.
Created to showcase the work of the California Sustainable Winegrowing Alliance, the book highlights the stories of 15 of the state's winegrowers—representing small and large businesses, families and corporations, green pioneers like Bonterra and newer converts.
March 31, 2014 Issue : Features
Posted: March 31, 2014 By Dana Nigro
Posted: March 31, 2014 By Kasey Carpenter
March 31, 2014 Issue : Features
Posted: March 31, 2014 By Kasey Carpenter
Blogs : Mixed Case: Opinion and Advice
Region's new program gets green thumbs-up from outside expert
Posted: March 17, 2014 By Dana Nigro
When a group of winegrowers develops an eco-friendly certification program for their own region, one question you have to ask is: How serious are they? If the very people who have to live up to the goals are setting the goals, isn't there a possibility that they won't set the bar higher than they and their neighbors can easily reach? Does the certification hold everyone's feet to the fire or is it just a way to look good for the public?
That was a potential concern when four leading Long Island producers—Bedell Cellars, Shinn Estate, Channing Daughters and Martha Clara Vineyards—developed the first sustainability code and certification for vineyards on the East Coast in 2012 and launched the nonprofit Long Island Sustainable Winegrowing organization to oversee it. But if you didn't personally know the sincerity and commitment of people like Bedell winemaker Rich Olsen-Harbich and Barbara Shinn, if you hadn't walked their vineyards with them, as I have, how sure could you be of what they were trying to do?
Blogs : Mixed Case: Opinion and Advice
Posted: February 14, 2014 By Dana Nigro
Alan York, a California-based leader in the biodynamic viticulture movement in the United States and abroad, died Feb. 3 at the age of 62. He inspired many to adopt greener horticultural practices in his decades-long career as a gardener and landscape designer, international vineyard consultant and speaker, and president of the Biodynamic Association and editor of the quarterly Biodynamics journal for a stint. He was overseeing biodynamic farming at all four of Benziger's certified vineyard estates and worked with clients ranging from Emiliana and Matetic in Chile and Alto Las Hormigas in Argentina to Sting's Il Palagio estate in Tuscany.

The roadway, which some winemakers oppose, could prove unstable; ministers reject claims
Posted: January 2, 2014 By Ted Shoemaker
Posted: December 31, 2013 By Dana Nigro