Seven winemakers who followed their own paths and pushed the boundaries in Northern California
Posted: November 15, 2006 By Tim Fish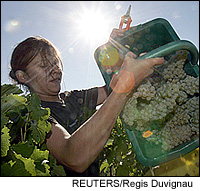 Short heat spikes, likely a result of global warming, could cause long-term changes to how and where wine grapes are grown
Posted: September 18, 2006 By Eric Arnold, Tim Fish, Jacob Gaffney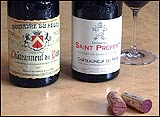 What effect does soil have on wine style? James Molesworth, Wine Spectator senior editor, provides the answer as he compares two wines.
Posted: June 19, 2006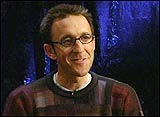 Join Brian Talley, the general manager of Talley Vineyards, as he recalls how he fell in love with wine and planted grapes in the Arroyo Grande Valley in California's Central Valley.
Posted: May 10, 2006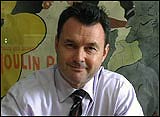 Burgundy is known for its terroir -- the unique combination of grapes, ground and winemaker -- that shapes each wine. Get a snapshot of Burgundy's terroir with Bruce Sanderson, Wine Spectator senior editor and tasting director.
Posted: April 19, 2006
Dec. 31,2005 - Jan. 15,2005 Issue : News
Posted: December 31, 2005 By Lynn Alley
Nov. 30, 2005 Issue : Features
"Amigo Bob" Cantisano is a laid-back sage in the high-stakes world of grapegrowing
Posted: November 30, 2005
Nov. 30, 2005 Issue : Features
How a Brit and an American are striving to make some of southern France's best reds
Posted: November 30, 2005 By Kim Marcus
In one of California's prime wine regions, organic growers and environmentalists failed in attempt to halt bioengineering
Posted: November 10, 2005 By Lynn Alley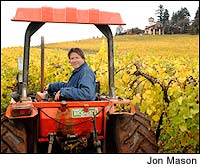 The smell of cooking oil wafts through the vineyard, as wineries turn to biodiesel to fuel their vehicles
Posted: November 7, 2005 By Lynn Alley
Prized for its eggs, Tennessee's paddlefish, relative of the sturgeon, may be overfished
Posted: July 14, 2005 By Jacob Gaffney
Vintners turn to solar power for cost savings and environmental cachet
Posted: June 15, 2005 By Dana Nigro, Daniel Sogg
Producers that protect and restore the state's waterways can use the Salmon Safe label on their wines
Posted: May 18, 2005 By Lynn Alley
March 31, 2005 Issue : Inside Wine
Irrigating vines is a necessity for some, but a crime for others
Posted: March 31, 2005 By Daniel Sogg
Despite sturgeon's threatened status, U.S. government chooses not to ban the delicacy
Posted: March 4, 2005 By Lynn Alley
Sonoma County and other wine-producing regions consider joining GE-free bandwagon, following Mendocino's lead.
Posted: June 28, 2004 By Lynn Alley
Nov. 15, 2002 Issue : Features
Establishing a new environmental ethic at California's Santa Margarita Ranch
Posted: November 15, 2002 By Lynn Alley
May 15, 2002 Issue : Inside Wine
How winemakers produce wines that are clear and microbiologically stable
Posted: May 15, 2002 By Daniel Sogg
May 31, 2001 Issue : Inside Wine
Posted: May 31, 2001 By Daniel Sogg
Jan. 31, 1994 Issue : Features
Posted: January 31, 1994