Foster's renames its wine division; Diageo sells a major Bordeaux firm
Posted: July 22, 2010 By Mitch Frank
Grateful Palate's R Wines is in receivership; grapegrowers fear they won't get paid
Posted: July 1, 2010 By Harvey Steiman, Tyson Stelzer
Posted: June 30, 2010 By Diana Macle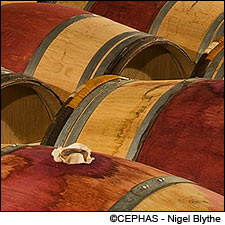 Futures are out and sales are brisk, but Asia may overshadow the U.S. market
Posted: June 24, 2010 By Ben O'Donnell
Some big companies who invested in boom times are cutting back
Posted: June 16, 2010 By Harris Meyer
June 15, 2010 Issue : Features
Posted: June 15, 2010 By Suzanne Mustacich
Retailers fear futures prices will top 2005 prices despite an unsteady economy
Posted: June 7, 2010 By Ben O'Donnell
Three-day trade show draws 12,000 visitors in Hong Kong
Posted: June 1, 2010 By Suzanne Mustacich
Zinfandel specialist losing its longtime Bay Area home in corporate cost-cutting
Posted: May 19, 2010 By Tim Fish
Blogs : Stirring the Lees with James Molesworth
The Leyda-based winery is working with Pedro Parra and expanding its vineyards
Posted: May 6, 2010 By James Molesworth
I had a quick sit down with Claudia Gómez of Chile's Viña Garcés Silva earlier this week. The winery has been working with the Chilean terroir hunter Pedro Parra for about a year now and is already producing wines that are among the more exciting new, cool-climate bottlings to come from Chile in recent vintages.
After two years of slumping U.S. sales, Cognac shows growth in early part of 2010
Posted: May 4, 2010
A recent study confirms that most AOCs have decreased in value over the past two decades
Posted: April 21, 2010 By Diana Macle
Posted: March 31, 2010 By Robert Camuto
Emerging Chinese economy is a bright spot for Bordelais after U.S. imports drop 44 percent
Posted: March 26, 2010 By Suzanne Mustacich
Jon Moramarco brings experience in California and international markets to distributor
Posted: March 4, 2010 By Mitch Frank
Jan. 31, 2010 - Feb. 28, 2010 Issue : Features
Posted: February 28, 2010 By James Laube
Jan. 31, 2010 - Feb. 28, 2010 Issue : News
Wine Spectator's senior editors share their personal approaches to finding value
Posted: February 28, 2010
Jan. 31, 2010 - Feb. 28, 2010 Issue : News
The recession is turning the wine industry upside down, And wine lovers are taking advantage
Posted: February 28, 2010 By Tim Fish, Mitch Frank
Blogs : James Laube's Wine Flights
Some Great New Wines Seeking That Tiny Niche
Posted: February 18, 2010 By James Laube
Sales of expensive wines have stalled in many quarters. But that hasn't swayed many vintners from sticking to their game plans. Rosemary Cakebread's new Cabernet, the 2007 Gallica, is $125, but it's also sensational.

Wineries still face trying times in 2010, hope discounting can keep them afloat
Posted: February 12, 2010 By Tim Fish