Posted: March 31, 2011

Plus, Yellow Tail's shrinking profits and scientists learn to speed up superconductors with wine
Posted: January 27, 2011
Napa winery had been in financial distress; founder launches new small label
Posted: November 15, 2010 By MaryAnn Worobiec
Posted: November 15, 2010 By Ben O'Donnell
An unfavorable economy, a brutal frost in 2008 and years of problems have put Loire's Pay Nantais region in trouble
Posted: November 5, 2010 By Ben O'Donnell

Plus, Rusty Staub's charity auction earns over $1 million, more wineries come to the aid of the Gulf, and two winery foreclosures in Virginia
Posted: November 4, 2010
Posted: October 31, 2010 By Suzanne Mustacich
Posted: October 31, 2010 By Tyson Stelzer
Posted: September 30, 2010 By Harvey Steiman, Tyson Stelzer
Costco asks voters to loosen restrictions on alcohol sales; wholesalers oppose while wineries are divided
Posted: September 27, 2010 By Robert Taylor, Harris Meyer
Blogs : Stirring the Lees with James Molesworth
The new chairman of the Bordeaux Wine Council has ambitious plans for France's most important wine region
Posted: September 20, 2010 By James Molesworth
Bordeaux is a big place, winewise. It's France's largest and arguably most famous wine region. It counts over 298,000 acres of vines, 8,600 growers and nearly five dozen appellations. In 2009 alone, Bordeaux accounted for more than 3.5 billion euros in sales. The U.S. gobbled up 1.2 million cases in imports valued at more than $179 million last year. That's a lot of moving pieces.
And now, Georges Haushalter is tasked with trying to get them all moving in synchronicity, so that all the pieces benefit. I sat down the other day with the newly elected chairman of the Conseil Interprofessionnel du Vin de Bordeaux (CIVB) to discuss his plans for Bordeaux going forward.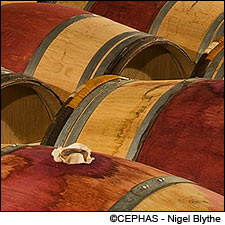 Wines sold well overseas, while American retailers exceeded low expectations
Posted: September 8, 2010 By Ben O'Donnell
Anyone want to buy a lot of Bitch Grenache? Financially troubled labels to be sold off
Posted: September 1, 2010 By Harvey Steiman

Shipments are up, but the industry sets limits on grape yields for the 2010 harvest
Posted: August 27, 2010 By Bruce Sanderson
Blogs : James Laube's Wine Flights
One factor in today's sluggish wine sales: unopened wines are clogging the system
Posted: August 18, 2010 By James Laube
In winebiz talk, the affable chairman of Beaulieu Vineyards elucidated, an official wine depletion comes after, and only after, a wine is opened and consumed and when the toilet is flushed.
That may sound a bit crude, but up until the point at which a wine is drunk, or at least opened, it is still in inventory somewhere.
It could be in a winery tasting room, or a warehouse or in someone's private collection. But so long as it's in inventory means it is in someway clogging the system. And that's one factor in today's sluggish wine economy. Those who have cellared wines, and built inventories, have eased off on buying and are drinking down their cellars. Until they start buying again in earnest, the wine logjam will persist.

In a top Aussie appellation, the key to staying afloat is thinking outside the box
Posted: August 13, 2010 By Tyson Stelzer

Wine industry leaders are trying to save the area's small growers with a bold marketing plan and big cuts. Is it too little, too late?
Posted: August 4, 2010 By Suzanne Mustacich
Foster's renames its wine division; Diageo sells a major Bordeaux firm
Posted: July 22, 2010 By Mitch Frank
Grateful Palate's R Wines is in receivership; grapegrowers fear they won't get paid
Posted: July 1, 2010 By Harvey Steiman, Tyson Stelzer
Posted: June 30, 2010 By Diana Macle