Blogs : James Laube's Wine Flights
Posted: May 24, 2006 By James Laube
Ridge Monte Bello 1971. It won first place at both the Napa and London tastings staged today. In second place was Stag's Leap Wine Cellars 1973, which was the big winner the first time the comparative tasting of Cabernet-based wines from Bordeaux and California was held in Paris in 1976.
Blogs : James Laube's Wine Flights
Posted: April 25, 2006 By James Laube
Mayacamas Vineyards released its 1970 Napa Valley Zinfandel this month for $100 a bottle, and no, that's not a typo on the vintage date. "Even more amazing," says owner Bob Travers, "this is not a re-release, for we have never sold this wine before.
Blogs : James Laube's Wine Flights
Posted: April 18, 2006 By James Laube
I paid my first visit to Blankiet Estate last week, on one of the rare days this spring when the sun was shining brightly in Northern California. This is the ambitious new vineyard and winery owned by Claude and Katherine Blankiet, with the viticulture and winemaking being overseen by Helen Turley and John Wetlaufer.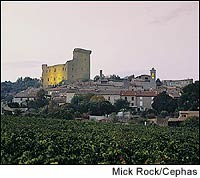 News & Features : Retrospective / Vertical
Ten years after, a forgotten vintage matures superbly
Posted: December 12, 2005 By James Molesworth
News & Features : Retrospective / Vertical
Posted: June 16, 2005
News & Features : Retrospective / Vertical
Posted: June 16, 2005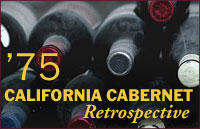 News & Features : Retrospective / Vertical
Amid an aging class of wines, a couple of stars
Posted: June 16, 2005 By James Laube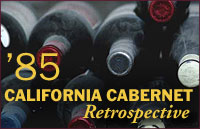 News & Features : Retrospective / Vertical
At age 20, this once delightful vintage fails to excite
Posted: June 16, 2005 By James Laube
News & Features : Retrospective / Vertical
Posted: June 14, 2005 By James Laube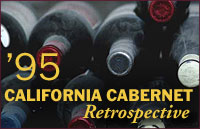 News & Features : Retrospective / Vertical
Reds from a star vintage are aging gracefully
Posted: June 14, 2005 By James Laube
News & Features : Retrospective / Vertical
Posted: February 16, 2004 By James Laube
News & Features : Retrospective / Vertical
Top-flight Napa and Sonoma reds stand the test of time
Posted: April 19, 2002 By James Laube
News & Features : Retrospective / Vertical
Posted: February 16, 2001 By James Laube
News & Features : Retrospective / Vertical
Posted: February 16, 2001 By James Laube
News & Features : Retrospective / Vertical
Posted: February 16, 2001 By James Laube