Aug. 31, 2014 Issue : Features
Posted: August 31, 2014 By Mark Pendergrast
Aug. 31, 2014 Issue : Features
Posted: August 31, 2014 By David Gibbons
Chef Enrico Crippa sets the modern standard for regional cuisine at Piazza Duomo in Alba
Posted: August 31, 2014 By Robert Camuto
Chef Eric Ripert uses the ocean's bounty to create beauty and harmony at Le Bernardin
Posted: August 31, 2014 By Harvey Steiman
Aug. 31, 2014 Issue : Features
From concise to epic, 3,748 restaurant wine lists earn Wine Spectator awards
Posted: August 31, 2014 By Gillian Sciaretta
Aug. 31, 2014 Issue : Features
Posted: August 31, 2014

A crisp, summery Vinho Verde gives lift to this casual, family-night dinner
Posted: August 12, 2014 By Nicole Ruiz Hudson
Posted: August 11, 2014

This easy summer menu is both healthful and delectable
Posted: August 8, 2014 By Esther Mobley

For those who want to indulge, three-star chef Michel Guérard offers a lighter take on classical French cooking
Posted: August 8, 2014 By Esther Mobley
Blogs : Harvey Steiman At Large
Using insider knowledge to find a wine list's sweet spot
Posted: August 6, 2014 By Harvey Steiman
The wine list was in my hands, often the case when a bunch of us go out to dine. Comes with the work title. Champagne would have been easy to start with, but I was looking for something closer to $50 (not $100) that might be fun and delicious, and not an obvious choice. Two offbeat selections—a white from Oregon and a Nebbiolo from Italy—fit the bill.
July 31, 2014 Issue : Features
Scotch has followed wine into the auction arena, with serious collectors making it big business
Posted: July 31, 2014
July 31, 2014 Issue : Features
Posted: July 31, 2014 By Harvey Steiman
July 31, 2014 Issue : Features
Topper's at the Wauwinet entertains in style
Posted: July 31, 2014 By Owen Dugan
July 31, 2014 Issue : Features
Chef José Enrique, José Enrique, San Juan, P.R.
Posted: July 31, 2014 By Catherine Sweet
Blogs : Mixed Case: Opinion and Advice
Can Long Island wines deliver in the crucible of the New York restaurant scene? Some somms' thoughts
Posted: July 22, 2014 By Ben O'Donnell
New York Restaurant Week is upon us in the city, a time when restaurants that are well north of my supper budget open their doors a little wider with prix-fixe specials. I always look for spots that offer wine specials as well, and in past years have found that New York wines are often given this platform to shine.
When I interviewed Long Island winemakers for my June 15 issue feature on the region, they felt confident that their wines could equal the best. But what did our high-end restaurant wine directors think?

An Austin chef's brunch special, inspired by the dinner menu
Posted: July 22, 2014 By Laurie Woolever
Blogs : Harvey Steiman At Large
A moment in the life of a new dish reflects the search to get things right
Posted: July 21, 2014 By Harvey Steiman
One key moment stands out when I was researching my Wine Spectator Aug. 31 issue profile of Eric Ripert, chef and partner of New York's fabled fish restaurant, Le Bernardin. It was the creative meeting.
Ripert and his top-ranking chefs meet daily in a small conference room, away from the hustle and bustle of the kitchen, to perfect their ideas for new dishes. The menu is constantly in flux. Anyone in the kitchen can present an idea, then work out the details until the results get the approval of Ripert and his lieutenants. They bring trays full of the latest iteration of the dish, along with some options they are considering, all in an effort to keep things fresh and lively.
Posted: July 18, 2014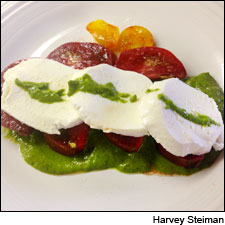 Blogs : Harvey Steiman At Large
But it's great with tomatoes or pasta, and a glass of rosé
Posted: July 16, 2014 By Harvey Steiman
Wine Spectator editor at large Harvey Steiman offers his recipe for Not Pesto, a basil-and-pine nut puree perfect over sliced heirloom tomatoes and fresh mozzarella or burrata and paired with a crisp rosé.