Posted: August 29, 2012

Celebrate the height of summer produce with this simple soup
Posted: August 28, 2012 By Jennifer Fiedler

Throw a party with this sweet, tangy recipe for the grill and 14 Chardonnays for under $20
Posted: August 24, 2012 By Laurie Woolever

A side dish of okra, tomatoes and black olives stars in this easy summer meal
Posted: August 14, 2012 By Jennifer Fiedler
Blogs : Mixed Case: Opinion and Advice
Evaluating ballpark dining during a weekend Phillies-Mets series
Posted: August 7, 2012 By Robert Taylor
It ain't easy being Philly in New York. As a Philadelphia sports fan, I accept that I face harassment from the locals. And as a Phillies fan in particular, I hear it pretty regularly from my diehard Mets fan colleagues. But the Phillies come to town frequently, and I've braved the hostile confines of Citi Field in Queens for a few games so far this season. I was also there to check back on the wine and food offerings of Citi Field, where restaurateur and recent Wine Spectator cover boy Danny Meyer runs most of the operation. For denizens of the "nose-bleed seats," there's the upper-deck wine bar, or for more high-end bottlings, the Delta Sky360 Club. And of the dining spots, two of my favorites are Catch of the Day and El Verano Taquería.
Blogs : Mixed Case: Opinion and Advice
Commander's 2012 Grand Award shows the city has exchanged average wine programs for creative and committed ones
Posted: August 2, 2012 By Mitch Frank
When I moved to New Orleans in 2010, I was curious where the city's wine programs would be five years after Hurricane Katrina. While the city had always had stars like Brennan's and Emeril's, a lot of restaurants were happy to have average programs, with maybe a little extra French depth. People visited New Orleans for the food.
But I have found a generation of young sommeliers here who reject that idea-and like so much down here now, pre-storm complacency has been rejected in favor of creative wine programs. Commander's Palace has been at the forefront.

News & Features : Sommelier Talk
San Francisco sommelier Gianpaolo Paterlini built the list at Acquerello, his father's restaurant
Posted: July 31, 2012 By Jennifer Fiedler
July 31, 2012 Issue : Features
Posted: July 31, 2012 By Jack Bettridge
July 31, 2012 Issue : Features
Pappas Bros. owners Chris and Harris spruce up a barbecue with surprise ingredients and an all-American wine list
Posted: July 31, 2012 By Owen Dugan
July 31, 2012 Issue : Features
Chef Perry Hoffman, Étoile at Domaine Chandon, Yountville, Calif.
Posted: July 31, 2012 By Owen Dugan
Posted: July 25, 2012

What do you serve 4 million guests from around the globe? London has plenty of options, including English bubbly
Posted: July 25, 2012 By Victoria Daskal

A classic pairing updates a comfort food for summer
Posted: July 24, 2012 By Jennifer Fiedler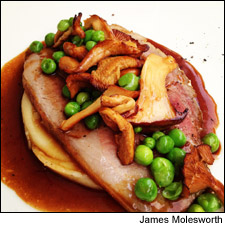 Blogs : Stirring the Lees with James Molesworth
This trip I visited many old favorites, and found some new ones
Posted: July 20, 2012 By James Molesworth
I did get a chance to try a few restaurants during my recent trip through the Rhône Valley, and following are my brief notes. Some have been covered before, but deserve mentioning again.

News & Features : Sommelier Talk
Cat Silirie admires Old World wines for their reflection of historic terroirs
Posted: July 11, 2012 By Lizzie Munro

A Barbera d'Asti provides the right contrast to a light and easy weeknight dinner
Posted: July 10, 2012 By Jennifer Fiedler

Wine Spectator's awards program honors 3,795 restaurants, across 50 states and more than 70 countries, for their top-quality wine lists
Posted: July 6, 2012 By Nathan Wesley
Posted: July 6, 2012
June 30, 2012 Issue : Features
The medieval city of Beaune is an ideal base from which to explore the Côte d'Or
Posted: June 30, 2012 By Bruce Sanderson
June 30, 2012 Issue : Features
Posted: June 30, 2012 By Jack Bettridge