Tweaking a classic combo for a lighter style of wine
Posted: June 11, 2013 By Jennifer Fiedler

A great early summer recipe from the new incarnation of a legendary restaurant, and 13 recommended white wines to pour alongside
Posted: June 7, 2013 By Laurie Woolever
Posted: May 31, 2013 By Jennifer Fiedler
Posted: May 31, 2013 By Owen Dugan
A new inn and restaurant raises the bar on Long Island's East End
Posted: May 31, 2013 By Owen Dugan
Posted: May 31, 2013 By Harvey Steiman
A great cuisine has taken different paths in Japan and America, but delivers delights in both
Posted: May 31, 2013 By Harvey Steiman
Posted: May 31, 2013 By Jack Bettridge
Thanks to a hardcore group of fans, more high quality sake is available than ever before
Posted: May 31, 2013 By Mitch Frank
Like fine wine, Japan's distinctive drink rewards exploration
Posted: May 31, 2013 By Kim Marcus
May 31, 2013 Issue : This Issue/Marvin R. Shanken
Posted: May 31, 2013 By Marvin R. Shanken, Thomas Matthews
Posted: May 31, 2013 By Sam Gugino
Posted: May 31, 2013 By Owen Dugan
Blogs : Harvey Steiman At Large
It's a whole different non-trendy world
Posted: May 24, 2013 By Harvey Steiman
It was in Barcelona that I realized why they call it a tapas bar. You know what it's like in a crowded pub, the crush of humanity trying to get the bartender's attention over the happy buzz of the drinking crowd? The shoulder-to-shoulder throng pressed together in tiny El Xampanyet, near the Picasso Museum in Barcelona's Barrì Gotic, had the same vibe on a rainy Saturday afternoon. I could not fathom how a barmaid, er, waitress, could possibly get plates of croquetas and pintxos, not to mention glasses of cava, to those who ordered them.
Somehow Barcelona denizens, happily regaling each other in Spanish and Càtalan, navigate these treacherous scenes with aplomb. Here are my notes of five of the more popular tapas bars.

Two innovative burgers from a great new book, plus 16 recommended reds and whites to match
Posted: May 17, 2013 By Laurie Woolever
Blogs : Exploring Wine with Tim Fish
Known for its laid-back atmosphere, this Northern California County offers an authentic wine-and-food experience
Posted: May 15, 2013 By Tim Fish
In California wine country, Mendocino County is out in left field in more ways than one. Not only is it the Golden State's most remote and northernmost wine region, but the attitude there is different compared to places like Sonoma or Santa Barbara. Life moves at a slower pace and the mindset is more unconventional, some might even say eccentric.
It's not quite like any wine region you'll ever visit, which is just what we discovered while researching "A Wine and Food Tour of Mendocino" in the June 15 issue of Wine Spectator.

A warm side salad of wilted spinach and chickpeas rounds out the meal
Posted: May 14, 2013 By Jennifer Fiedler
Blogs : Exploring Wine with Tim Fish
The new hipster restaurants of Portland, Ore., are emblematic of a national phenomenon
Posted: May 8, 2013 By Tim Fish
I spent a few days in Portland, Ore., last week, and you can't deny it has a distinctive personality, a combo of the laidback vibe of the West Coast with the rusty sneer of an old East Coast port city. It's also one of the hipster capitals of America. Every generation has its young, counter-culture crowd, from the beatniks and hippies to the punks, rappers and beyond, but today's hipsters have created a lifestyle. You may have seen it parodied on The Simpsons and Portlandia on TV.
One thing that distinguishes this new generation of hipsters is its passion for serious food and wine and, in the past five years, dozens of hip restaurants and wine bars targeting that crowd have sprung up in Portland. These aren't places you just stumble upon. They're generally smallish and quirky, hidden away in one of the city's numerous neighborhoods. You have to go looking for them.

Celebrate Mom with two great recipes from Union Square Hospitality Group's new behind-the-scenes cookbook. Plus, notes and scores for 12 Sauvignon Blancs from California and New Zealand
Posted: May 3, 2013 By Laurie Woolever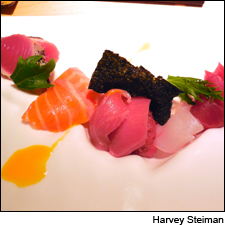 Blogs : Harvey Steiman At Large
Two of the Catalan city's most exciting restaurants owe much to sushi
Posted: April 30, 2013 By Harvey Steiman
Here in Barcelona on vacation, I could not resist trying what by all accounts is the go-to sushi place, Koy Shunka. Having explored the sushi cultures of Japan and America in my cover story of the May 31 issue of Wine Spectator, I wanted to see how another great food culture, that of Catalunya, translates the subtleties of Japan's most famous cuisine using the products of the Mediterranean Sea, as abundantly revered here as those of the Pacific Ocean are in Japan.
And then, for good measure, wouldn't you know that Japanese cuisine and sushi would play a critical role in the latest venture from brothers Albert and Ferran Adrià (who famously closed his own celebrated restaurant, El Bulli). They opened Pakta in early April, serving what they call Nikkei cuisine. Sushi is a part of the cuisine, Japanese by way of Peru, an east-west fusion made famous in America by Nobu Matsuhisa.