Sept. 30, 2012 Issue : Features
Posted: September 30, 2012
Sept. 30, 2012 Issue : Features
A guide to what to buy and how to prepare, from fast and hot to slow and low
Posted: September 30, 2012
Sept. 30, 2012 Issue : Features
The inside story on where it comes from and what makes the best
Posted: September 30, 2012 By Sam Gugino
Sept. 30, 2012 Issue : Features
Our comprehensive guide to beef, America's favorite red meat, from the pasture to the plate, with recipes and wine matches from stellar chefs
Posted: September 30, 2012
Sept. 30, 2012 Issue : Features
Chefs Bruce and Eric Bromberg, Blue Ribbon Sushi Bar & Grill at The Cosmopolitan of Las Vegas
Posted: September 30, 2012 By Owen Dugan
Posted: September 28, 2012

Revive a classic pairing for cooler weather
Posted: September 25, 2012 By Jennifer Fiedler
Michael Oshman decided he could make a difference by urging restaurateurs to be environmentally sustainable
Posted: September 21, 2012 By Dana Nigro
Blogs : Harvey Steiman At Large
From fish market to a rush of sushi at the celebrated sushi bar
Posted: September 20, 2012 By Harvey Steiman
Yoshikazu Ono runs his thumb over the exposed surface of an abalone, a grimace spreading across his face. He thinks the shellfish is too small, and it feels too firm. "Not good. I don't know if we can serve abalone today," he mutters in Japanese. "It should be plump. And darker. These are yellow."
Ono, 52, is responsible for buying the fresh fish each day for Sukiyabashi Jiro, the 11-seat sushi bar where he makes sushi shoulder-to-shoulder with his father, 86-year-old Jiro Ono. They were featured earlier this year in the film documentary Jiro Dreams of Sushi.
Posted: September 17, 2012
Blogs : Harvey Steiman At Large
Eel and tempura provide highlights, diversions in a week of sushi
Posted: September 17, 2012 By Harvey Steiman
A week in Tokyo drove home the point that the most venerated sushi restaurants there only serve sushi. They don't also make tempura. They don't deal in teppanyaki. You can't get ramen or soba noodles in the same place. They devote 100 percent of their efforts to making rice, finding great fish, butchering, aging, cooking and curing the seafood properly, then serving it simply.
Sushi is not the only specialty food craft that's treated with such specificity and luxury. In the span of 24 hours I experienced what many believe to be the very best specialists of three of these foods, steered in the right direction by Masuhiro Yamamoto, author of several books on sushi and what he calls "cuisines de terroir" of Tokyo.
Posted: September 14, 2012
Blogs : Harvey Steiman At Large
Contrasts in creativity, style on different levels
Posted: September 12, 2012 By Harvey Steiman
Differences between sushi in Japan and sushi at home are getting clearer as I try a few of Tokyo's thousands of options. Restaurants that specialize in one thing (such as tempura, sukiyaki, even eel) are more revered than those that offer a wider menu. Sushi is at the top of the food chain.

Roast eggplant with a garlic-yogurt sauce makes a delicious seasonal side
Posted: September 11, 2012 By Jennifer Fiedler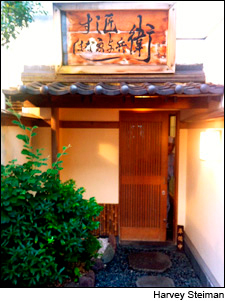 Blogs : Harvey Steiman At Large
My first stop in Tokyo is a series of pleasant surprises
Posted: September 6, 2012 By Harvey Steiman
Alain Ducasse loved it. He picked it recently when Bloomberg News asked top chefs around the world where they loved to eat. Most of them listed famous restaurants owned by famous chefs, but Ducasse waxed lyrical about this chef's "perfect knowledge of the Japanese terroir." He loved "the refined ingredients, delicate taste of the sushi and the subtle tableware," adding, "I had to share my discovery with you, as you will not find it in any restaurant guides."
Well, maybe not any guides in English. The sushi mavens of Tokyo sure know about the restaurant. Reservations must be made two months in advance, according to my new friend, Jun Yokokawa, a professor on the faculty of Tourism and Hospitality at Bunkyo University in Tokyo who is also a respected restaurant critic. (His email domain is "@junandfoodies.com".) He booked it for me, my first sushi experience for my week here in Tokyo, and it was as Ducasse described.

Elegant dishes from a new kosher hot spot in Manhattan, plus 12 recently rated kosher reds and whites for your holiday table
Posted: September 6, 2012 By Laurie Woolever
Sommelier Cat Silirie admires Old World wines for their reflection of historic terroirs
Posted: August 31, 2012 By Lizzie Munro
Executive chef Sam Hazen, Veritas, New York
Posted: August 31, 2012 By Owen Dugan
Posted: August 31, 2012 By Mark Pendergrast
Posted: August 31, 2012 By Owen Dugan