Celebrate Mom with two great recipes from Union Square Hospitality Group's new behind-the-scenes cookbook. Plus, notes and scores for 12 Sauvignon Blancs from California and New Zealand
Posted: May 3, 2013 By Laurie Woolever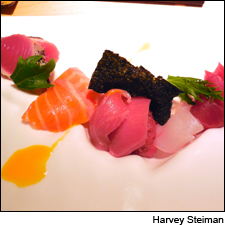 Blogs : Harvey Steiman At Large
Two of the Catalan city's most exciting restaurants owe much to sushi
Posted: April 30, 2013 By Harvey Steiman
Here in Barcelona on vacation, I could not resist trying what by all accounts is the go-to sushi place, Koy Shunka. Having explored the sushi cultures of Japan and America in my cover story of the May 31 issue of Wine Spectator, I wanted to see how another great food culture, that of Catalunya, translates the subtleties of Japan's most famous cuisine using the products of the Mediterranean Sea, as abundantly revered here as those of the Pacific Ocean are in Japan.
And then, for good measure, wouldn't you know that Japanese cuisine and sushi would play a critical role in the latest venture from brothers Albert and Ferran Adrià (who famously closed his own celebrated restaurant, El Bulli). They opened Pakta in early April, serving what they call Nikkei cuisine. Sushi is a part of the cuisine, Japanese by way of Peru, an east-west fusion made famous in America by Nobu Matsuhisa.
April 30, 2013 Issue : Features
Posted: April 30, 2013 By Mark Pendergrast
April 30, 2013 Issue : Features
Chef Jenn Louis, Lincoln, Portland, Ore.
Posted: April 30, 2013 By Owen Dugan
Posted: April 26, 2013
Blogs : Harvey Steiman At Large
Sweat the details only if, like me, you really enjoy the exploration
Posted: April 16, 2013 By Harvey Steiman
A common trope about wine pretension says that we wine folks intimidate the rest of the world with our insistence upon always drinking the right wine with the right food. I don't know anyone who does that. Do you? I gave up a long time ago believing that there's a perfect wine for every dish.
That doesn't mean I ignore the message from my own taste buds that certain wines and foods can make beautiful music together. But I stubbornly resist didactic rules. The day I absent-mindedly picked up my glass of red wine to sip with my grilled fish, and discovered how the wine just brightened up and sang more clearly, started me on a lifelong quest for similarly unexpected but terrific wine-and-food combinations.
Posted: April 12, 2013
Posted: April 10, 2013

A Chilean Sauvignon Blanc makes an ideal pairing for this easy spring meal
Posted: April 9, 2013 By Jennifer Fiedler
Blogs : Mixed Case: Opinion and Advice
Trendy menus get fattier while edgy wine lists focus on restraint
Posted: April 4, 2013 By Jennifer Fiedler
Can I ask a question? Why does it seem that menus in young, trendy restaurants tout big flavor from fat and spice, while the dog-whistle words of trendy wines are "balance" and "restraint"?
OK, I know the word "trendy" is problematic, so here, a warning: There will be some broad generalizations ahead. To avoid putting everything in "quotes," when I say young and trendy, I mean those restaurants designed to appeal to twenty-somethings in the creative class living in urban areas, and trendy wines are on those restaurants' wine lists.
Posted: April 3, 2013
March 31, 2013 Issue : Features
Posted: March 31, 2013 By Jack Bettridge
March 31, 2013 Issue : Features
Posted: March 31, 2013 By Mark Pendergrast
March 31, 2013 Issue : Features
Posted: March 31, 2013 By Robert Camuto
March 31, 2013 Issue : Features
Chef Mitchell Kaldrovich, Inn by the Sea, Cape Elizabeth, Maine
Posted: March 31, 2013 By Owen Dugan
Posted: March 29, 2013
Posted: March 27, 2013

Welcome a season of renewal with two great recipes from an acclaimed cookbook, matched with Pinot Noirs and aromatic whites
Posted: March 22, 2013 By Laurie Woolever
Posted: March 20, 2013

A delicious menu from 12 Tribes Kosher Foods, plus 15 new kosher wines to pour for your Seder guests
Posted: March 13, 2013 By Laurie Woolever