News & Features : Sommelier Talk
San Francisco sommelier Gianpaolo Paterlini built the list at Acquerello, his father's restaurant
Posted: July 31, 2012 By Jennifer Fiedler
July 31, 2012 Issue : Features
Posted: July 31, 2012 By Jack Bettridge
July 31, 2012 Issue : Features
Pappas Bros. owners Chris and Harris spruce up a barbecue with surprise ingredients and an all-American wine list
Posted: July 31, 2012 By Owen Dugan
July 31, 2012 Issue : Features
Chef Perry Hoffman, Étoile at Domaine Chandon, Yountville, Calif.
Posted: July 31, 2012 By Owen Dugan
Posted: July 25, 2012

What do you serve 4 million guests from around the globe? London has plenty of options, including English bubbly
Posted: July 25, 2012 By Victoria Daskal

A classic pairing updates a comfort food for summer
Posted: July 24, 2012 By Jennifer Fiedler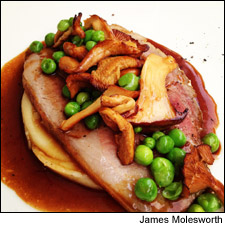 Blogs : Stirring the Lees with James Molesworth
This trip I visited many old favorites, and found some new ones
Posted: July 20, 2012 By James Molesworth
I did get a chance to try a few restaurants during my recent trip through the Rhône Valley, and following are my brief notes. Some have been covered before, but deserve mentioning again.

News & Features : Sommelier Talk
Cat Silirie admires Old World wines for their reflection of historic terroirs
Posted: July 11, 2012 By Lizzie Munro

A Barbera d'Asti provides the right contrast to a light and easy weeknight dinner
Posted: July 10, 2012 By Jennifer Fiedler

Wine Spectator's awards program honors 3,795 restaurants, across 50 states and more than 70 countries, for their top-quality wine lists
Posted: July 6, 2012 By Nathan Wesley
Posted: July 6, 2012
June 30, 2012 Issue : Features
The medieval city of Beaune is an ideal base from which to explore the Côte d'Or
Posted: June 30, 2012 By Bruce Sanderson
June 30, 2012 Issue : Features
Posted: June 30, 2012 By Jack Bettridge
June 30, 2012 Issue : Features
Posted: June 30, 2012 By Sam Gugino

This simple summer dish takes inspiration from a rustic Spanish sauce
Posted: June 26, 2012 By Jennifer Fiedler

A bright and tangy grill recipe and 11 sparkling wines from California and New Mexico make for a delicious Independence Day
Posted: June 22, 2012 By Laurie Woolever

Chefs Ferran Adrià and Gastón Acurio team up in "Perú Sabe," a film on food sparking social change
Posted: June 18, 2012 By Thomas Matthews
Posted: June 18, 2012
June 15, 2012 Issue : Features
From country inns to luxury hotels
Posted: June 15, 2012 By Augustus Weed