Blogs : Harvey Steiman At Large
Contrasts in creativity, style on different levels
Posted: September 12, 2012 By Harvey Steiman
Differences between sushi in Japan and sushi at home are getting clearer as I try a few of Tokyo's thousands of options. Restaurants that specialize in one thing (such as tempura, sukiyaki, even eel) are more revered than those that offer a wider menu. Sushi is at the top of the food chain.

Roast eggplant with a garlic-yogurt sauce makes a delicious seasonal side
Posted: September 11, 2012 By Jennifer Fiedler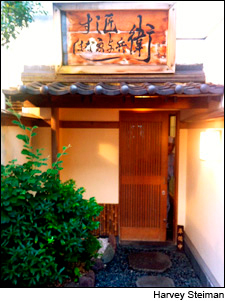 Blogs : Harvey Steiman At Large
My first stop in Tokyo is a series of pleasant surprises
Posted: September 6, 2012 By Harvey Steiman
Alain Ducasse loved it. He picked it recently when Bloomberg News asked top chefs around the world where they loved to eat. Most of them listed famous restaurants owned by famous chefs, but Ducasse waxed lyrical about this chef's "perfect knowledge of the Japanese terroir." He loved "the refined ingredients, delicate taste of the sushi and the subtle tableware," adding, "I had to share my discovery with you, as you will not find it in any restaurant guides."
Well, maybe not any guides in English. The sushi mavens of Tokyo sure know about the restaurant. Reservations must be made two months in advance, according to my new friend, Jun Yokokawa, a professor on the faculty of Tourism and Hospitality at Bunkyo University in Tokyo who is also a respected restaurant critic. (His email domain is "@junandfoodies.com".) He booked it for me, my first sushi experience for my week here in Tokyo, and it was as Ducasse described.

Elegant dishes from a new kosher hot spot in Manhattan, plus 12 recently rated kosher reds and whites for your holiday table
Posted: September 6, 2012 By Laurie Woolever
Sommelier Cat Silirie admires Old World wines for their reflection of historic terroirs
Posted: August 31, 2012 By Lizzie Munro
Executive chef Sam Hazen, Veritas, New York
Posted: August 31, 2012 By Owen Dugan
Posted: August 31, 2012 By Mark Pendergrast
Posted: August 31, 2012 By Owen Dugan
A room with an unparalleled view of the California coast
Posted: August 31, 2012 By Tim Fish
A New Orleans classic reaches new heights
Posted: August 31, 2012 By Mitch Frank
A polished Italian gem in San Francisco
Posted: August 31, 2012 By Harvey Steiman
A bright new star rises in the Manhattan firmament
Posted: August 31, 2012 By Alison Napjus
This year's 3,795 award-winning restaurants use diversity to drive wine sales
Posted: August 31, 2012 By Nathan Wesley
Blogs : Exploring Wine with Tim Fish
When it comes to steak or burgers, it's hard to beat these bargain bottles
Posted: August 29, 2012 By Tim Fish
My grandparents owned a corner grocery store back in Indiana when I was growing up and my grandfather Sam was an old-fashioned butcher, cutting meat by hand on a wood butcher block table. Every Monday, a new side of beef arrived and he would painstakingly whittle it down to the various roasts and cuts and grind his own hamburger. 
If there were any leftover steaks by noon Sunday--yes, he worked 6½ days a week--he would call my dad and say, "Light the grill!" That didn't happen a lot, but somehow he managed to always have leftovers on Labor Day Weekend. So when I was 7 or 8, I was accustomed to eating good and incredibly fresh steak. The fact that my dad tended to cook the life out of them is another blog post altogether.  
Posted: August 29, 2012

Celebrate the height of summer produce with this simple soup
Posted: August 28, 2012 By Jennifer Fiedler

Throw a party with this sweet, tangy recipe for the grill and 14 Chardonnays for under $20
Posted: August 24, 2012 By Laurie Woolever

A side dish of okra, tomatoes and black olives stars in this easy summer meal
Posted: August 14, 2012 By Jennifer Fiedler
Blogs : Mixed Case: Opinion and Advice
Evaluating ballpark dining during a weekend Phillies-Mets series
Posted: August 7, 2012 By Robert Taylor
It ain't easy being Philly in New York. As a Philadelphia sports fan, I accept that I face harassment from the locals. And as a Phillies fan in particular, I hear it pretty regularly from my diehard Mets fan colleagues. But the Phillies come to town frequently, and I've braved the hostile confines of Citi Field in Queens for a few games so far this season. I was also there to check back on the wine and food offerings of Citi Field, where restaurateur and recent Wine Spectator cover boy Danny Meyer runs most of the operation. For denizens of the "nose-bleed seats," there's the upper-deck wine bar, or for more high-end bottlings, the Delta Sky360 Club. And of the dining spots, two of my favorites are Catch of the Day and El Verano Taquería.
Blogs : Mixed Case: Opinion and Advice
Commander's 2012 Grand Award shows the city has exchanged average wine programs for creative and committed ones
Posted: August 2, 2012 By Mitch Frank
When I moved to New Orleans in 2010, I was curious where the city's wine programs would be five years after Hurricane Katrina. While the city had always had stars like Brennan's and Emeril's, a lot of restaurants were happy to have average programs, with maybe a little extra French depth. People visited New Orleans for the food.
But I have found a generation of young sommeliers here who reject that idea-and like so much down here now, pre-storm complacency has been rejected in favor of creative wine programs. Commander's Palace has been at the forefront.