Feb. 28, 2014 Issue : Features
Posted: February 28, 2014 By Owen Dugan
Feb. 28, 2014 Issue : Features
Chef David Santos, Louro, New York
Posted: February 28, 2014 By Lizzie Munro

Peninsula Grill chef gets healthy with fun, flavorful food
Posted: February 25, 2014 By Laurie Woolever
Posted: February 12, 2014

A Beaujolais red makes an ideal weeknight pairing
Posted: February 11, 2014 By Jennifer Fiedler

An unusual, delicious cupcake confection that combines pears, walnuts and blue cheese, paired with 10 recommended Ports
Posted: February 7, 2014 By Laurie Woolever

BLT Fish chef turns to hearty meat dishes on his days off
Posted: January 28, 2014 By Laurie Woolever

Party recipes from Seattle and Denver chefs, plus 22 Washington wines for $25 or less
Posted: January 28, 2014 By Robert Taylor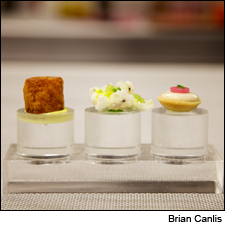 Posted: January 28, 2014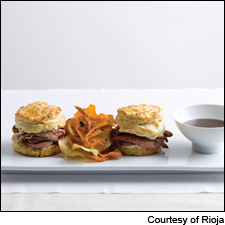 Posted: January 28, 2014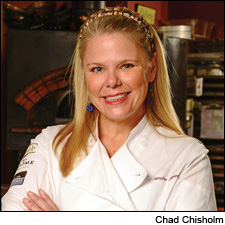 Posted: January 28, 2014
Posted: January 22, 2014

A simple minced red pepper garnish ties everything together
Posted: January 14, 2014 By Jennifer Fiedler
Blogs : Harvey Steiman At Large
What eating pizza can teach us about wine
Posted: January 14, 2014 By Harvey Steiman
Victor Hazan's late wife, Marcella, whose cookbooks have afforded me no end of pleasure, taught many of us about Italian food. Victor often supplied the wine-half of the equation, but he was no stranger to foodways himself. Since Marcella's death last year, he has been writing occasional posts to thousands of followers of her Facebook account. At first he penned eloquent reminiscences about Marcella. Lately he has been commenting on cuisine.
This past week he stirred up a bit of a reflexive firestorm among his Facebook friends. Inspired by a photo of New York's new mayor, Bill di Blasio, eating pizza with a knife and fork, he waded into the age-old debate over the best way to consume Italy's signature flatbread.
Posted: January 6, 2014
Dec. 31, 2013 Issue : Features
Chef Allen Routt, The Painted Lady, Newberg, Ore.
Posted: December 31, 2013 By Lizzie Munro
Dec. 31, 2013 Issue : Features
The prominent Chicago chef keeps a small, but exceedingly functional, kitchen
Posted: December 31, 2013 By Lizzie Munro
Dec. 31, 2013 Issue : Features
Posted: December 31, 2013 By Owen Dugan
Dec. 31, 2013 Issue : Features
Posted: December 31, 2013 By Jack Bettridge
Dec. 31, 2013 Issue : Features
Posted: December 31, 2013 By Sam Gugino