April 30, 2014 Issue : Features
Posted: April 30, 2014 By Mark Pendergrast
April 30, 2014 Issue : Features
Posted: April 30, 2014 By David Gibbons
April 30, 2014 Issue : Features
A new wave of urban wineries, distilleries and breweries welcomes thirsty travelers
Posted: April 30, 2014 By Ben O'Donnell
April 30, 2014 Issue : Features
Posted: April 30, 2014 By Bruce Sanderson
April 30, 2014 Issue : Features
Fabio Trabocchi, Fiola, Washington, D.C.
Posted: April 30, 2014 By Lizzie Munro

Portland chef entertains friends with a family-style Mexican feast
Posted: April 29, 2014 By Laurie Woolever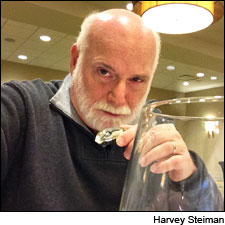 Blogs : Harvey Steiman At Large
Is it better to be neutral or flavorful? Putting wine-and-oyster pairings to the test
Posted: April 22, 2014 By Harvey Steiman
I can't help it. I am a wine guy. I want my wines to contribute to the conversation on my palate when I drink them with food. That comes to mind when I occasionally participate in fun tastings such as the Pacific Coast Oyster Wine Competition. I joined in on the 20th annual judging as much for unlimited quantities of really good oysters as for the wines, but also to test out a theory.
My brain says, let's find a wine that can stand on its own but also makes nice with the mollusks. Jon Rowley, the tasting's organizer, takes a different approach. "Don't taste the wine first," he admonished us. He wanted us to chew up the oyster first to establish its flavor and texture in our mouths, then wash it down with the wine.
Blogs : Mixed Case: Opinion and Advice
When a cuisine isn't tied to a strong wine tradition, pairing takes on new aspects
Posted: April 17, 2014 By Jennifer Fiedler
This upcoming weekend marks the premiere of The Search for General Tso, a new documentary about Chinese food in America, at the Tribeca Film Festival in New York. (Disclosure: I know the filmmakers.) It tells the story of why there's a Chinese restaurant in almost every small town in the United States by tracing the roots of this popular fried chicken takeout dish back to Taiwan. Be forewarned: It will make you hungry.
While wine doesn't play a role in the movie, the film touches on the ideas of migration, adaptation and authenticity—all concepts that philosophically minded wine lovers can extrapolate to the wine world—and the occasion of its release seems like a good time to talk about pairing wine with "Chinese food."

Treat your guests to a sweet and savory treat. Plus, 14 recently rated Chardonnays
Posted: April 11, 2014 By Laurie Woolever
Blogs : Mixed Case: Opinion and Advice
Small wine lists packed with geeky wines serve wine directors' egos over customers
Posted: April 10, 2014 By Mitch Frank
Call it the sommelier's dilemma. Wine professionals like sommeliers and retailers spend their days tasting the most interesting wines on earth. That is their passion. But the majority of their customers are looking for safe, reliable wines, ones that don't challenge the brain or the palate. Those wines pay the sommelier's salary.

Olives, lemon and thyme help build a match for this easy weeknight dish
Posted: April 8, 2014 By Jennifer Fiedler
Posted: April 2, 2014

Turkey lends a new richness to a classic holiday dish; plus recommended kosher wineries
Posted: April 2, 2014 By Laurie Woolever
March 31, 2014 Issue : Features
Posted: March 31, 2014 By Jack Bettridge
March 31, 2014 Issue : Features
Jeff Fitzgerald, Dio Deka, Los Gatos, Calif.
Posted: March 31, 2014 By Lizzie Munro
Liquor license suspended after state complains Batali and Bastianich store was selling Bastianich wines
Posted: March 25, 2014 By Mitch Frank, Thomas Matthews

Blogs : Harvey Steiman At Large
And a classy tour of Australian wine's past, present and future
Posted: March 25, 2014 By Harvey Steiman
Several Sydney insiders told me Sepia was the place to go for a great wine-pairing menu, so it was my first stop after arriving in Australia last week. Chef Martin Benn, once a protégé of Marco Pierre White in London, indulges a modernist bent since he left his post as chef de cuisine at Tetsuya's in 1999. His wife, Vicki Wild, once Tetsuya's personal assistant, brings warmth to the sharp-edged dining room on the ground floor of a Darling Harbour high-rise, and sommelier Rodney Setter has built up a broad and knowledgeably chosen international wine list of more than 1,100 selections, mostly current vintages although older wines, especially Bordeaux, Rhône and Australian Shiraz bottlings, scatter throughout.

Comme Ça chef does a savory slow-and-low braise
Posted: March 25, 2014 By Laurie Woolever
Posted: March 14, 2014

A mild sweet curry base makes a comforting weeknight meal
Posted: March 11, 2014 By Jennifer Fiedler