News & Features : Sommelier Talk
June Rodil has strong opinions about matching spirits to food
Posted: January 29, 2013 By Jennifer Fiedler

For your game-day party, Charm City's blue crab cakes take on Dungeness crab cioppino from the City by the Bay; plus 25 wines for less than $25 to match
Posted: January 25, 2013 By Robert Taylor
Blogs : Mixed Case: Opinion and Advice
New Orleans offers myriad food and drink options for anyone coming to the big game; here's my cheat sheet
Posted: January 24, 2013 By Mitch Frank
New Orleans is a little insane right now. Maybe that sounds silly describing a city where it's not odd to witness a brass band marching past your front porch, with your neighbors dancing behind it. But New Orleans is a little more insane than usual right now. This year, wedged tightly in the middle of the Carnival parades that start Friday, the NFL has brought the Super Bowl to town.
Are you coming for the game? Good. (If not, pay attention, because you should visit soon.) It's not hyperbole to say that New Orleans is one of the greatest cities on the planet in which to celebrate. If you enjoy good food, wine, beer, cocktails and music, it is hard to go wrong. Here are some tips for making the best of a trip down here. This isn't a comprehensive list of the best places to eat and drink. It's a handy cheat sheet for anyone coming to watch the 49ers and the Ravens, or just coming to enjoy our insanity.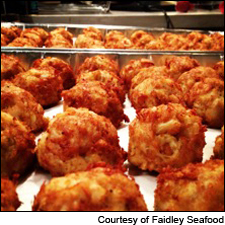 Posted: January 24, 2013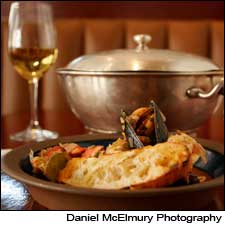 Posted: January 24, 2013
Posted: January 18, 2013

A simple tweak turns a bistro classic into a perfect match
Posted: January 15, 2013 By Jennifer Fiedler
Posted: January 11, 2013
Blogs : Harvey Steiman At Large
Maybe we value the wrong things about restaurants
Posted: January 9, 2013 By Harvey Steiman
Leave it to us privileged foodies to complain about getting too much. The complaint-of-the-month club's latest rant, careening about the Interwebs, zeroes in on famous chefs who keep us strapped to our chairs in their dining rooms, force-feeding us dozens of exquisite courses.
Really. I am not making this up. (Except for the part about being strapped to our chairs.)
Posted: January 4, 2013
Blogs : Outside the Bottle with Talia Baiocchi
A new restaurant and three bars are set to rise from the ashes of Gilt
Posted: December 31, 2012 By Talia Baiocchi
On Saturday, Dec. 15, Gilt restaurant, which earned a Wine Spectator Grand Award for its wine list in 2011, closed its doors for good.
The restaurant, located in the New York Palace Hotel, joins chef Alain Ducasse's Adour at the St. Regis and chef Joël Robuchon's L'Atelier de Joël Robuchon inside the Four Seasons as the third fine-dining restaurant lodged inside a luxury New York hotel to close this year.
In a city where chef's counters are the new fine dining and white tablecloths are practically extinct below 14th Street, upscale hotel bars and restaurants are forced to rethink their approach to drinking and dining. And Gilt beverage director Patrick Cappiello will be keeping that in mind as he plans to restore the Palace Hotel's Villard Bar to its former glory.
Dec. 31, 2012 - Jan. 15, 2013 Issue : Features
A new generation of hotels and restaurants arrives at this Colorado resort town
Posted: December 31, 2012 By Tim Fish
Dec. 31, 2012 - Jan. 15, 2013 Issue : Features
Posted: December 31, 2012 By Jack Bettridge
Dec. 31, 2012 - Jan. 15, 2013 Issue : Menu
Three classic yet simple appetizers and wine pairings for your holiday gathering
Posted: December 31, 2012 By Jennifer Fiedler
Dec. 31, 2012 - Jan. 15, 2013 Issue : Features
Posted: December 31, 2012 By Owen Dugan
Dec. 31, 2012 - Jan. 15, 2013 Issue : Features
Posted: December 31, 2012 By Sam Gugino
Posted: December 28, 2012

Ring in 2013 with an array of easy-to-adapt pies, plus 16 Champagnes and other bubblies
Posted: December 21, 2012 By Laurie Woolever
Dec. 15, 2012 Issue : Features
Nathan Myhrvold applies an engineer's accuracy and a techie's innovation to cooking
Posted: December 15, 2012 By Harvey Steiman
Dec. 15, 2012 Issue : Features
Posted: December 15, 2012 By Harvey Steiman