March 31, 2015 Issue : Features
Posted: March 31, 2015 By Mark Pendergrast
March 31, 2015 Issue : Features
Posted: March 31, 2015 By Jack Bettridge
March 31, 2015 Issue : Features
Wine programs on cruise ships have never been better
Posted: March 31, 2015 By Ben O'Donnell
March 31, 2015 Issue : Features
Posted: March 31, 2015 By David Gibbons
March 31, 2015 Issue : Features
Anthony Bourdain's journey from cynical chef to culinary celebrity
Posted: March 31, 2015 By Harvey Steiman
Jan. 31 - Feb. 28, 2015 Issue : Features
Posted: February 28, 2015 By Jack Bettridge
Jan. 31 - Feb. 28, 2015 Issue : Features
Restaurants both new and established elevate Kentucky's culinary scene
Posted: February 28, 2015 By Esther Mobley
Jan. 31 - Feb. 28, 2015 Issue : Features
Posted: February 28, 2015 By Owen Dugan
Jan. 31 - Feb. 28, 2015 Issue : Features
Philippe Bertineau, Benoit, New York
Posted: February 28, 2015 By Catherine Sweet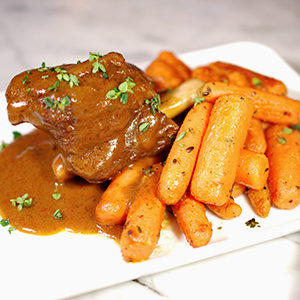 This warming winter meal stands up to a bold red such as Malbec
Posted: February 25, 2015 By Nicole Ruiz Hudson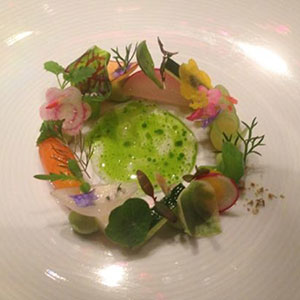 Blogs : Harvey Steiman At Large
Honolulu hideaway looks like the one to watch
Posted: February 13, 2015 By Harvey Steiman
Who would expect to find one of America's great restaurants hidden in the basement of a big shopping center in Honolulu? The archway entrance in the middle of the Ala Moana Shopping Center's lower parking level makes it feel like sneaking into a very fancy speakeasy. The meal I had there last week left me dazzled.
Blogs : Exploring Wine with Tim Fish
New restaurants in Healdsburg and Sonoma Valley are resetting the bar
Posted: February 11, 2015 By Tim Fish
The Sonoma County dining scene isn't like any place else. Chefs were doing farm to table back in the 1980s, long before it was de rigueur, and somehow over the years they've managed to keep it real. The chefs here hangout with farmers and the winemakers are connected to the land and the kitchen. Here are four new restaurants Sonoma diners are excited about.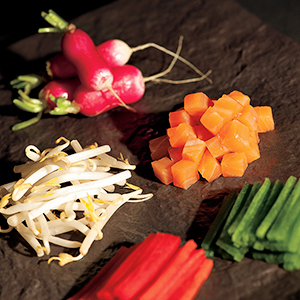 Seafood recipes from the French chef's new nutrition-driven cookbook
Posted: February 10, 2015 By Esther Mobley
Blogs : Mixed Case: Opinion and Advice
My coffee descriptors could use a jolt, but learning any beverage is a journey
Posted: February 10, 2015 By MaryAnn Worobiec
My colleague Harvey Steiman's recent blog posts about pairing wine and coffee reminded me of a story about the intersection of wine and coffee in my own life. One of our neighbors across the street invited us over for a beer. In his kitchen was the biggest, fanciest espresso maker I've ever seen. He was completely obsessed with coffee, and after chatting a while, he suggested I stop by a coffee tasting, or "cupping," at a local coffee importer and roaster that's open on the weekends.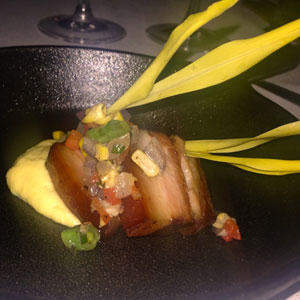 Blogs : Harvey Steiman At Large
Cooking with coffee—everything but the drink itself
Posted: February 6, 2015 By Harvey Steiman
Has anyone ever put together an eight-course menu in which every dish involves coffee—and mostly without using the beans themselves or the drink made from them? Frank Kramm, the chef at Daylight Mind, my cousin's ambitious coffee bar, café, restaurant and coffee school in Kona, Hawaii, creatively pureed the coffee fruit itself to flavor a butter, burned chaff from roasting the beans to smoke roast duck, and sprinkled coffee-flavored salt over slices of raw fish. We paired the dishes with Roederer Champagne Cristal, Château Margaux, Beaux Fréres Pinot Noir and a Muscat de Beaumes-de-Venise.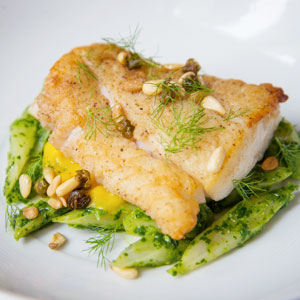 The Red Cat chef shares citrus salad and pan-seared fish recipes, with rich white wines to match
Posted: February 6, 2015 By Esther Mobley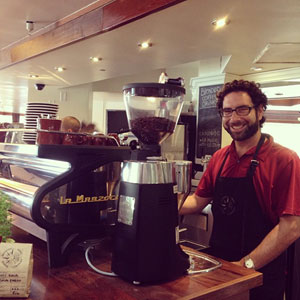 Blogs : Harvey Steiman At Large
Finding parallels with different brews and wines
Posted: February 2, 2015 By Harvey Steiman
My cousin, coffee guru Shawn Steiman, agreed to try three different wines with three distinct kinds of coffee with me, to compare how both beverages might reflect where they were grown and how they were made. I chose a fresh white wine, a lighter style of red and a full-bodied red, and Shawn used three different coffees in three styles: drip, full-immersion and espresso.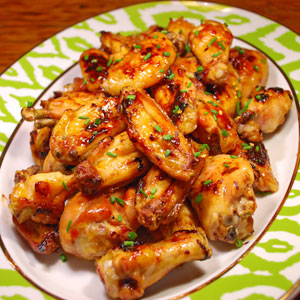 This game-day party recipe, matched up with a Riesling, doubles as a casual dinner
Posted: January 27, 2015 By Nicole Ruiz Hudson
Sheriff reports much of $300,000 in vinous loot found in North Carolina; no arrests as investigation continues
Posted: January 23, 2015 By MaryAnn Worobiec
Blogs : Harvey Steiman At Large
Étoile, the restaurant at Domaine Chandon, launched an era
Posted: January 13, 2015 By Harvey Steiman
The restaurant that jump-started fine dining in Napa Valley closed Jan. 1, to be converted into an elaborate tasting room. Étoile had too much competition from the long list of great restaurants that stretch from Napa to Calistoga these days, and its operators reportedy could not reach an agreement on lease arrangements.