March 31, 2014 Issue : Features
Posted: March 31, 2014 By Jack Bettridge
March 31, 2014 Issue : Features
Jeff Fitzgerald, Dio Deka, Los Gatos, Calif.
Posted: March 31, 2014 By Lizzie Munro

A mild sweet curry base makes a comforting weeknight meal
Posted: March 11, 2014 By Jennifer Fiedler
Blogs : Harvey Steiman At Large
Bien sûr! say Le Bernardin's Eric Ripert and Aldo Sohm—even red Bordeaux with fish
Posted: March 11, 2014 By Harvey Steiman
When the perfectly named (for a sommelier) Aldo Sohm went to work at the classic New York French fish restaurant Le Bernardin seven years ago, one of his first special assignments was to select wines for chef Eric Ripert's birthday party.
The entrée was escolar with sauce Bearnaise. Sohm, unaware that Ripert famously loves to drink red Bordeaux with everything and damn the consequences, chose Hubert de Lignier Morey St-Denis Chaffots 2001, a deliciously fragrant and silky red Burgundy. "It was drinking perfect," said the affable sommelier, still with a tinge of his native Austria in his accent.
Ten minutes before the event started, however, the maître d' and two captains approached the new guy. "They started yelling, 'Didn't they tell you chef only likes Bordeaux?'"
Blogs : Mixed Case: Opinion and Advice
Posted: March 4, 2014 By Jennifer Fiedler
There's nothing like the tail end of winter to set off daydreaming about the year's upcoming vacations, right? This February, I've been reminiscing in particular about a cycling trip I took a few years ago with five friends through Canada's Okanagan Valley wine region. I had done wine-tasting trips before, as well as bike trips, but this was the first time I had combined the two. The good news: We survived, put on some great mileage, drank great wine and are still friends! But we definitely could have planned things better. Here's what I learned,
Posted: February 28, 2014 By Matt Kramer
Feb. 28, 2014 Issue : Features
Posted: February 28, 2014 By Maria Finn
The Dawson puts cocktails front and center in Chicago
Posted: February 28, 2014 By Owen Dugan
Feb. 28, 2014 Issue : This Issue/Marvin R. Shanken
Posted: February 28, 2014 By Marvin R. Shanken, Thomas Matthews
Feb. 28, 2014 Issue : Features
Posted: February 28, 2014 By Mark Pendergrast
Feb. 28, 2014 Issue : Features
Posted: February 28, 2014 By Owen Dugan
Feb. 28, 2014 Issue : Features
Chef David Santos, Louro, New York
Posted: February 28, 2014 By Lizzie Munro

Peninsula Grill chef gets healthy with fun, flavorful food
Posted: February 25, 2014 By Laurie Woolever
Posted: February 12, 2014

A Beaujolais red makes an ideal weeknight pairing
Posted: February 11, 2014 By Jennifer Fiedler

An unusual, delicious cupcake confection that combines pears, walnuts and blue cheese, paired with 10 recommended Ports
Posted: February 7, 2014 By Laurie Woolever

BLT Fish chef turns to hearty meat dishes on his days off
Posted: January 28, 2014 By Laurie Woolever

Party recipes from Seattle and Denver chefs, plus 22 Washington wines for $25 or less
Posted: January 28, 2014 By Robert Taylor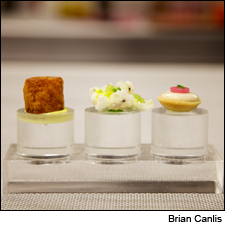 Posted: January 28, 2014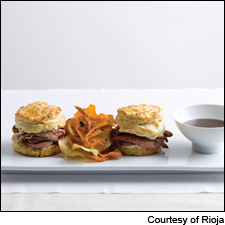 Posted: January 28, 2014