Julian LeCraw Jr. says Antique Wine Company sold him a faux Château d'Yquem 1787
Posted: April 22, 2014 By Peter Hellman

Plus, Washington's wine industry steps up for mudslide relief, a Burgundy vintner's sentence for refusing to use pesticides is reduced, and more
Posted: April 10, 2014

Plus, wine crime from ancient Egypt to modern-day Baltimore, and sustainable vineyard charity Roots of Peace has a run-in with the Taliban
Posted: April 3, 2014
Punitive damages reduced to $711,000, but judge upholds verdict against collector Eric Greenberg
Posted: April 1, 2014 By Peter Hellman

Plus, a Napa winemaker is charged with stealing 6 tons of grapes, and environmental conservation efforts threaten a 120-year-old California vineyard
Posted: March 27, 2014

Another lawsuit erupts out of the controversial St.-Emilion classification. Plus, do older drinkers get drunk faster?
Posted: March 13, 2014
Posted: February 28, 2014 By Suzanne Mustacich
Posted: February 28, 2014 By Peter Hellman, Mitch Frank

Plus, German officials dump 1.3 million liters of watered-down wine, exiled Ukraine Pres. Viktor Yanukovych's wine stash, and red blotch poses a new threat to Washington vineyards
Posted: February 27, 2014

Plus, Texas wine pioneer Doc McPherson dies, vintners aid Washington State University's Wine Science Center and more
Posted: February 13, 2014

Armed gendarmes sweep up 20 suspects in gang that allegedly stole high-priced Bordeaux
Posted: February 11, 2014 By Suzanne Mustacich

Plus, was Alexander the Great poisoned by wine? And The Great American Wine Company donates $100,000 to the USO
Posted: February 6, 2014

Plus, the FBI captures Napa's most wanted wine embezzler in Mexico, John Boehner prefers wine to the presidency, wine experiments at the bottom of Lake Geneva and more
Posted: January 30, 2014

Plus, France's xenophobic wine terrorists kidnap a Languedoc vigneron, and the 2014 Awards Season Champagne pairings
Posted: January 23, 2014

News & Features : Drinking Out Loud
Why absolutely nobody is an expert when tasting old wines
Posted: January 7, 2014 By Matt Kramer

Musical Moscato mania became an epidemic this year, with Nicki Minaj and Warren G leading the way, but disasters, from winery fires to shipwrecks to overturned trailers, kept readers coming back
Posted: December 26, 2013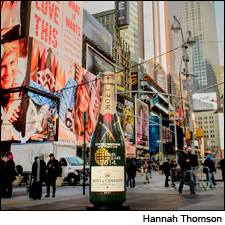 Plus, Siduri's Adam Lee takes a winemaking gig in Willamette Valley, and the Official Champagne of (almost) everything takes on New Year's Eve
Posted: December 19, 2013
Blogs : Mixed Case: Opinion and Advice
Are counterfeits a victimless crime? Not when they rob us of the pleasure wine can deliver
Posted: December 18, 2013 By Mitch Frank
I love hearing people's "aha!" moments with wine—that instant when they realized that wine is more than just a beverage, that great wine has personality.
Here's a good one: A young man takes his visiting father out for dinner to celebrate dad's birthday. Neither knows much about wine, but the son decides this is a special occasion so he orders the most expensive bottle on the list. The wine—a 1996 Opus One—opens the young man's eyes. Within a few months, he's buying several bottles of Opus One, then other top wines. (Luckily, he has a decent amount of money.) Soon, he's hooked. Wine becomes his passion, and he's attending tastings and collecting rare bottles. Burgundy in particular beguiles him.
Like much of what we know about Rudy Kurniawan, it's hard to tell how much of this story is true and how much he concocted. Kurniawan told this tale to a journalist in 2006, just after an auction of his wines raised $24.7 million, a record for a single-consignor auction. Since he began attending auctions and tastings a decade ago, Kurniawan had always been vague about his origins and his seemingly deep pockets.

First federal prosecution for selling fake wine yields a conviction; Indonesian collector faces possible sentence of 40 years
Posted: December 18, 2013 By Peter Hellman, Mitch Frank

Prosecutors are ready to rest their case against Rudy Kurniawan, and the defense may not call any witnesses
Posted: December 16, 2013 By Peter Hellman