March 31, 2008 Issue : Features
Posted: March 31, 2008 By Owen Dugan
Jan. 31 - Feb. 29, 2008 Issue : Features
Posted: February 29, 2008 By Sam Gugino
Dec. 15, 2007 Issue : Features
Posted: December 15, 2007 By Owen Dugan
Oct. 31, 2007 Issue : Features
Posted: October 31, 2007 By Owen Dugan
Aug. 31, 2007 Issue : Features
Posted: August 31, 2007 By Owen Dugan
Posted: May 31, 2007 By Owen Dugan
March 31, 2007 Issue : Features
Posted: March 31, 2007 By Owen Dugan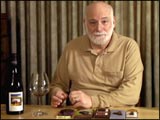 Wine and chocolate?! Find a match made in heaven. Your guide is Wine Spectator's Harvey Steiman, who tastes a few harmonious pairings and warns you about less than harmonious combinations.
Posted: February 1, 2007
Blogs : Harvey Steiman At Large
Posted: January 8, 2007 By Harvey Steiman
Years ago I discovered, quite by accident, that red wine can taste just fine with chocolate. It was at a dinner where the dessert, one of those dense, not-very-sweet, runny chocolate cakes where the center oozes a molten river of dark brown goodness, had not yet become a cliché.
Posted: December 15, 2006 By Owen Dugan
Jan. 31 - Feb. 28, 2006 Issue : Features
The tale of Michel Richart's passion for the confection loved by the world
Posted: January 31, 2006 By Sam Gugino
New companies think small and aim high, with quality at a premium
Posted: November 15, 2003 By Sam Gugino
Oct. 31, 2002 Issue : Features
Match great dessert wines with these three recipes to finish a festive meal with a flourish
Posted: October 31, 2002 By Harvey Steiman
Oct. 31, 2002 Issue : Features
Posted: October 31, 2002 By Bruce Sanderson
Oct. 31, 2002 Issue : Features
Posted: October 31, 2002 By Bruce Sanderson
Oct. 31, 2002 Issue : Features
Posted: October 31, 2002 By Bruce Sanderson
Oct. 31, 2002 Issue : Features
Posted: October 31, 2002 By Bruce Sanderson
Oct. 31, 2002 Issue : Features
Dessert wines are unique, alluring and too often overlooked
Posted: October 31, 2002 By Bruce Sanderson
Oct. 31, 2002 Issue : Features
Dessert master Jacques Torres helps marry wine and chocolate
Posted: October 31, 2002 By Harvey Steiman
Jan. 31 - Feb. 28, 2002 Issue : Tastes
New unblended varieties taste strongly of their terrior
Posted: January 31, 2002 By Sam Gugino